INEOS has signed a Memorandum of Understanding with Saudi Aramco and Total, France, to build three new plants as part of the Jubail 2 complex in The Kingdom of Saudi Arabia.
A new state-of-the-art 425,000 tonne acrylonitrile plant, will use INEOS' world leading technology and catalyst. It will be the first plant of its kind in the Middle East when it starts up 2025. Paul Overment CEO INEOS Nitriles said: "Global demand for acrylonitrile continues to grow ahead of GDP, to meet the demand for lighter, stronger, energy efficient materials such as ABS, composites and carbon fibre. This first investment in the Middle East consolidates our position as the market leader and shows a clear and ongoing commitment to meet our customers' needs wherever they are in the world."
INEOS will also build a 400,000 tonne LinearAlphaOlefin (LAO) plant and associated world-scale PolyAlphaOlefin (PAO). These units will be the most energy efficient in the world when they begin production in 2025.
Joe Walton, CEO INEOS Oligomers added: "INEOS Oligomers is one of the world's leading merchant suppliers of LAO and PAO. The size and location of these new plants reinforces our commitment to keep pace with our LAO and PAO customers' expanding requirements globally."
The location in The Kingdom of Saudi Arabia will give INEOS access to competitive raw materials and energy, with well invested infrastructure, to better serve customers directly in the Middle East and markets across Asia.
Jetty upgrade

A Scottish firm has been awarded a major contract that will help extend the life of the ExxonMobil jetty facility at Braefoot Bay Marine Terminal in Fife. The tanker terminal exports liquefied petroleum gas to Europe and the USA after being produced at Fife Ethylene Plant (FEP), using feedstock from the North Sea.
A team of six specialists from Asset Integrity Maintenance (AIM) have started working at the 233-metre long jetty for the first phase. This phase alone represents an investment of some 3000 man-hours. As part of the work, they will be using a cutting-edge temporary access structure, which will be suspended below the jetty and encloses the work area to ensure no environmental impact to the Firth of Forth below.
AIM's scope of work will focus on the refurbishment, repair and protection of the jetty's steelwork coating and will use abrasive materials and a vapour blasting technique that are environmentally friendly.
Blair McDonald, managing director at Asset Integrity Maintenance, said: "Our local teams will conduct this key upgrade project in a way that maintains the highest levels of environmental protection. When completed, it will ensure the safety and integrity of the jetty for years to come."
The green choice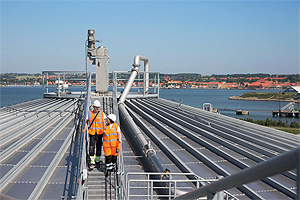 Ørsted has launched two new greener gas products designed for businesses looking to take an extra step towards decarbonising their energy.
Ørsted has been supplying its customers with 100% renewable electricity since 2017, and the supplier is now expanding its offering with the addition of biogas and carbon neutral gas options – designed to suit the differing requirements and budgets of UK businesses of all sizes.
Ørsted's biogas product comes with guaranteed certificates of origin, so businesses can report near-zero emissions from their gas consumption in greenhouse gas (GHG) reporting, making a significant contribution to carbon reduction.
For those businesses seeking a lower budget option, Ørsted can also provide a carbon neutral gas product. The carbon from a customers' gas consumption is offset through investment in sustainable development projects, such as clean energy, water treatment and forest management projects. This helps to counteract any carbon emissions, provide social benefits to the surrounding communities and aid progress towards the Sustainable Development Goals. All projects are certified via The Gold Standard or the Verified Carbon Standard, which is important for auditing.
World's most advanced

Petal17, the latest Marine Breakaway Coupling (MBC) launched by global market leader Gall Thomson, has set new standards for lightness, precision and performance, to the extent that the company describes it as the most advanced protection against offshore oil spills in the world.
Gall Thomson MBCs are designed to minimise risk of offshore oil spills due to tanker breakout of pressure surge during hose transfer operations.
The Petal17 is the result of over 40 years of in-field experience and major capital investment from parent company Signum Technology. Petal17 is engineered with a range of innovative features that takes Petal Valve MBCs to a new benchmark of performance. CNC manufacturing of Petal Valves provides greater precision than previous manufacturing techniques. Petal17 also has a unique Petal Valve locking mechanism that delivers improved performance for those activations when adverse weather conditions and low pressure coincide.
Following recommendations made by the Oil Companies International Marines Forum (OCIMF), Petal17 is pre-fitted with Unit Status Indicators. These enable visual inspection of MBC status without the need to remove the unit from the line.
Across its range, the Petal17 is an average of 20 per cent lighter than the previous Gall Thomson MBC range – which was already the lightest on the market. Together with the Gall Thomson Ultrafloat, the Petal17 delivers positive buoyancy even on activation.
Trusted supplier
Sparrows Group has appointed Deladi Petroleum Services Sdn Bhd as its sole representative in Brunei. The new agreement creates a partnership to deliver a broad range of equipment and services supporting reliability and operational safety in the oil and gas industry.
As part of the collaboration Deladi will have exclusive rights to supply Sparrows Original Equipment Manufacturer (OEM) parts and components in the country. This includes all crane brands that Sparrows hold intellectual property rights (IPR) for such as American Aero, Houston System, Bucyrus Erie Marine, Weatherford and Energy cranes.
Commenting on the deal, Stewart Mitchell, chief executive officer of Sparrows said: "There are over 65 cranes in operation across Brunei today which we hold the IPR for. This agreement assures quality and safety to our customers and lets them know they can purchase genuine OEM parts with a certified warranty from a local supplier they can trust.
"We have worked in Brunei for a number of years and have a successful track record delivering crane maintenance services, but Deladi is an established brand and their extensive knowledge of the market will support us in growing the business in the country. Working with a trusted local partner ensures we can deliver equipment and services wherever demand exists."
In Brief
Major milestone
INNIO and Aggreko have reached a major milestone with the launch of a customised myPlant Asset Performance Management (APM) solution for real-time monitoring and diagnosis of Aggreko's power fleet. The fleet comprises natural gas, heavy fuel oil, diesel, renewable and battery power assets. Complementing Aggreko's capabilities, the myPlant APM solution delivers a cloudbased monitoring and diagnostics infrastructure, providing Aggreko with the ability to remotely monitor and manage performance of the connected reciprocating engine power plants. Aggreko is now able to gain the real-time intelligence needed across a larger percentage of its fleet.
Powering Poland
Despite its modest progress in terms of solar energy, the Polish government and the country's adoption of renewables has been praised for its contribution to what has been described as 'an exceptional year' for solar energy in the EU. Andrius Terskovas, Chief Business Development Officer at Sun Investment Group (SIG), a solar energy development and investment management company, noted that more can be done: "In recent years, we have seen Poland pivot towards a positive and sustainable renewable energy strategy after it introduced a CfD auction system. Based on the number of solar energy investments Poland is attracting from China, Scandinavia, and neighbouring Lithuania, we expect it to start contributing to Europe's renewablebased future. However, having in mind Poland's size and population, its strategy should be more ambitious, as it is trailing behind lagging behind other Germany, which has an installed capacity of 43 GW, and Italy with 20 GW."