Sonic perfection
In recent years the African oil and gas industry has seen the emergence of a range of exciting new projects, the discovery of large oil and gas reserves, and the establishment of many new companies specifically aimed at driving the industry forward.
One such business is 7 Sea Geosciences, an emerging marine and terrestrial geoscience company that provides contracting, consulting, processing and reporting services to the oil, gas, mining, energy and construction markets.


Having only been trading for just under two years, the business has already achieved a number of notable successes, all of which have been underpinned by its key driving factors of a strong commitment to quality and innovation to achieve the highest possible quality standards, whilst promoting the advancement of local skills, knowledge and labour.
Steven Horwood, chief executive officer at the company, explains more about this local dedication: "Africa as a whole is a relatively new market but, along with our partners, we have a good understanding of the needs of the market and the requirements for processes along the east and west coasts. More importantly, we feel very passionate about skills development throughout the continent, and in order to really promote this we have split our various training schemes and programmes into three broad categories.
"The first of these is education at a schooling level to inform the young students of what types of careers are possible for them in the marine industry," he continues. "We also work with local universities offering single-day courses or two-day lectures to undergraduates, but most of our energy has presently gone towards developing a four-week intensive post-graduate course in practical marine survey. The first of these is due to come online in the second half of this year and is open to university students, private individuals and corporate clients."
The development of key skills, whilst expanding the business means that 7 Sea Geosciences is able to offer a range of geoscience related services to customers in the industry, including marine geophysics, hydrographic survey, geotechnical services, geotechnical site supervision, ROV construction support, pipeline inspection surveys, engineering surveys and a variety of sampling roles. Furthermore, it is building its capacity to carry out high-resolution 2D and 3D seismic surveys for oil and gas exploration operations.
Steve expands: "For oil and gas companies, the main services that we offer are based around on-land geotechnical design and planning for refinery projects and other facilities, while in the offshore sector we undertake various hydrographic, geophysical and geotechnical surveys as well as exploration seismic work."
In the field of geophysics for the offshore market, 7 Sea Geosciences is capable of a number of disciplines that include diamond concession surveys, heavy mineral surveys, modelling and trap site analysis. At the same time it is regularly employed to undertake a range of geotechnical engineering projects, such as gravity piston coring, grab sampling, mini-cone penetrometer testing, wash boring, rotary core drilling and high-precision vibracoring using its sonic hammer corer.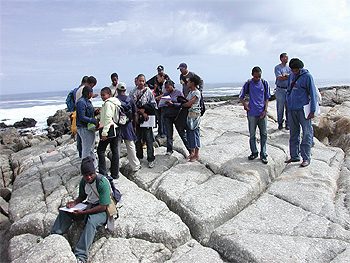 The latter is a unique, state-of-the-art land and marine corer that works using a combination of variable frequency sonic vibration from two sonic motors to collect up to 12 metre cores with core diameters of 110mm in unconsolidated sediments onshore, and in water depths up to 600 metres.
"This is a product that we are very proud of," says Steve. "There are a lot of similar products in operation around the world that offer some of the aspects of the sonic hammer corer, but there is not one that offers everything needed in one package as ours does. One of the most important aspects of the sonic hammer is that due to its state-of-the-art technology it is able to measure penetration in real-time."
The technology that Steve mentions involves varying the sonic frequency during operation to optimise penetration by setting the vibration frequency to emulate the harmonic frequency of the sediments being cored. Alongside the variable sonic frequency the sonic hammer corer also uses its hammer function to give the operator indications of sediment competency to relate to in-situ density. Ease of use comes from the manner in which the sonic hammer is remotely controlled via an onboard computer with specially designed graphic user interface (GUI).
Alongside the development of the sonic hammer, the business has recently become a distributor in Sub Saharan Africa for the Belgian company Demco's AQUARes resistivity system. This system is a high-resolution profiler with the ability to achieve up to 20 metres of penetration. The key advantage it has over conventional systems is that the sensor is towed along the seabed and makes the survey independent of water depth and weather conditions. 7 Sea Geosciences' experience in South Africa enabled it to realise that AQUARes would be ideal for the market, where the high energy coastline constrains the use of high resolution acoustic systems and will be highly valuable in exploration operations planned for the region.
The scope of developments at the business indicates just how successful the business has been in its short lifetime. With Africa offering a range of exploration opportunities for the future, Steve is confident that 7 Sea Geosciences can continue to play an important role in the growth of the country: "West Africa has been established for many years but countries like Namibia, South Africa and Mozambique are relatively young markets that we are well placed to service. At 7 Sea Geosciences, quality is always paramount, and by continuing this trend we hope that we can become Africa's supplier of choice for the future.
"Our fast expansion has also highlighted a need for investment and development of key partners in our core disciplines and we would be pleased to open dialogue with any interested parties in this respect. We also encourage industry participants to visit our website regularly as we have a few very important developments in the pipeline, which will further extend our capabilities in the Sub-Saharan region."
7 Sea Geosciences
Services: Geoscience services