Digging deep
Although mature in its conception, the use of pipelines to transport substances, such as gases and liquids, continues to grow apace.
As a group, A.Hakpark B.V. is concerned with all aspects of large diameter transport pipelines from design and installation, to modification and maintenance. For the last four years the Group's drilling capabilities for such projects have been executed through its subsidiary A.Hak Drillcon B.V. This includes the design, engineering, and construction of equipment for all the trenchless technologies for underground infrastructures.
"We are specialists in horizontal directional drilling (HDD) crossings, but also in direct pipe drilling methods, micro tunnelling, and auger drilling," begins Ronald van Krieken, general manager of A.Hak Drillcon. "As part of A. Hakpark we can carry out complete projects including pipeline and cabling work as well as drilling, or we can operate independently on drilling-only contracts depending on what the customer requires."
Typical applications for A.Hak Drillcon's services include pipelines for gas transmission, kerosene and oil transportation, fresh and wastewater, telecommunications connections, heat transport systems, landfalls, culverts, inverted siphons, drainage systems, and low-, middle- and high-tension connections. The company is focused on providing a full service to its clients, which means as well as maintaining its own engineering department, A.Hak Drillcon also operates its own fleet of in-use designed rigs.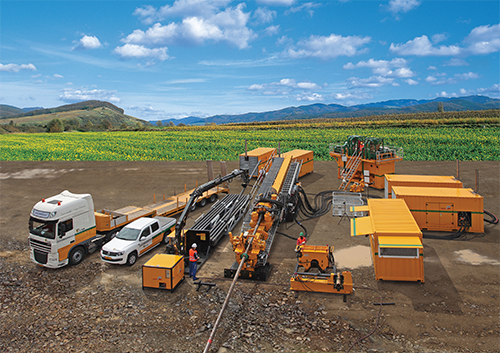 These vary in terms of size and application, from the 3-tonne HDD mini drill rig up to the 400 tonne HDD mega drill rig, allowing A.Hak Drillcon to execute a wide scope of projects whether large or small. The company also operates micro tunnelling systems, which enable it to install large diameter pipelines without a trench through the use of a tunnel boring machine (TBM) and hydraulic support equipment.
Most notable though is A.Hak Drillcon's status as the only company in the Netherlands to use the direct pipe drilling method. This technique combines the existing HDD equipment with micro tunnelling, which is delivered through a state-of-the-art system with a special TBM and a new pipe thruster machine. Having completed its initial project using direct pipe drilling in 2010, A.Hak Drillcon went on to deliver a further four in that first year. This included a crossing of the Hartelkanaal in Rotterdam, which earnt the company the No Dig Award 2011, together with its client Gasunie.
Since this time A.Hak Drillcon has pushed its expertise in direct pipe drilling even further by undertaking the first drilling of more than 600 metres in length using this method.This meant that once again with the co-operation of Gasunie, the company was able to complete a drilling of 1400 metres and a diameter of 48 inches, for the north-south pipeline project along the east side of Holland. In another first, the drilling went under several land parcels at a depth of five metres, where before drillings of this length would be at least ten metres below the surface.
"We are always focused on satisfying the customer," enthuses Ronald. "As well as the flexibility of our own drilling equipment, we also have around 70 employees in-house with a vast amount of skills and experience. Many of our staff have been involved in HDD techniques since they began in Europe in the 1990s, and from this time have worked all over the world including Russia, South America, the Middle East, Africa, and Asia."
At present A.Hak Drillcon's order book has a number of projects underway, several in the pipeline, and one that has just been completed. Elaborating upon this work, Ronald says: "We just completed a major HDD crossing of 750 metres length, which required us to utilise our brand new 330-tonne HDD mega rig. We're working on another project for Gasunie in the south of Holland, where the rivers and marshes mean there are quite difficult soil conditions with a lot of stones and boulders in the ground. Within this we are drilling 30 kilometres of 48-inch gas pipeline, including four large micro tunnelling's of between 200 and 300 metres length. Furthermore, we will begin work shortly on a contract for a crossing of just over 1000 metres at the River Maas using the direct pipe drilling method."
The company's good relationship with its customers means that whilst there is fierce competition in its domestic market, A.Hak Drillcon continues to receive new enquiries every day. Already the company has two projects scheduled for next year, which would suggest that when it comes to trenchless construction of underground infrastructure A.Hak Drillcon is a name long-drilled into the market's consciousness: "Continuing our good relationship with Gasunie, we have just started the engineering for a new 60 kilometre pipeline to the west of Holland, which is a very difficult area due to soil conditions and the volume of infrastructure. Also in 2013 we are to work with NAM to deliver a new 35 kilometre 48-inch pipeline, which also includes a number of crossings up to 1000 metres in length," concludes Ronald.
A.Hak Drillcon B.V.
Services: Specialist in trenchless technologies