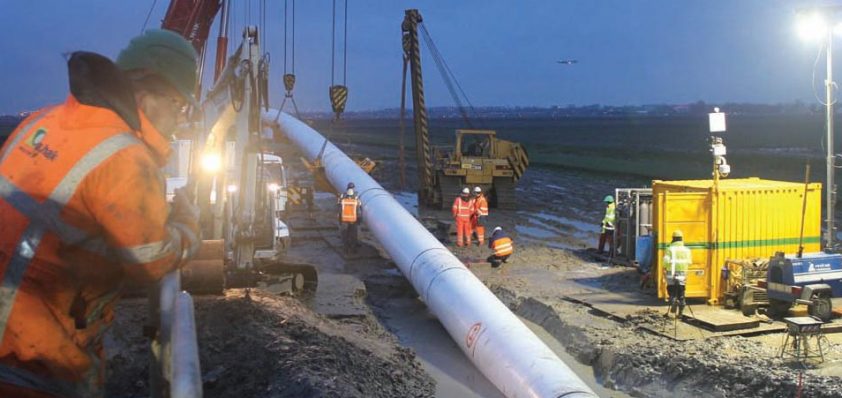 To boldly go
There are few countries in the world that have such an advanced and extensive network of underground cables and pipelines as seen in the Netherlands.
This infrastructure is designed for the distribution of liquids, gases, electricity and the transmission of data. However, when a network of this type needs to be extended or adapted, it is not always possible to dig trenches. Existing infrastructure often poses as an obstacle and in this situation trenchless technologies are often the best solution.
A.Hak Drillcon executes directional drilling projects in the Netherlands, Europe, and the rest of the world. With a large number of technologies at its disposal, the business is recognised as a leader in trenchless technology. As a specialist in horizontal directional drilling (HDD) crossings, direct pipe drilling methods, micro tunneling, and auger drilling, typical applications include pipelines for gas, oil, kerosene, heat, drinking water and wastewater, medium and high voltage cables, telecom connections, pipeline tunnels, land accretions, culverts, siphons and drainage systems.
"During the last five years we have been very busy with large gas pipeline jobs in the Netherlands. As we draw to a conclusion on this period of work, we are looking further afield, at the moment undertaking projects in Germany, Belgium, Denmark, Hungary, Romania, Moldova, Saudi Arabia and Nigeria to name but a few," says Ronald van Krieken, managing director. The company is part of A.Hakpark, a family enterprise consisting of several subsidiary companies. Through the many years of experience working within a large group of businesses it understands the importance of close and efficient co-operation. "This is an advantage for us as well as the client. We can work as an independent drilling contractor, main contractor or sub-contractor, but importantly we offer our clients a total solution," he adds.
A.Hak Drillcon continues to invest heavily in state-of-the-art equipment as it focuses on providing its customers with the best technology available. With the record for the longest direct pipe drilling at 1400 metres it also won the No-Dig Award for a direct pipe drilling underneath the Hartel Canal in Rotterdam Europort. Its fleet of 15 drilling rigs ranges from a three tonne HDD mini drill rig up to a 500 tonne HDD mega drill rig, increasing the scope of activities the business is able to undertake. In total it has over 20 drilling spreads in operation, including microtunneling, direct pipe and pilot guided auger drilling.
The 500 tonne rig, delivered in June 2013, is one of the largest rigs in the world and after completing several 48" crossings it has just been mobilised on a project in the Netherlands, installing two pipelines channeling beneath the River Waal through difficult soil conditions, in lengths of more then 1000 metres. "Given the proximity of the work to homes and industrial properties in Nijmegen, the difficult project relies heavily on our skill and experience.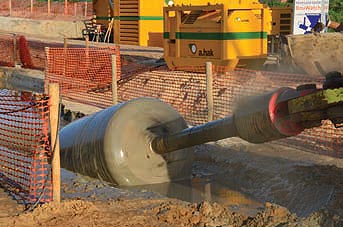 We have a high standard for flexibility, quality and safety with a fleet of over 20 drilling rigs, each with a dedicated drilling crew. All our employees undertake annual training, and we work together with local universities and have established a custom-made management module. Additionally we have a team that works solely towards innovation, developing new technologies to serve the clients," explains Ronald.
For close to one year the business has worked on the development of a new drilling technique that will increase the possibilities of longer drilling in the future up to lengths over 3000 metres. With initial tests due in 2014 and 2015, launch to the market is set for 2016. In March 2014 the business also acquired a new 45 tonne HDD rig and a replacement 16 tonne unit. The robust design will be fully automated for small scale drilling tasks. In May 2013 it began another significant project, building a 60-kilometre high-pressure transport pipeline in the north west part of Holland. A total of 12 HDD 48" crossings were made with varying lengths of 800 to 1250 metres, and 12 microtunnels and one Direct Pipe crossing in the project, in which A.Hak Drillcon was responsible for the execution according to the high standard for safety and quality.
Under a partnership arrangement A.Hak Drillcon is currently undertaking a large micro-tunneling project in Germany, drilling pipelines three metres in diameter over 1500 metres in length.
The company continues to look for new opportunities, and recently set up drilling activities in Nigeria. Such an example is typical of where HDD methods are being considered instead of normal dredging, because there have been issues in the country with pipelines being damaged when people steal oil. HDD is undertaken at a depth of at least 15 metres so nobody can come into contact with the pipeline. Through a joint venture with a local partner, the company has two maxi-rigs working on oil and gas pipelines in the Niger Delta. As the company grounds itself in a good position in the international market Ronald concludes: "Europe remains our home and main market but we continue to explore opportunities in the Middle East and West Africa. The rest of the world needs the experience of western European companies."
A.Hak Drillcon BV
Services: Design, engineering and construction of directional drilling