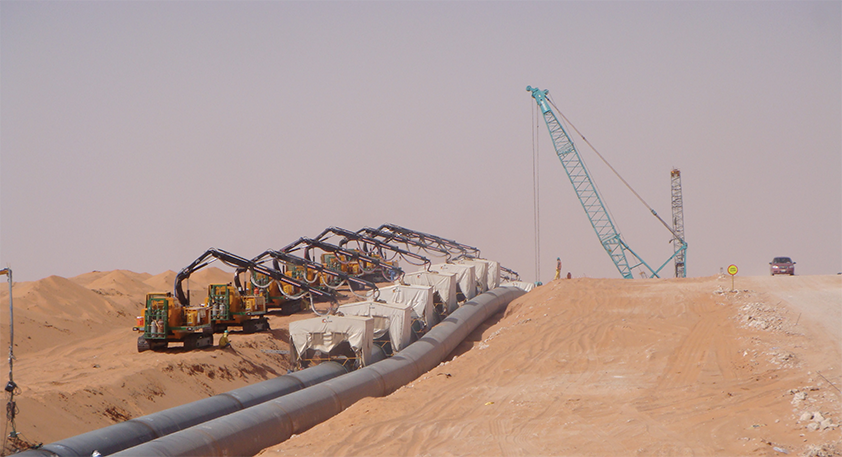 Optimised quality
A.Hak International BV is the international pipeline arm of A.Hakpark, handling all aspects from design and completion to modification, management, and maintenance of large diameter transport pipelines.
From front-end engineering to the turnkey delivery of a project, A.Hak International utilises fit for purpose management and excellent communication to optimise time and quality.
A.Hakpark operates as a family of companies that operate independently, but together provide total solutions for the transportation and distribution of oil, gas, water, electricity, data, telecommunications traffic, lighting, and renewable energy. By combining forces between the different companies A.Hakpark can deliver complex multidisciplinary projects independent of other parties.
The group started life in the Netherlands in 1963 where it became increasingly specialised in transport pipelines. From 1975, A.Hakpark was also operating outside of its domestic market as its expertise became recognised globally, and throughout the following decade expanded into handling cables in addition to pipes in response to market demands.
As with all A.Hakpark companies, A.Hak International adopts an attitude of 'getting the job done', which means that it actively anticipates unforeseen problems and uses its capabilities to overcome them. This is particularly important when executing projects in more remote locations where additional personnel and equipment, or the support of existing infrastructure may not be possible.
This problem solving approach is demonstrated in the advanced machinery and equipment operated by A.Hakpark. One example of this is the direct pipe drill technique, which currently A.Hakpark is the sole company to use in the market. With this method, a tailor-made tunnel boring machine (TBM) of around 20-metres in length is placed in front of the new build transport pipe. This machine is made up of selected drill bits, which are adapted to the local ground conditions, measurement systems, steering cylinders, and bentonite injection points.
The direct drill technique is suitable for difficult permeable ground layers and can easily achieve great depths, whilst offering a minimum chance of a blow-out, no possibility of damage to the outer coating of the new pipe, no jamming during the drill process, and no instability in drill tunnels. Furthermore, only the entrance side of the drill site needs to have a substantial working area, and without the need to install a receiving shell pile offers cost reductions. Significant benefits include a minimal waste of bentonite, fewer transport movements, lower level of noise, and a safer working area.
With A.Hak International delivering pipelines infrastructure to the heavily regulated energy, petrochemical, and food industries, the company places the highest importance on its quality and safety standards. As such, A.Hak International is fully certified to ISO 9001, ISO 14001, ISO 3834-2, and OSHAS 18001, as well as an acting member of the International Pipe Line & Offshore Contractors Association (IPLOCA). The company believes that quality and safety should be integrated at every step for the delivery of a successful project, which ensures not only employee safety, but also guarantees that the client's own high standards are maintained. Transparency in everything that A.Hak International does also serves to reduce risks, accidents, and stoppages.
A.Hak International also takes great pride in the short communication lines of its structure, supported by its family owned mother company, which it utilises in order to mobilise 'best fit' teams on a project-to-project basis. As the world moves towards greater global connectivity, A.Hak International has seen similar changes take place in the market for transport pipeline projects, where roles and responsibilities are redefined and increasingly infrastructural works are contracted to external parties. In this changing market, A.Hak International strives to position itself as a worldwide leading player.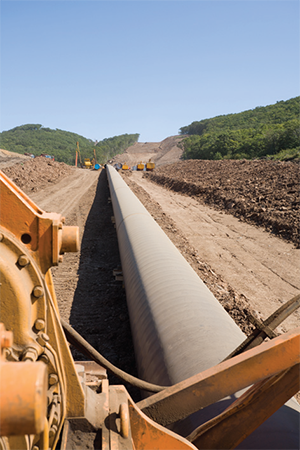 As such, the company has an impressive track record of projects successfully completed worldwide in countries such as Albania, Syria, Tunisia, Nigeria, India, Iraq, Italy and Saudi Arabia. During this time A.Hak International has been involved in some landmark projects, including the largest pipeline project in India. This involved the laying of a 48-inch high-pressure gas pipeline of 1400 kilometres in length for Reliance Industries. The pipeline transports resources from the gas fields in the Bay of Bengal to the east and west coasts of the country. The project was therefore accordingly large in scale with 38 valve- stations and ten compressor booster stations, which are used to transport 80 million cubic metres of gas per day. It also took in some more challenging geographical aspects such as the crossings of rivers and a mountain.
A.Hak International's involvement in the project revolved around advising on the engineering and construction of the pipeline and compressor stations, pre-commissioning and commissioning, and writing the operational procedures. The company contributed a lot of knowledge and expertise to the basic engineering of the project.
Elsewhere, A.Hak International has assisted in the laying of two 48-inch pipelines, which in total extend over 60 kilometres to two new offshore oil tanker loading buoys for the Iraqi government. Known as the Crude Oil Export Expansion Project (ICOEEP), work began on the pipelines in 2011 with successful completion earlier this year. Carried out by Australian company Leighton Contractors, the project was considered vital to the reconstruction of Iraq and the country's plan to rebuild its oil and gas industry. A.Hak International's role was concerning the onshore section of the pipelines that lead back to the Fao Terminal, and included mechanical work for the construction of the Beach Valve Station, construction of eight kilometres of double pipeline, and the laying of the connecting pipework.
One market that has proven particularly important for A.Hak International in recent years is the Middle East, and this remains the case today with the company having established a new office in Dubai, United Arab Emirates (UAE). In terms of activity in this region though, the company has already seen great success through its work last year on the largest hydraulics project ever in Saudi Arabia to supply the city of Riyadh with more drinking water.
The total value of the project is around $1.5 billion, which includes A.Hak International's scope of works as part of the SSEM-Al Rashid-Hak consortium. This consists of coating and internally cementing water pipes, constructing just under 400 kilometres of pipeline, and the building of three pumping stations, 12 water reservoirs, a 360-kilometre long above ground power line, and a SCADA system. A.Hak International is primarily applying its expertise to the mechanical work for the pipeline, and the connections to the pumping and distribution stations and valves. Within the 400 kilometres of pipeline that the SSEM-Al Rashid-Hak consortium is responsible for, 40 road crossings have also had to be implemented which are carried out in collaboration with A.Hak Drillcon BV.
Although the world economies remained relatively fragile, 2011 continued A.Hakpark's run of good years with another strong performance, which enabled it to meet its growth objective. As such, the group approached 2012 with a similar air of optimism, despite the residual financial uncertainties. Having a wide spread of involvement in different industries means that whilst there was some decline in A.Hakpark's domestic market, it was compensated for by an increase in turnover from the construction of transport pipelines overseas.
This is a trend that A.Hakpark hopes to see continued. One positive indication of such an outcome has been A.Hak International's ongoing retention for projects in Albania. In 2008 to 2010 the company was responsible for the construction and refurbishment of a water pipeline system in the town of Vlore working with local subcontractors Edil Alit and Alb-Star. Having received positive reviews from this client, A.Hak International was then employed by Canadian company Bankers in 2011 on the construction of a pair of 11 kilometre parallel pipelines – one for oil and the other for industrial water.
A.Hak International BV
Services: Pipelines