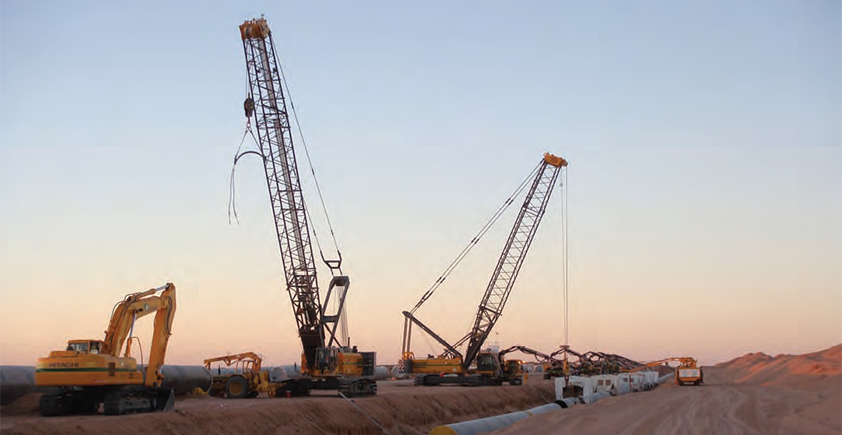 Growth in the pipeline
The international pipeline division of A.Hakpark, a family of companies that provide total solutions for the transportation and distribution of oil, gas, water, electricity, lighting and renewable energy, data, telecom traffic and industrial services, A.Hak International BV, handles the full spectrum of services for large diameter transport pipelines.
Headquartered in Holland, the division has been installing pipelines for 50 years, as Theo Verkerk, area manager of Africa for A.Hak International BV elaborates: "In 1963 a big gas field was discovered in Holland and it became necessary to make a system for that. We were transporting the pipelines at first, then we began welding and putting the pipes together and laying the pipes ourselves. Today we are one of the major contractors in Holland for underground infrastructure services, such as oil, gas and water, but also, district heating and electricity."
As a family of companies that all operate independently, A.Hakpark also integrates its divisions to offer complete solutions to complex multidisciplinary projects independently. The divisions are characterised by their problem-solving attitude, which is apparent in the advanced machinery and equipment utilised, such as the direct pipe drill technique, one of the unique selling points of sister company A.Hak Drillcon. "The technology we are using for putting the pipelines together is used all over the world, but we have a direct pipe drill system that is unique in the world. A.Hak is the sole company to use this method," highlights Theo. "If clients don't want to cross rivers, railroads or highways, this is one of the drilling methods that allows us to drill underneath."
Using this method, a tailor-made, approximately 20 metre long tunnel boring machine (TBM) is placed in front of the new build transport pipe; featuring carefully selected drill bits adapted to local ground conditions, a number of measurement systems, steering cylinders and bentonite injection points, the TBM offers a number of advantages. These include suitability for difficult permeable ground layers, no jamming of the drill process, cost reduction on shell piles and the ability to achieve great depths with minimum chance of a 'blow out'. Furthermore, the TBM offers minimal waste of bentonite, fewer transport movements, lower noise levels and a safer working environment.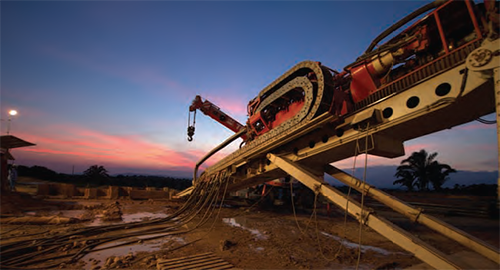 With a strong focus on working with state-of-the-art technology to obtain the best results, the company utilised the TBM for a recent major project in Holland, as Theo explains: "Currently, one of our biggest projects involves laying a 48 inch gas pipeline of 60 kilometres in the west of Holland; I could mention another 200 – 300 projects we have been involved with in Holland, but this is a major one. We also just completed putting a big 30 kilometre pipeline through a lake for district heating, from Diemen, near Amsterdam to Almere. These are just projects in Holland, we are also working on projects around the world, such as three big oil projects in Iraq and the construction of a 900 kilometre long water pipeline through Saudi-Arabia."
As part of Australian firm Leighton Contractors' project to lay two 48 inch pipelines of 60 kilometres to two new offshore oil tanker loading buoys for the Iraqi government, A.Hak International is laying the onshore section of the export pipelines from the Fao Terminal, located 150 kilometres from Basra, close to the border with Iran and Kuwait. Vital to the reconstruction of Iraq, the project will help rebuild the country's oil and gas industry following years of turmoil; as part of this project, A.Hak International will contribute to the mechanical work for the construction of the Beach Valve Station on the coast, the construction of eight kilometres of double pipeline to the Fao Terminal, which includes two metering skids and two scraper traps for the laying of connecting pipework.
A.Hak International delivers pipeline infrastructure to the stringently regulated energy, petrochemical and food industries, which requires a high focus on quality and safety standards. Believing quality and safety should be integrated at every step to ensure the successful delivery of a project, the company is fully certified to ISO 9001, ISO 14001, ISO 3834-2 and OSHAS 18001, and is an acting member of the International Pipe Line & Offshore Contractors Association (IPLOCA). This dedication ensures employee safety and that the client's own high standards are maintained; on top of this, the company's transparency reduces risks, accidents and stoppages. "We have our own quality system that we work by to ensure our company and our staff benefit from a safe environment. Our focus on safety and quality also helps to meet the expectations of clients like Shell and Total, companies that also have extremely high levels of quality and safety standards," says Theo.
This commitment to safety and finding the best possible solutions for its customers will continue into the future as A.Hak International focuses on steady growth and expansion into areas such as South America, Libya and particularly Africa, where the company sees potential for a tremendous amount of work, as Theo concludes: "Africa will be booming in ten years; it is unexplored and a huge amount of oil is being found that needs to be transported. Regarding the water issue, we are looking into this market in Africa because we want to supply water to everyone. So far we have gained a contract in Gabon, are busy in Rwanda, are tendering for another contract in Gabon and are also tendering in Cameroon and Kenya. The company is developing positively and we aim to double our turnover in the next three to four years."
A.Hak International BV
Services: Pipelines and related facilities