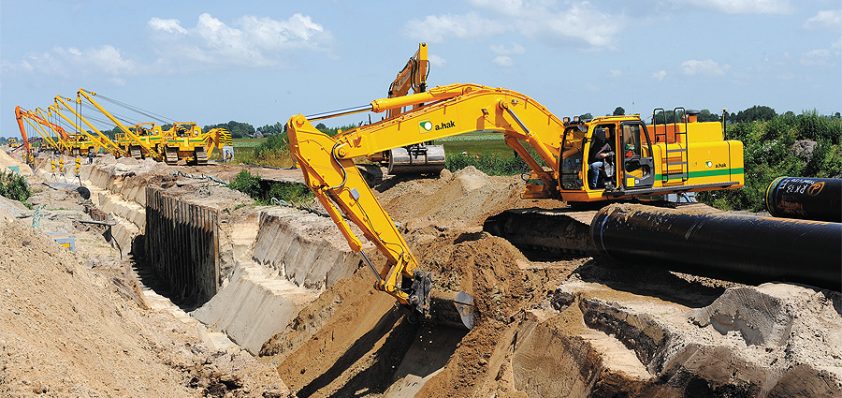 Tour de force
VOF Nedstream, in which A. Hak Leidingbouw participates, started the construction of an 87-kilometre long 48-inch natural-gas pipeline in the Netherlands at the beginning of the year.
This is a huge task, even for Gasunie, who commissioned the project. The task involves the construction of one of the longest pipelines of the route in Gasunie's Gasrotonde Project, and it is the length of the pipeline that makes this project so remarkable.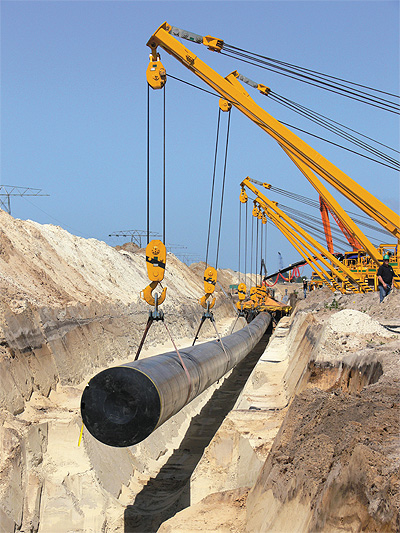 "In a small and densely populated country like the Netherlands, distances of this kind are now a days very unusual," says project manager Jan Verhoeven of A. Hak Leidingbouw. "A. Hak Leidingbouw is responsible within Nedstreamfor the construction of the northern section of the pipeline, which is around 55 kilometres long, and for the hydrostatic testing and drying of the entire pipeline."
Automatic welding
According to Mr Verhoeven, the project involves a range of techniques, including different types of drilling. "One new aspect of the project is automatic welding: this technique has, until now, hardly been used on Gasunie projects. In recent years, its application has become more and more widespread, and there are various reasons for this. It is not just that quality requirements made by commissioning parties are becoming increasingly more stringent, but also the fact that automatic welding brings benefits in terms of time and money. In the final analysis, we have to be able to complete a project in line with quality demands, and within the time available and for the lowest possible price, but of course without making any concessions in terms of safety."
The most important factors associated with automatic welding are the consistently high quality and considerable reduction in the number of disruptions. "As a contractor, you want to avoid every possible shortcoming in your work – every error costs time and money. With automatic welding, the proportion of errors is much lower. Automatic welding removes that uncertain human element from the welding process. Another benefit is that you don't need as many welders," explains Mr Verhoeven.
One advantage is that the welding preheat temperature of the joint is lower than with manual welding – 80oC, compared with 150oC. In addition, the preheat process with automatic welding occurs through induction, which is not only more accurate, but also faster than using a gas burning device. A. Hak has itself developed a procedure for automatic welding.
Drilling
A. Hak Leidingbouw is using different types of drilling techniques in the construction of the pipeline: horizontal directional drilling, closed face tunnelling, auger boring and drilling by pipe hammering. Horizontal directional drilling is used for distances of around five to six hundred metres, where major waterways, motorways or other circumstances prevent the application of the standard procedure of laying pipes into a pre-dug trench. A-Hak Leidingbouw is conducting this type of drilling in four places, each around six hundred metres in length: three under a waterway and one beneath a busy road, with an average depth of around fifteen metres.
Closed face tunnelling has been used at sixteen locations along the total route of the pipeline. This method, for stretches as long as three hundred metres, often involves lowering the ground on both sides. Mr Verhoeven explains: "Closed face tunnelling is particularly suited for greater depths. The advantage is that the drilling process is the best way of monitoring the situation. You immediately fill up the ground you have just dug up, and that keeps the chance of subsidence to an absolute minimum."
For smaller roads and waterways, and for more modest depths, A. Hak Leidingbouw uses the most tried and tested method – auger boring, of which around ten feature in the section of the pipeline, are being constructed by the company.
A relatively simple method of drilling is by pipe hammering. This involves drilling less deeply than the other techniques. Depending on the amount of space available, each successive part of the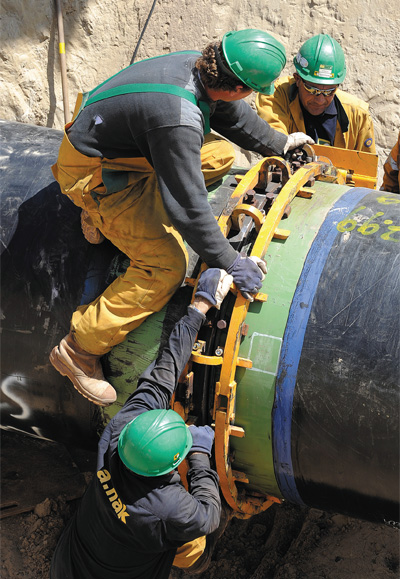 whole length of the pipe that has to be put into the ground is laid into the trench. A heavy four-metre hammer knocks the pipes through the soil. Any sand ending up in the pipe is subsequently removed with controlled high-pressure air or water.
Advanced equipment
In order to carry out the project, A. Hak Leidingbouw is using advanced machinery. Mr Verhoeven continues: "We have to cold bend 750 curves, but our new bending machine has increased our options remarkably. For example, we can bend X70 material 48-inch pipes with a wall thickness of 22.7 mm without any problems. More than that, the machine can also cope with a 48-inch pipe with a wall thickness of 30 mm." A. Hak Leidingbouw is deploying around ten new sidebooms for this project as well, he continues: "These sidebooms we recently acquired are specially equipped for this kind of heavy-duty work."
Masterclass in 'pipeline inspection technology'
The A. Hak Industrial Services Inspection & Pipeline Services business unit is giving master classes in pipeline inspection technology. Business unit manager, Hans Gruitroij, explains: "It was clear to us that there was a demand from the market for greater knowledge of this topic, so it was an easy decision to take, to provide the added value to our customers, that this knowledge represents."
There are about ten to fifteen people in every master class, with participants from government, engineering firms, and private sector customers. "I prefer smaller groups and people from different fields. That makes the learning process as productive as possible," Mr Gruitroij notes. The course lasts for one day and consists of a general theoretical section concerning in-line pipe technology and a specialisation ('pigging the unpiggable'), followed by a practical demonstration.
A. Hak: our world, your future
Since 1963, A. Hak has formed the foundation for aboveground and underground infrastructures. It concentrates on the management, engineering, acquisition, financing, construction and laying of pipeline projects – large and small – for oil, gas and water.
A. Hak offers a total service package, ranging from inspection, drying and cooling to cleaning pipelines, vessels and components. Its programme also includes repairs, pipeline management and the commissioning of complete installations. A. Hak employs around 2800 people and achieved a turnover in excess of 302 million euros in 2008. Its healthy order books suggest an almost 25 pe cent increase in turnover in 2009, to 376 million euros.
Within A. Hak, A. Hak Leidingbouw is responsible for the construction of pipelines in Benelux, which are used for transporting gas, oil, water (including wastewater) and district heating, among other things, both above and below ground. This involves either new, replacement or extension of pipelines. Its customers include Gasunie, the Nederlandse Aardolie Maatschappij (NAM), Fluxys and various water and energy companies.
A. Hak Industrial Services is an industrial service provider for the chemical, petrochemical and pipeline industries in particular. A. Hak Industrial Services offers its customers a total package of services, from inspections, drying and cooling, all the way to the cleaning of pipes, vessels and components. Its package also includes repairs, pipeline management and the commissioning of complete installations.
A. Hak Industrial Services consists of three business units: inspection services (inspection of non-piggable pipes); industrial services (drying and cleaning vessels, pipes and components using nitrogen) and pipeline services (including the testing, emptying, repairing and management of pipes).
A. Hak International concentrates on the construction of pipelines for transporting oil, gas and water, inclusive outfalls and shore approaches. The work often concerns projects in which the company operates as part of a collaborative partnership. A. Hak International is active worldwide and has branches in and outside Europe.
A.Hak
Services: Pipeline construction, inspection and industrial services