A renewable energy revolution is underway at IMTT
Greener and cleaner
International-Matex Tank Terminals – better known as IMTT – is a name that's been synonymous with petroleum in North America for more than 80 years. These days, the company is leading the way with a 'greener and cleaner' revolution in the oil and gas industry.
While petroleum is still very much part of the picture, IMTT is focusing heavily on energy transition and improving support and logistics for greener fuels – with a focus on renewable diesel and feedstocks, sustainable aviation fuels and cleaner marine fuels.
It's a slick transition for the bulk liquid storage company, and also a smart response to the ever-increasing demand for low-carbon energy solutions and sustainable fuels.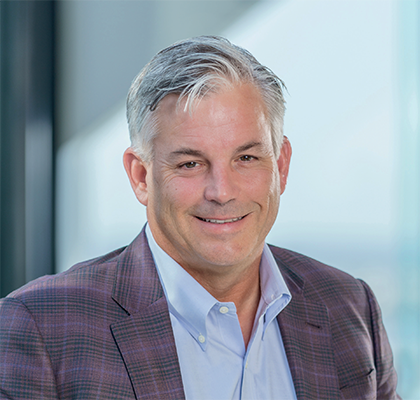 "In the next three to five years we will have upwards of 60 to 65 percent of what our business would consider 'greener and cleaner'," says Carlin Conner, Chief Executive Officer of IMTT. "When we bought the business two years ago it was probably 30 to 35 percent.
"But it's important to appreciate that we are dealing with percentages and it doesn't mean we are shrinking the legacy petroleum business. We are managing that side of the business still – and there is still lots of demand for legacy petroleum. The increase in percentages is really a function of new investment in the green space."
Headquartered in New Orleans, Louisiana, IMTT is an industry leader in the handling and storage of bulk liquid products from its 17 terminals across North America. Those bases handle everything from petroleum and biofuels to commodity and specialty chemicals, alongside vegetable and tropical oil products for its many customers which include refineries, chemical manufacturers, and distributors.
IMTT has developed a strong reputation for supporting the renewable road fuel market with mass storage of products including renewable diesel, biodiesel and ethanol. The company's huge success in collaborating with customers has recently led to two major expansion projects – each worth over $100m – that will handle renewable diesel feedstocks in addition to supplying renewable diesel to the market.
The first project, which is now live, involves tankage, rail facilities, and two pipelines. IMTT receives renewable diesel feedstocks that it delivers to the renewable diesel plant. The plant then returns renewable diesel, which is distributed to the market.
Carlin continues: "In the meantime we have also announced a very similar project at our Geismar facility, which is upriver from New Orleans, where we have contracted with Chevron/REG to receive and handle renewable diesel feedstocks produced at their plant. We will then deliver the feedstock via pipeline to their renewable diesel plant and we will receive finished renewable diesel back for distribution to the market.
"Both of these projects are backed by long term contracts, and both are completely in the renewable space, basically taking rendered fats and vegetable oils as feedstocks and creating a cleaner diesel that can be used on the road."
But the growth and development at the Geismar terminal doesn't stop there. IMTT is also building out its methanol tankage and pipelines to expand its existing relationship supporting Methanex, the world's largest producer and supplier of methanol. In addition to being a chemical used for everyday products, including plastics, paints, and construction materials, methanol is also a clean energy source used to fuel everything from cars and trucks to ships and boilers.
Adding tanks, increasing storage, installing new pipelines, and making new connections. It's all happening at IMTT and so it's no surprise that the company is serving an increasing number of customers operating in the 'cleaner and greener' space.
With an array of large capacity terminals in major US and Canadian markets, IMTT fully intends on leveraging its footprint to continue growing on the energy transition front. At the moment, the company is involved in preliminary discussions that may result in exciting new logistics infrastructure being built on the Mississippi River which could potentially be used in the production of another low carbon energy source – blue ammonia.
It is expected that there will be opportunities on the river for Asian and European renewable energy firms to support the development of blue ammonia production, and IMTT has the logistics, infrastructure, and facilities available to help make these clean fuel ambitions a reality.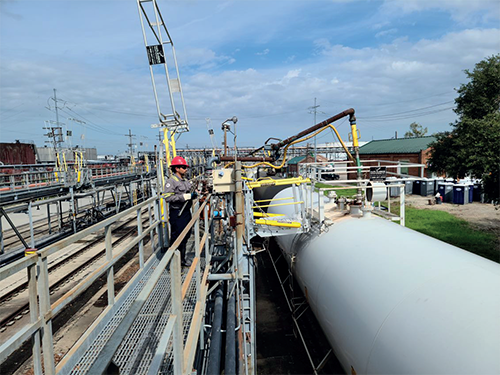 "We believe it's a win-win," says Carlin. "Obviously the environment benefits from that, and we also believe industry benefits as well. Like with everything we do, we it in conjunction with our communities. That to me is about education, as well as standing up for what we believe." It's all about forward progress with IMTT, and the company has come a long way in various other areas of its operations. Historically the organization's safety record was "unacceptable", according to Carlin. Before the company was bought and he became Chief Executive Officer two years ago, huge strides had already been made to create a culture that puts safety first and foremost.
Nowadays, Carlin and his management team are extremely proud that IMTT's safety record is ten times below the industry standard in terms of incidents. The aim is now 'destination zero' where processes are so effective that future years can go by with no health and safety incidents taking place at all.
More exciting projects are in the pipeline for 2023 around energy transition and playing a significant part in tackling climate change. But what is the vision for IMTT for the next five years?
"More of the same," insists Carlin. "We will continue to pursue energy transition projects. Our brand name around this is 'greener and cleaner'. We will continue to work hard, to continue to grow our greener and cleaner share of the business and continue to transform IMTT from a legacy petroleum business to a company that is servicing all sorts of new, clean and exciting fuels in energy.
"As always, we want to thank our employees. None of this is possible without the fantastic roster of employees – and it's everyone from the operating floor all the way through to headquarters. We have a great group that is focused and loyal, creative, smart, and committed."
www.imtt.com