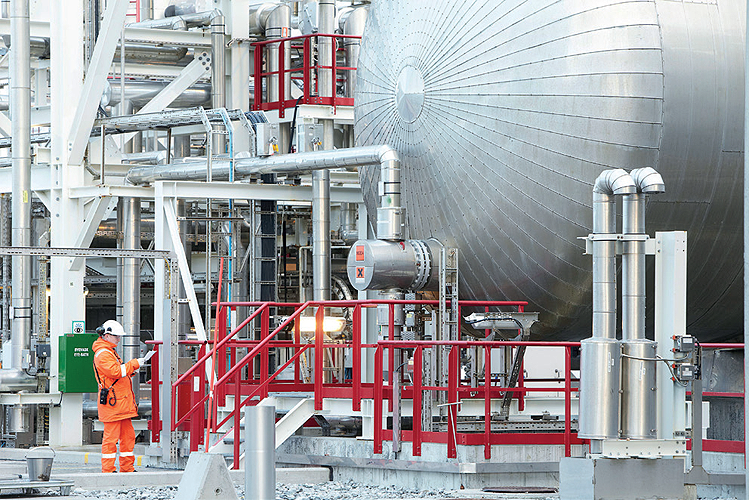 The oil and gas industry is one of the most hazardous environments in the world, and while significant strides have been made in reducing accidents and fatalities, the challenge of ensuring safety remains an ongoing one. Data submitted for the International Association of Oil and Gas Producer's (IOGP's) 2019 annual safety performance report recorded a 19 percent drop in the Fatal Accident Rate, with a decrease in fatalities from 31 in 2018 to 25 in 2019. The same period also saw an eight percent reduction in the number of injuries from incidents, accidents and near-misses. However, Gordon Bullard, Executive Director of the IOGP, summed up the industry's attitude of caution and continuous improvement: "Despite the fact that most of the figures in our latest report show improvement, every death and every injury must be considered a failure. That is why it is so important to understand the causes behind each and every incident."
Challenging times
Retaining and successfully transferring knowledge have always been fundamental in managing health & safety risks However, there has been a skills challenge in the oil and gas industry for a long time, and Covid-19 has exacerbated the problem. With demand falling off a cliff overnight, production in many places had to stop, which has impacted on jobs. In a recent survey by Broadbean Technology and job board OilandGasjobsearch.com, it was revealed that 93 percent of professionals in the industry are out of work, temperatures in a particular process, a maintenance engineer looking for the root cause may be more interested in the maintenance history of the instruments or plant equipment involved. Both will need to be able to find the information and use it to collaborate, whether they are on the same site or based at different locations.
The ability to share everything from operational data through to diagnostics in real-time opens a wealth of new possibilities. For operators, it enables access to current data plus supporting information if required that can be used to make informed decisions that can help optimize plant performance and safety.
With remote communications enabling the data to be shared offsite, for example with subject matter experts in a remote support center, there is the added reassurance of competent support in the event of an unfamiliar situation. By enabling remote staff to see what is happening on a particular site, the time and cost of dispatching someone to site is eliminated. The benefits that this can offer are particularly evident in situations such as the current pandemic, where the movement of staff between sites has been restricted by additional Covid safety protocols, lockdown and social distancing.
Another requirement is the need for the operator to be able to respond quickly and effectively in the event of an abnormal condition, alarm or emergency. With potentially hundreds of different situations from all over the plant, the system must be able to draw the operator's attention to the location and nature of the problem and provide them with the information needed to solve it. Features such as visual and audible alarms can help to direct the operator's attention to a potential area of concern so that it can be promptly addressed.
The system should also incorporate protection to prevent the operator from inadvertently creating a dangerous situation or making an existing one worse. Based on hazard identification and mitigation information from measures carried out at the design stage, the system should feature layers of protection that will stop the operator from performing certain actions and present them with alternatives.
Cyber secure
While remote communications have undoubtedly been a great enabler during the pandemic especially, it has also led to concerns about security. With Covid, a lot of operations have been conducted remotely, increasing the potential risks associated with unauthorized access and attacks on industrial control systems. Verizon's 2020 Data Breach Investigation Report estimates that there were 194 data breach incidents in the Mining, Quarrying, and Oil & Gas Extraction + Utilities sectors, while a survey by global cybersecurity specialist Kaspersky shows a rising trend in attacks on industrial control systems in the oil and gas industry, with 37.8 percent of ICS computers affected by an attempted attack in 2020, up from 36.3 percent the year before.
Saudi Aramco is just one example of a major company to be hit by an increase in cyber-attack attempts. This public enterprise suffered a huge cyber-attack back in 2012 when the Shamoon Virus hit the facility and damaged around 30,000 computers. Another example is the Trisis attack in 2017, when malware caused an emergency plant-process shutdown system at a Saudi Arabian petrochemical plant to become compromised for two months before the incident was identified as a cyberattack.
Protecting against such attacks expands the requirement for security from purely physical means to cyber-security measures. Protecting the automation systems and especially safety systems against malicious attack demands the same mindset as designing a site safety policy. Companies should have in place a strategy for managing and updating both safety and security management systems and creating and implementing a security policy that can be applied to minimize vulnerability of a company's infrastructure to potential attacks. To ensure its continued effectiveness, this policy should be kept updated in the same way as a safety management system.
By identifying every potential area of vulnerability and associated risk, a strategy can then be devised to prevent them, utilizing measures such as back-up procedures, anti-virus checks, software distribution standards, access control, write protection, competency-related role conditions and audit trails to identify when any changes were made to ensure the safety system is both safe and secure and ready to respond to hazards.
While practice, preparation and the correct equipment remain the fundamentals to an effective safety system, automation will help to support people in operating in a safer, more secure, and more efficient way.
For a list of references used in the article, please contact the editor.
ABB
Luis Duran is Global Product Line Manager at ABB, a leading global technology company that energizes the transformation of society and industry to achieve a more productive, sustainable future. By connecting software to its electrification, robotics, automation and motion portfolio, ABB pushes the boundaries of technology to drive performance to new levels. With a history of excellence stretching back more than 130 years, ABB's success is driven by about 105,000 talented employees in over 100 countries.
For further information please visit: https://new.abb.com/oil-and-gas/systems-and-solutions/automation-and-safety