A.Taylor & Son (Leeds) Ltd
Taylormade
Established in 1864, A.Taylor & Son (Leeds) Ltd has always worked in the manipulation of material, starting out as tinsmiths and sheet metal workers before gradually moving into large site built storage tanks by the 1960s.
Today, undoubtedly the company's main expertise lies in the demanding oil and gas industry where precision fabrication and engineering is a pre-requisite. Every day critical operations depend on the quality and integrity of 'Taylormade' products.
A.Taylor's foray into this marketplace came in the 1970s when it began to supply small fabrications to its first oilfield customers. Since then the size and scope of its services have grown alongside the company, and today it is proud to be considered a first tier partner to all the major oilfield contractors, with a reputation for delivering consistently high quality workmanship every time.
The company maintains a head office close to its historical location, as well as two other facilities in Leeds, with a fourth opening shortly. Each of these sites specialises in its own discipline, which together enables A.Taylor to provide a complete turnkey service to its client base. This includes fabrication, machining – CNC and conventional, final assembly, non destructive testing (NDT), and proof load testing.
Sales director David Minskip elaborates upon the new development: "Like many others in the subcontract sector A.Taylor experienced a relatively flat 18 months. However, given the number of projects potentially on the horizon the company has focused all its efforts on the new site, which is purpose built to increase capacity and will position us head and shoulders above our competitors. The new factory will house our expanding machining facility, which will be relocated from its current site in Armley. In addition a further 12 new machines will be installed, including a Mitsubishi CNC floor borer, which will put A.Taylor in an elite league as one of only a handful of companies that can machine parts up to 25 tonnes in weight."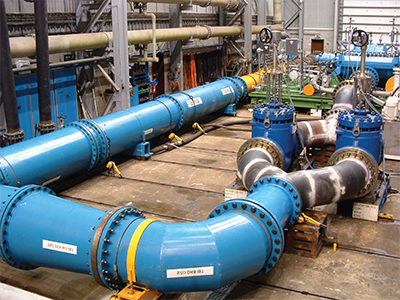 Inheriting a 150-year old site, which has not seen any investment in recent years, has however proved to be a significant challenge. Although A.Taylor has opened two sites in the last ten years, the task on this occasion has been very different, given the nature of its intended purpose in housing large machine tools. As such, everything has been stripped back right down to the nuts and bolts on the stanchions. The existing steelwork has been strengthened, and where required new steelwork manufactured and erected. In addition, the heating and lighting has been replaced, the building insulated and clad, and foundation work carried out to accommodate the weight of the new machines.
Looking at A.Taylor's current capabilities, the company manufactures a wide range of sub-assemblies and critical components for both the onshore and offshore sectors. Typical products include large ROV intervention assemblies for subsea Xmas trees, manifolds, and other subsea structures. These assemblies comprise an array of fabricated parts as well as precision-machined components, often in exotic materials such as Duplex and inconel. Third party equipment including valves and gauges are also installed before the assembly is tested and despatched to the customer.
A.Taylor also fabricates major structures such as production guidebases, flowbases and skids, which form part of the Xmas tree stack, the majority manufactured to very close tolerances requiring precision machining. More complex products include an array of subsea control module parts, providing control and monitoring of subsea valves and instrumentation. Although much smaller in size, these items require very high quality fabrications, which are often machined on multiple machines and undergo rigorous testing throughout the manufacturing cycle.
"The company prides itself on its versatility and expertise which allows it to tackle the most challenging of jobs, and is not afraid of highly technical specifications, tight tolerances or obscure materials. The most common demand though is very short lead times. A. Taylor understands its success has been achieved by embracing new industry challenges, and developing to meet ever changing customer needs. Coupled with this is its desire for continuous development, both as a business, and in its service to its key customers," describes David.
In fact the company is often called upon to assist customers in more demanding projects, which notably has included the manufacturer of a 36-tonne vessel for Australia, commissioned by Pipeline Engineering, a global leader in pigging, isolation and joint testing. "This was one of the largest fabrications manufactured by the company," notes David. "The 15-metre long pig launcher comprised several large diameter rolled and welded barrels, constructed from 50 and 55-millimetre thick special carbon steel. Uniquely, this high profile contract required complete manufacture in accordance with stringent Australian standards, before commencing fabrication. This required A.Taylor to re-qualify its welders to new strict technical codes."
The challenge didn't end there though, as A.Taylor had a little less than five months to complete the project, which included various subcontract processes such as stress relieving the finished fabrication in the UK's largest furnace. Despite this, the contract was successfully delivered in 15 weeks, a major achievement by the project team. More recently, A.Taylor played a role in the Oil Spill Response Project for a new emergency well-capping device. OSPRAG oversaw the design, development, project management, procurement, and construction phases of the project, with manufacturing by Cameron. A.Taylor was selected by Cameron to manufacture critical equipment including ROV panel assemblies, a test tree and shipping stands, plus a number of smaller items.
As well as its new facility, A.Taylor is also investing in its future by increasing its apprentice intake, which has become especially important to the business given the decline of skills in the industry over the last 20 years. As such, 2012 represents a record intake with the appointment of six new employees across the company's sites. These apprentices will cover all the key engineering disciplines in fabrication, welding and machining, and will increase the total number of apprentices to 11. It is expected that this level of intake will remain in forthcoming years as A.Taylor lays the foundations for it's very own Training Academy, where the company will roll out a bespoke apprenticeship programme. Commencing in 2013 it is hoped this world class scheme will provide the skilled engineers required for the continued growth of the company.
A.Taylor & Son (Leeds) Ltd
Services: Fabrication, machining and engineering