A renewable solution
The past three years have been an important period in the development of Aalborg CSP.
The company was formed after the successful merger of BK Aalborg and BK Engineering, which took place on the 1st January 2011. Owing to the onset of the global financial crisis it was decided that co-operation between the two companies would allow for a more streamlined approach to the market and strengthen both entities under a single brand. The sharing of knowledge and expertise within the new company also means that Aalborg is able to offer highly targeted and focused solutions to the growing concentrated solar power (CSP) market at a time when renewable energy sources are becoming increasingly important to the environment and to the global economy.
Despite the growing need for affordable energy within domestic and commercial markets, the global economic crisis has had a significant impact on the renewable energy sector as a whole, as governments and industry turn to more traditional energy suppliers. "In general our key market has been difficult since the financial crisis," explains Aalborg CSP CEO, Svante Bundgaard. "The power plant sector of CSP is mainly driven by government programmes for renewable energy and also by the financing market's ability to support renewable energy. This has been under pressure for some time so the development period for projects within our sector is relatively long, sometimes between two to four years. Often developments have been postponed so that we have projects that were first talked about in 2009, which may be going ahead as 'real' projects in 2014. Sometimes it can be as much as five years before we can expect to move out of development and into production."
While the renewable sector faces significant challenges, it retains an important role in helping to meet the world's growing energy needs and as such remains a robust market. Through its strategy of streamlined co-operation and by operating in markets outside of Europe and the US, where CSP is more readily embraced, Aalborg CSP has developed a strategy for positive growth over the coming years. "The European market for CSP has been really diminished in recent years and in Spain where we have been active, operating companies have been hit with some severe changes in operational tariffs. This has brought real insecurity to the market, however looking outside of Europe it's clear that the current development is within the Middle East, particularly Saudi Arabia where there are there are some very aggressive plans to develop renewable energy as an alternative to fossil fuel. This has been promoted and initiated with some promising pace, which is very encouraging," Svante oberves.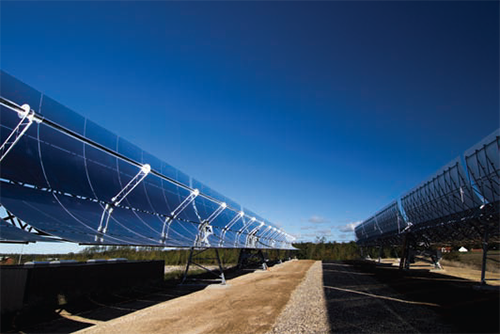 The company continually invests in the development of new technologies and expansion into more receptive markets. Currently it is active within the Middle East and South Africa as well as Spain and it plans to expand in Chile in the near future. Within these markets Aalborg CSP specialises in the provision of advanced concentrated solar power plants. From a technical standpoint, Aalborg benefits from being the 'new kid on the block' and considers itself to be at the cutting edge of CSP development. "We are boiler people," Svante says. "We are based in Aalborg, Denmark, which has a strong tradition of boiler production, which has inspired world-class boiler engineering. This is what drives us in developing the CSP market; we are focused on delivering the quality standard usually reserved for more traditional power plants to the renewable market.
"The CSP industry has a precondition that power boilers leak. They are using heat exchangers that leak under high stress situations, but if you look at the oil and gas industry, it would simply be unacceptable to buy a power plant boiler that leaks. Yet somehow the CSP industry has not really realised this. We are still getting specifications from customers saying you need to allow five per cent allocation for spare parts for leaking, but if you allow leaks for any amount of time over the 25 year lifespan of these plants you are encouraging a lot of down time. Our major contribution is to focus on the traditional virtues of the oil and gas boiler market and bring them to the renewable sector."
Offering design values and standards usually found within the oil and gas sector to the CSP market is a dual-layered strategy for the company as it reinforces the need for renewable solutions in the eyes of the world's governments and provides a real incentive for future partners to invest into the business. "We are certainly looking to grow the company, but really we are interested in lowering the cost of energy," says Svante. "As we have seen with the wind sector, subsidies run out if you do not show you can lower the cost of energy. So we are interested in promoting the technologies that make renewable energy more effective. If you can deliver even a three to five per cent increase in energy it makes a huge difference."
Aalborg also delivers a firm understanding of the principles and challenges involved in CSP energy production. As such, it is able to deliver market-leading solutions in the design of its CSP power plants. For example, knowing that the 'burner is not always active,' its plants are designed with energy storage and ramp up and down operations in mind to accommodate for diminished sunlight. It is paramount that CSP plants are able to respond quickly to changes to weather conditions and ramp up and down quickly to run as efficiently as possible, as well as to be constructed handle the stress that this imposes on the equipment. Understanding these principles has enabled the company to work with established industry partners across the globe to bring CSP to new areas. Recently, it completed an ambitious project in India with Godawari Green Energy and Lauren CCL Engineers Pvt. Ltd.
Moving into the future Aalborg is committed to growing the company as well as continuing to develop the utilisation of renewable energy. One area it is keen to invest in is the development of molten salt power plants due to the relative ease of deployment and the effective storage solutions offered by the process. As the world begins to fully address the need for renewable energy in the future, Aalborg is ready to ensure that CSP energy is available to play its part in a wider energy solution.
Aalborg CSP
Services: Concentrated solar power