Excellently handled
With more than 60 years experience, Aanestad Engineering is one of the industry's leading manufacturers of conveyor belt and bulk handling systems.
Delivering a range of products that includes pipe handling and logistic solutions for node handling and storage applications on board vessels, the company supplies many of the leading players in the oil and gas sector. Aanestad's employees, based at its site at Forus near Stavanger in Norway, are highly skilled engineers, capable of delivering turnkey solutions that meet the most exacting demands.
The company's Ulf Pettersen, elaborates on its history: "Aanestad was originally established in 1942 and named 'Arne Aanestad's Mekaniske Verksted AS'. At this stage the company consisted of a mechanical workshop that manufactured various products for its customers. In the mid-1960s the business commenced with the production of a range of baggage handling products. This has remained an important product area for us, and we still have a large market share in the baggage handling market in Norway, including regular participance in large projects with international airports.
"In 1987, following continued expansion, the company was taken over by a group of employees, and consequently re-named Aanestad Engineering," Ulf continues. "We have always had an active interest in the oil and gas sector, and have been responsible for supplying a range of products to major customers in the market. Particularly notable is the work that we participated in during the early development stages of the North Sea sector, where we provided products and services for the building of concrete oil platforms."
The company's experience in providing quality has meant that it has found it easy to transfer its knowledge further into the oil and gas sector in recent times: "During the last five years we have had a much higher focus on the offshore market," Ulf explains. "We have a great deal of experience in a number of industry sectors, and a catalogue of successful operations, and this not only sets us apart from our competitors but also allows us to easily adapt to the demands of the offshore clientele."
Looking closer at the offshore market, Ulf reveals that the company regularly provides products to many of the industry's leading players: "We work with many customers in our local sector – these include NorskHydro, Yara, Eramet, National Oilwell Varco, Seadrill, Odfjell Drilling and Virdrill."
Throughout its history Aanestad has been recognised as a creative and innovative engineering company, and in this sense the business understands that the requirements of each individual customer are the driving force behind any project. "In close collaboration with various clients we run projects where the initial design phase is extremely important to the overall success of the project," says Ulf. "At this stage, teamwork is an essential factor in enabling us to find the optimal bulk handling solution for the customer."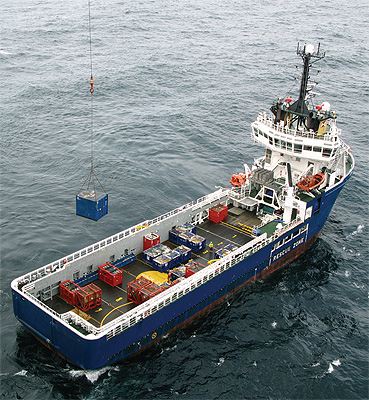 Indeed, the company's highly skilled design team carries out challenging engineering work, including concept studies and project designs. At this stage, clients are encouraged to provide drawings and specifications to aid the process. Ulf elaborates: "For Aanestad R&D has always been very important, and it is an area that we are constantly investing in to increase our capacity, and overall knowledge."
Aanestad's considerable product portfolio for the offshore industry draws on the company's experience in delivering conveyor systems, chain conveyors, elevators, vibrational feeders, fluidised beds, shakers, sieves, and dischargers.
Ulf elaborates on what the company can deliver to its customers: "Typically we supply the industry with logistics solutions for bulk handling, where we design, manufacture and install complete packages for a number of different applications. The main products that we supply include pipehandling equipment (catwalk, fingerboard, belly-board, and pipehandler crane), conveyors, driller cabins, and logistics systems for node handling onboard vessels."
In accordance with the demanding nature of oil and gas operations, Aanestad has ensured that the highest quality comes as standard with its products. Not only does the business manufacture its systems strong enough to deal with the conditions found in the offshore environment, but also, all solutions are delivered in accordance with NORSOK standards.
Looking to the future, Ulf believes that Aanestad can maintain its position as one of the industry's leading suppliers of bulk handling and logistics equipment: "Looking ahead there are definite plans in place to expand the business in the coming years," he says. "At present I see the market being in a very good position to support this growth, particularly in the next four to five years. We will continue to build up our R&D department, as well as looking to expand our current product range. With the achievement of these goals I am positive that we can be a natural partner and supplier to the oil and gas industry, both locally here in Norway, and internationally," he concludes.
Aanestad Engineering AS
Services: Bulk handling equipment