Well managed
Aarbakke AS is an independent subcontractor and one of the leading companies within the mechanical industry in Norway.
Its main focus is on sub-contracting services/machining in accordance with customer specific requirements. The business has more than 40 state-of-the-art CNC-machines. These machines,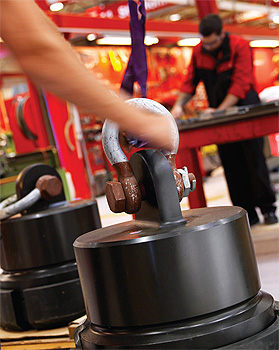 combined with skilled competence, enable the company to carry out assignments to a very high level of precision and quality.
There are extensive demands for quality and customer service in the market today. Aarbakke AS executes orders to fully meet with the customer's requirements. The quality system for design control, manufacturing and working procedures is certified to ISO 9001- 2000 and API Q1. Aarbakke AS is also licensed according to API spec. 7. The company utilises a computerised material and production control system that fully ensures an efficient and controlled running of day-to-day activities.
Aarbakke AS carries a large stock of raw material, especially exotic materials. Well-known steel mills and stockists supply these materials, and on arrival all the raw supplies are tagged in order to ensure full traceability during the manufacturing processes.
In addition to machining, the company also offers engineering services and can help making manufacturing drawings/specifications on behalf of the customers. Problem solving, modelling, conceptual design, detail design and product development are some of the services offered. Having the engineers situated very close to the machining facilities has proven to ensure the best functional designs and the most cost-effective manufacturing solutions.
Furthermore, Aarbakke AS performs assembly work and testing, and on request from the customer takes part in installation and commissioning at the client's site. Thus, Aarbakke AS is capable of handling complete projects from the idea-generating phase through engineering, procurement, manufacturing and testing to the delivery of the final and fully documented product. When involved in larger assignments Aarbakke AS may undertake the project management task and via co-operation with skilled sub-contractors, both within and outside the Aarbakke Group, the company is able to offer additional services such as welding, coating etc.
Elaborating on Aarbakke's comprehensive capabilities, CEO Gisle Bryne says: "We provide downhole drilling equipment and subsea equipment for the oil and gas industry, and we supply everything from single components to finish tested assembles – complete products for subsea and downhole equipment. Our biggest market in terms of revenue is the subsea sector, and this customer base is comprised of Norwegian subsidiaries of the international oil service major players; we work with FMC Technologies, Baker Hughes Inteq, Roxar, Weatherford, Schlumberger and other similar organisations.
"The vast majority of our wide range of customers are in the oil and gas industry and include well-known international, foreign and domestic companies. Aarbakke AS has a large capacity and is flexible in order to meet customer requirements for high quality and on-time delivery."
Alliances with such big players have formed due to Aarbakke's impressive capabilities, as Gisle comments: "Our key strengths include the ability to deliver very high end equipment, undertaking machining, welding as well as performing all testing, and validation including documentation in-house. We have control over the complete process; we take the order and drive it through without splitting it up into many pieces and relying on sub-suppliers, although we do use sub-suppliers for non-critical parts."
Continuing, he adds: "We have very long term relationships with suppliers and clients, and one of our key strengths over the years has been Aarbakke's reputation for quality and for keeping
promises in terms of on-time delivery. The secret to our success is mainly the ability to grow with customers and tackle challenges; as products become more sophisticated, we take on the challenge to build capacity, invest in the right machines and processes, and employ the best people in order to keep up with requirements – I think that is actually the single most important reason for our success."
Another integral aspect of Aarbakke's continued achievement is its ongoing attention to maintaining a high performance by investing in its offering. Gisle explains: "We doubled the size of our facilities last year to a total of more than 9000 square meters and invested very large sums in additional new machines, so we now have one of the largest and most modern machine parks within the oil and gas industry globally. We have also invested significantly over the last year in machine related equipment to increase productivity and flexibility, and take on more complex jobs. We don't go for the standard, simpler equipment; we have very high-end apparatus so we can deliver to the strictest customer requirements. The reason we can undertake all welding in-house is due to our investment in our own welding shop, which allows us to carry out welding operations on subsea and downhole equipment, and this is very demanding in terms of approvals and quality requirements."
This is not the only aspect requiring more from Aarbakke, particularly since the economic downturn hit the market at the end of last year Gisle says that the business has had to face up to challenges in recent months: "Customers are becoming more demanding in terms of delivery time; we see pressure on prices and on working together to assure the best deliveries to the customers' customer – the end customer has become a more important aspect. We are working very hard to respond to that by focusing our organisation in this way and we're implementing a lean programme in order to better respond to market demands. I anticipate that this programme will enhance our ability to deliver the right quality at the right time, and that our lead-time will be reduced significantly. In fact, we're already seeing results."
Such a proactive attitude will stand the company in good stead and enable it to succeed with its objectives, despite the potentially difficult coming year. Gisle is firmly focused on keeping the business dynamically moving forwards: "In the next five years I would like to see Aarbakke grow at a pace we can manage in terms of keeping our promises on quality and on-time delivery. We will not compromise on those two key elements for growth and, as such, have a controlled growth strategy."
Aarbakke AS
Services: Machining and engineering services