Fuelling the future
When Energy, Oil & Gas last covered the activities of Lithuanian oil and LNG terminal operator Klaipedos Nafta (KN), in March 2017, we covered in depth the way it was rapidly establishing a reputation within both the oil and LNG markets within its home country and beyond. In speaking with Mindaugas Jusius, CEO of KN, it quickly becomes clear that the last 18 months has been an interesting time for the business.
"Since 2017, we not only demonstrated financial growth, but we also channelled a lot of effort towards our human resources, internal processes, identifying new areas in which we can derive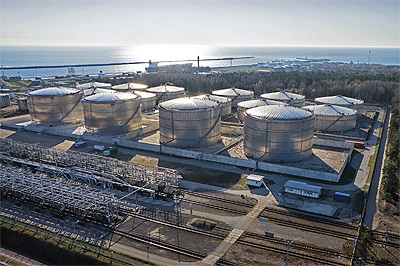 additional revenue in the future such as small volume LNG freight and international LNG activities, and key investment projects," he details. "In 2017, we invested 32.9 million Euros on things like the construction of new storage tanks at the Klaipeda oil terminal and the construction of our small-scale LNG terminal and distribution station. These efforts formed an important part of our goals for 2018, which have been to match our oil transhipping figure of 7.2 million tonnes of product set in 2017, and to achieve an LNG regasification target of 10.6 million MWh of natural gas."
In spite of what Mindaugas describes as 'unfavourable conditions' in the oil products transhipment market in 2017, KN still managed to maintain the same transhipment volumes it set in 2016, while Klaipeda seaport was one of only a handful of Baltic sea ports that saw the handling volume of oil products increase year-onyear. On the other hand, the market for LNG has been buoyed by an increase in global demand, which has come from a combination of increased industrialisation and the electrification of rapidly developing countries.
"There is an emerging consensus that predicts that the role of LNG within the energy mix will continue to expand, with gas consumption set to grow at the highest rate," Mindaugas details. "The majority of this appetite is attributed to the Asia-Pacific region and the proliferation of gas to power projects there, but significantly for KN, it is expected that a third of these new gas demands will be served by LNG imports.
Major achievement
KN holds the distinction of being one of only a select few companies in the world with experience of successfully commissioning floating LNG import terminals on two continents, namely the KN-owned Klaipeda terminal and Cartagena terminal in Columbia, where it provides advisory services. The company is now working to further leverage its experience and robust record to capture O&M and investment opportunities in the field of floating LNG import terminals, joining with local partners and industry leaders in the fields of LNG trading, floating storage and regasification unit (FSRU) ownership and power generation deployment to form joint ventures for FSRU based terminal developments.
One of the most significant achievements of the company in 2017 was the successful loading of KN's first LNG truck at its LNG reloading station. "Klaipeda LNG reloading station is situated in a geographically attractive location, not only for Lithuanian customers but also those in North-Eastern Poland and other Baltic countries," Mindaugas says. "The purpose of the station is to create a small-scale LNG infrastructure in the region, which will help to ensure energy supply for off-grid locations, as well as bring clean energy benefits to multiple users. The facility itself is designed to accept LNG from small-scale carriers, temporarily store LNG, and load it onto trucks or LNG fuelled bunker ships. It presently consists of five, 1000 cubic metre tanks with the possibility to expand the volume up to ten tanks in the future. In 2017, the facility accepted two LNG cargo shipments, with a further three arriving in 2018 to date, with the gas then distributed to clients in Estonia, Latvia, Poland and Lithuania."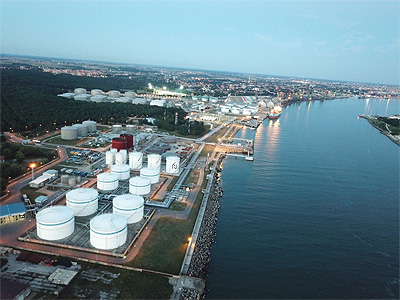 Expansion project
From a longer-term perspective, KN's focus centres on the successful development of international LNG projects and maintaining the competitiveness of its oil terminals. "We have taken the decision to monetise the experience we have obtained from our activities in Lithuania in order to move further afield to enter new FSRU based LNG terminals," Mindaugas concludes. "We see these types of terminal as being on the rise as more and more projects and tenders are announced, and in the last several years we have been carefully analysing the market and we are currently considering several developments for our project pipeline. So, in summary, we expect that new FSRU LNG terminal developments, investment in new projects and existing terminal management will very much be the focus of our growth efforts in the months to come."
Each investment decision taken by KN is directed towards increasing the company's capacities and flexibility, aswell as increasing value for its clients by enabling them to work with a more diversified product portfolio. In 2017, KN initiated a number of projects to meet said goals, including the approval for the reconstruction of two of its jetties at a cost of 16.5 million Euros, and the accelerated expansion of its oil terminal to add ten additional LFO tanks with a capacity of 120,000 cubic metres at a cost of 35 million Euros. The oil terminal will also benefit from the construction of a new rail road and trestle being built in partnership with the sea port authorities.
"As it comes to our LNG terminal in Klaipeda, we are working hard to help to create conditions for attractive gas prices in order to establish KN's LNG terminal as a real alternative to the existing natural has providers in the Baltic States. This coincides with the construction of a planned gas link between Lithuania and Poland, which is scheduled for completion in 2021, and the Baltic Connector project that will link Estonia and Finland when it is completed in 2020. These energy projects in the Baltic Region would create preconditions for the development of the LNG market and the more efficient use of KN's own LNG capabilities."
AB Klaipedos Nafta
Services: Lithuanian oil and LNG terminal operator