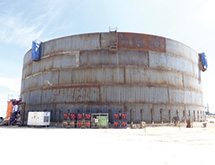 When Admiral LPG designs a liquefied petroleum gas (LPG) facility, it considers not only the cost and equipment but how the everyday worker will operate inside the facility. "One advantage that we have is we come from the operations side so we understand what the terminal operators need and what works best," Admiral LPG owner and President Jose Morales says. "I'm always trying to think of the guy who's left behind. The guy who is going to operate the facility."
Morales is often brought in to help operate or repair facilities built by major contractors. In some situations, a valve might need replacing but the connected pipe that needs to be cut off is located 700 feet away. It represents inefficient design, Morales explains. Admiral LPG, on the other hand, looks at design from the point of view of the workers and strives to make its facilities easy to repair and maintain.
That approach has helped Admiral LPG become a leader in the design, construction and operation of liquefied petroleum gas terminals in Central America and the Caribbean. Morales, who previously worked for Tropigas International Corp.'s Panama division, founded the company in 1998 with partner Dave Bayer, a retired U.S. Navy captain who was once the fleet manager for Tropigas' ocean-going tanker fleet. Bayer handled the shipping side of the business while Morales focused on the operations and land-based areas.
Eventually, the two branched out into providing training for tanker terminals on ship-to-shore interfaces. Using their experiences, Morales and Bayer taught terminal and tanker staffs how to bridge different standards, languages and operating cultures. "When you bring a tanker into your facility, you're bringing two different cultures together for 36 hours," Morales explains. Admiral LPG eventually progressed into designing and engineering work for facilities, safety audits and accident investigations. Bayer retired a few years ago and Morales continued on with the business as the sole owner.
Growing the Market
During the past 17 years, Admiral LPG has been a part of many of the largest energy projects throughout Central America and the Caribbean. Its portfolio includes a 2.1-million-barrel-capacity facility for bunkers and diesel fuel on an island near the Pacific entrance to the Panama Canal, power plant conversions to propane and engineering support for Trafigura Terminals in Corpus Christi, Texas. The company has also acted as the project manager for the Costal Petroleum Dominican Project, a 780,000-barrel, fully refrigerated storage facility in the Dominican Republic, and for a jet fuel terminal on the Pacific side of the Panama Canal.
The company does not have internal construction teams. With projects dotted across several Caribbean islands and Central America, Morales says it would be too great of a cost to transport in-house crews to every job in the region. Instead, Admiral LPG seeks out agreements with reputable contractors to complete the work. "Depending on where the project is I try to use the local talent," Morales adds.
Admiral LPG has steadily risen its profile since its founding, but Morales says new activity in the energy market has kept it especially busy for the past two years. "The biggest thing is the opportunities that all of the fracking has opened for LPG," he explains. Propane used to be priced similarly to diesel fuel, but the fracking gas boom has disrupted the market, driven down prices and made LPG more accessible to a wider group of end-users.
Rising LPG Demand
For many Central American communities propane is now a viable alternative to hydropower, which faces environmental opposition. Hydropower also suffers from cyclical generation. In Panama, the lengthy dry season can leave hydropower plants dormant for four months out of the year. LPG is an alternative to plug those holes in Panama's power supply as economic activity is increasing the nation's energy demands by 110 MW per year. "Panama has one of the fastest-growing economies in the region right now," Morales says.
Admiral LPG's reputation and Morales' 28 years of experience in the industry have created opportunities for the company. The demand for Admiral LPG's services allows Morales to pick and choose its projects.
Lately, the company has gravitated toward guiding terminals in how to expand their operations. A modest terminal can turn a profit by importing and distributing LPG for residential use, but Morales says terminals are discovering that if they build an LPG power plant they can protect their business for the next 30 years.
"We're helping putting these packages together for our customers so they can actually get the benefit of larger volumes for their facilities," Morales says. "They have come to realize propane is here to stay."