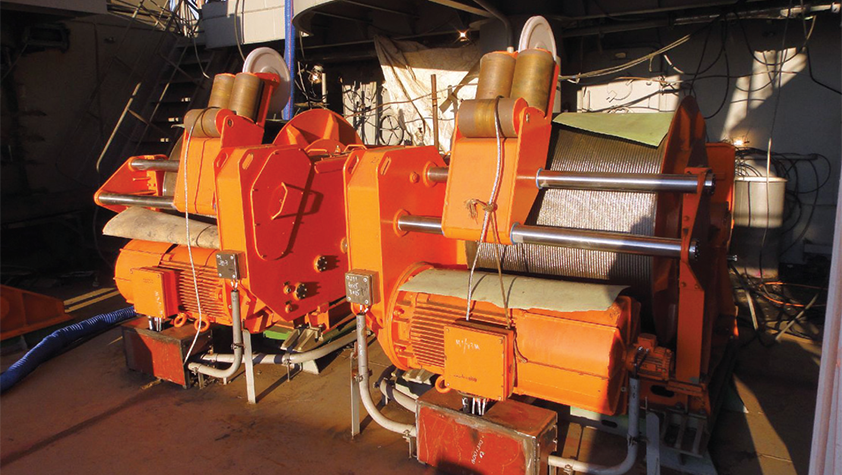 Season of the winch
Small yet flexible, Adria Winch has existed under its present name for over 20 years.
Boasting a long history of design expertise for the marine and oil and gas industry, the company offers high quality state-of-the-art products to its customers. Set up as a ship's machinery repair company in Split, Croatia, more than 55 years ago, it has a long tradition in machine building, deck machinery production, tool machines manufacturing, precise machining, electronics and hydraulics.
Employing approximately 110 personnel, in Adria Winch Group, the company serves its customers around the globe by finding solutions through designing and producing equipment relevant to their specific needs. "Our main strength is our design office, which has 15 mechanical engineers – designers and five electrical power and control designers. We also offer a complete solution from the design through to the end of production; everything is done in-house," states Marijo Bucan, head of sales at Adria Winch.
Offering exceptional service and performance for clients working in the harshest of environments, Adria Winch's main business is deck machinery for vessels in Norway and Russia, as Marijo highlights: "We make a wide variety of deck winches, from anchor-mooring winches, towing winches, tugger winches, capstans, rope reel to cargo securing winches. Our main market is in Norway and Russia, but we also work in China, Brazil, Vietnam, Dubai and other countries around the globe. Some 15 years ago our company started on projects in harsh environments, an area we now specialise in, and our equipment is usually for the minus 40 degrees Celsius operations." In 13 years Adria Winch has worked on more than 30 such 'minus 400C' projects without damage to equipment, which is due to the stringent controls and testing during the production process, thermal spray metalization and multi-layer marine grade coatings.
When designing machinery, its engineers use the latest technology in order to achieve a quick and accurate response to customer demand. Special attention is paid to high quality design regarding ease of use, servicing, and safety; the company's quality system is certified and registered by RW TÜV Essen, Germany and conforms to the ISO 9001 quality system standard.
With flexibility to design and manufacture both bespoke and custom projects, Adria Winch has developed a competitive edge in a difficult market. "It is very hard to enter Norwegian markets from small countries like Croatia so we have to be very good at what we do and offer more than our competitors. Other companies don't have the capabilities to design and manufacture like Adria Winch and we aim to continue offering more to our customers by investing in new machines. Recently 1.7 million euros were spent on new machines and new cranes, which is all part of our strategy to become bigger and more advanced in the future," says Marijo.
Recent projects for the company include an equipment order for two offshore subsea construction vessels, which are currently under construction at STX OSV Brattvaag Shipyard for Norwegian owner Siem Offshore. Together with partner Seaonics AS, Adria Winch will supply custom designed deck equipment, such as two electrical anchor-mooring winches for 56K3 chain category with stoppers and two electrical mooring winches that boast 100kN pulling force, for the vessels. The value of each contract is 203,400 euros. Having worked with STX OSV on three fishing vessels for Norwegian firm Aker Seafood ASA in the past, Adria Winch views the new contract as a successful continuation for the two firms. It also delivered anchor-mooring equipment for three of Norwegian firm Hayvard's new platform supply vessels, with the contract estimated at approximately 550,000 euros, in March 2013.
Following the completion of a number of projects for the oil and gas industry with its partner Seasonics AS, Adria Winch is aiming to develop a stronger foothold in the market over the coming years. "With our bespoke and custom equipment and a number of successful projects behind us we feel there are great opportunities for us in the oil and gas industry, particularly in rigs and drilling," states Marijo. Despite difficulties in the economy, the company is positive that its innovation, flexibility and quick delivery will bring further demand for its specialised solutions. "Currently the market is down in Europe, there seems to be less and less projects every day, but we recently entered the Chinese and Turkish market where we will be working on projects with new and special designs. We are even expanding into software programming. On top of that we have a strong position in Russia, an area where we have excellent connections and representative offices to serve our customers," adds Marijo.
Cautiously optimistic about the long-term future of the company, Adria Winch is focusing on developing sophisticated and advanced products with a specialised purpose; it is also looking for a partner with design office and production requirements. "It is hard to have vision in a changeable industry," says Marijo, "We are discussing every day what our official vision should be, but our strategy remains to offer advanced products, in particular mechanical and electrical parts, and to continue offering state-of-the-art, high quality, safe equipment to our customers."
Adria Winch
Products: Hydraulic, electrical and pneumatic deck equipment