Creating opportunities
Since January 2017, the Adriatic Tank Terminals (ATT) in the Port of Ploce, Croatia, has been 70 per cent owned by VTTI – an international independent provider of energy storage with its headquarters in Rotterdam, The Netherlands; and ENNA – a local holding company, involved in the energy, infrastructure, and logistics sectors. In 2014, a three-phase expansion project began at the terminal that will see the construction of up to 350,000 cubic metres storage for CPP (clean petroleum products) and LPG (liquefied petroleum gas). "The first stage was completed in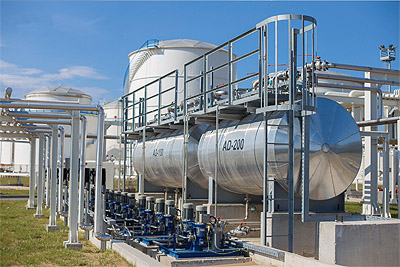 December 2016, and involved the construction of storage with a capacity of 50,000 cubic metres, which is now fully operational," Service, Customs & Excise Manager, Frane Dugandžic tells us. "We are currently in the second phase, where we expect to ensure a capacity of another 200,000 cubic metres for CPP and up to 60,000 which will be dedicated to LPG, the third phase will include an additional 100,000 cubic metres for CPP," he clarifies, defining the purpose of the terminal as an Adriatic hub, where products will be delivered to it first, and then distributed to regional and EU markets.
The gradual development of the terminal will bring about benefits for the local economy of the Plocˇ e region. Business Development Manager, Yuri Ouweneel points out, that the construction of the terminal is creating new jobs that are yearround. "Since we bought ATT, we have increased our workforce to 35 jobs, but what is perhaps even more important, is that we are developing vital infrastructure that will attract international players to use the port, thus enhancing the economic opportunities in the region. In 2017, the port has seen an increase in traffic, because we started to operate and expand the terminal.
"When Croatia joined the EU in 2013, it had to embrace European legislation, which means that we are compliant by building in line with the regulations and the applicablestandards. When we build a terminal, we comply with all applicable rules and regulations as a minimum. In addition, we complement that with VTTI's own standards, and the terminal is set to become the most modern facility of this type the region has ever had," Yuri details. "The region will have to accommodate larger vessels coming from the Black Sea, USA and the Middle East on the look of changing trade flows. The whole supply chain and logistics landscape is changing, and the improved infrastructure will add the necessary capacity to serve more customers, because if you do not have enough capacity, you simply cannot handle larger volumes. It is paramount to offer excellent facilities and efficient operations to international players, otherwise they do not want to deal with you."
Gert Quint, General Manager of ATT, points out that when they acquired the company, it already had an approved Environmental Impact Assessment (EIA), but they decided to upgrade the terminal even further. 2017 was dedicated to getting all of these procedures correct and in line with its standards.
Excellent connections
A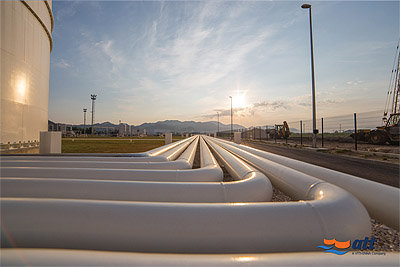 s one of the main strategic deepwater ports of the Central Adriatic, the Port of Plocˇ e occupies an attractive geographical position that enables its excellent connection to the Pan-European corridors, linking it with all major destinations in the Balkan region, and making possible the efficient movement of cargo between the Adriatic, Mediterranean, and Central Europe. ATT is also connected to the international railway network, having access to the hinterland of the Balkans. "Rail will be developed further, because EU-funds are available to modernise the Bosnian railway system," Yuri says.
Best practice
Yuri explains how the organisation ensures its employees reach the highest possible level of knowledge and technical competency: "We have something we call 'mobilising expertise', through which we take Operators from our Croatian site and send them to our facility in Amsterdam for example, or send people from Cyprus to Plocˇ e, so our staff can learn from each other and understand how to employ the best industry practices at all times. We are glad to have completely incorporated ATT into our international network."
Far from just providing storage space, ATT is ambitious to actively support its clients with their all their operational requirements. "Our aim is to offer a one-stop service at the terminal and provide excellent customer service, which will add further value and instil confidence in customers," Frane reveals, while Yuri adds: "For example, we can now manage the customs processes efficiently, in close co-operation with the Taxation and Customs Union, as we were recently granted a licence as an AEO (authorised economic operator) within the European Economic Area."
Being one of the most sizeable projects in Croatia, it will be worth following the progress of the ATT development closely, for its success is guaranteed to contribute to the country's economy and open up new trading possibilities for the entire region, thus serving as a solid platform for its future growth.
Adriatic Tank Terminal (ATT)
Services: CPP and LPG storage