Advancing further
Although its name may have changed, Advanced Actuators as it stands today is a company with over 40 years of experience in the design and manufacture of specialist actuators.
Originally founded under the name of Elram International, the company supplied hundreds of hydraulic actuators from its EK and ZBG Actuators ranges, many of which are still operating today. In line with the changing nature of the market, in the 1980's Elram designed a new range of actuators aimed at the power generation and oil and gas markets, including hazardous area applications.
In 1999 the company's name changed to Advanced Component Technology Ltd with the aim of growing the supply of electro-hydraulic actuators into the global market. Following a further rebranding in late 2010, to the name Advanced Actuators, today the business has widened its scope to electrical, pneumatic, and multi-turn and linear actuators amongst others. This enables Advanced Actuators to offer its customers complete actuation solutions as a complete package.
At the core of Advanced Actuators' ethos is a commitment, a fully supported product range with technical assistance through a worldwide distributor network. To complement its wide range of products and services, Advanced Actuators has a purpose built well-equipped workshop and test facility, which is staffed by skilled and company trained personnel, providing a quick and controlled response to both scheduled new build and breakdown requirements.
"Our speciality has always been producing actuators for challenging or difficult applications, or unusual specifications – be it temperature, speed, or size," explains company director Stephen Lund. "The smallest actuator size we offer is 5 Nm and the biggest unit is 1.4 million Nm, and to date no other company can offer that range within a complete support package. Working on more technically challenging and bespoke solutions means that we have a wealth of experience in this field. Most companies steer clear of the really challenging aspects of this industry or are unable to offer products that fulfil these needs, but we specialise in finding a solution."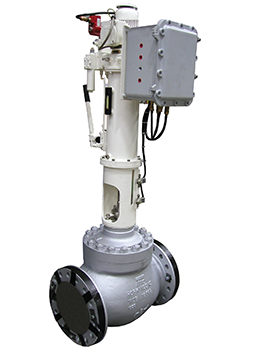 Given the wide variety of locations that the oil and gas industry operates in, component characteristics such as high integrity, high reliability and explosion proofing are often expected as standard. Advanced Actuators' high accuracy modulating closed loop feedback products are designed to fulfil these requirements, and are available in both self contained or ring main varieties. Advanced Actuators' linear and semi-rotary actuator systems are designed with fully adjustable thrust and speed for each direction of travel.
The company's range of stepping actuators is based on widely used mechanical principles; these have been refined and improved upon to produce a reliable and cost effective product with either pneumatic or hydraulic controls. Theseactuators are used widely for precise choke valve control and can be supplied with complete mounting kits.
With Advanced Actuators' products being implemented in extreme climates and environments such as -50 °C in Alaska and +50 °C in Saudi Arabia, research and development is a contributory factor in creating specialist equipment that can function in these conditions. "Everything we make we design for the job," notes Stephen. "Unlike just selecting a standard unit out of a catalogue, each time we make a particular product it may have a slightly different speed, motor, control, voltage, or even destined country of application. Over the last six years we have been conducting various research projects into actuated valves, some of which are now being marketed to the industry, whilst others are still in the early development phase. This includes projects for the Middle East controlling valves were there is little access to electricity at this location."
Aside from the Middle East, Advanced Actuators supplies to clients in Australia, South America, the US, Europe, and East Asia, through its global distribution offices. Often Advanced Actuators works together with valve companies, but does also have working relationships with engineering companies and even oil and gas operators themselves such as Shell, BP, and Apache. At present the company is in the midst of a pilot project supplying actuators for Saudi Aramco, with several other specialist contracts in the pipeline.
Recently Advanced Actuators also completed a special actuator and test equipment project for the Airbus A380, which typifies the diversity that the company can offer.
In terms of expanding this reach further, Stephen comments on Advanced Actuators current plans: "We have established strong links with partners and distributors in various countries, and are looking to begin manufacturing in the near future in the Middle East, East Asia and Brazil. In the case of Brazil we have teamed up with some companies as part of a technology exchange scheme and subsequently are the official distributor of their equipment in the UK, as they promote ours locally in South America."
Certainly it is apparent that the market for specialist actuators is continuing to thrive, with Advanced Actuators experiencing an extremely busy period of enquiries for systems for 2011 as well as 2012. With this activity providing the ideal environment for Advanced Actuators to implement its next plan for progression, Stephen concludes with what this strategy contains: "We intend to grow the business by between three and five times our current size, we are only in year one of a five-year strategy to achieve this. Through both the new products that we are bringing to the market and the global partnerships we are forming, we have already established a lot of the foundations of this expansion and are on target to fulfil our projected growth."
Advanced Actuators Ltd
Products: Actuators