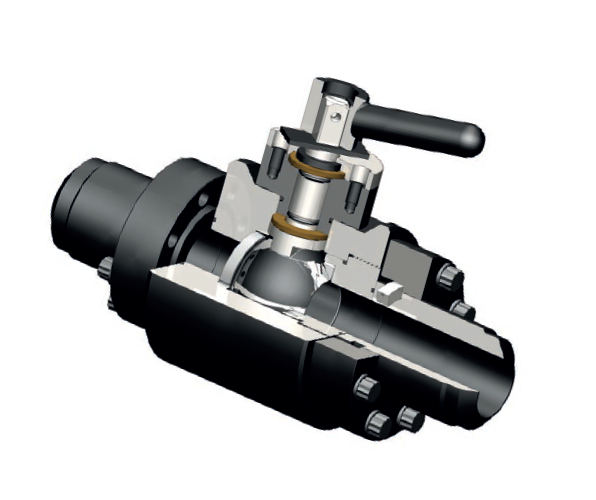 Innovation and revolution
During last 20 years, the Dutch firm Advanced Valve Solutions (AVS) has developed a strong reputation in the supply of specialist valves and technical solutions, with related equipment to the petrochemical and power generating industries.
Currently it has offices in two locations with Advanced Valve Solutions B.V. based in Heerhugowaard, the Netherlands and Advanced Valve Solutions Ltd. located in Manchester in the UK.
An important recent milestone for the company was the interest shown by the Energy Industries Council (EIC), whereby they now wish to fully adopt AVS' series of presentation seminars, with manufacturing plant tours in Germany, previously known as 'Valves & More'. The EIC will take on the organisational structure of these prestigious events to promote, collate and bring together like minded engineers who have either experienced problems in their own plant or simply want to learn more.
The company has also achieved Membership of the British Valve and Actuator Association (BVAA), which AVS officially joined in 2013. Membership of the BVAA was commissioned by UK director Rik Barry and underlines the company's commitment to the valve and related equipment industry in the UK and further afield. The aim of BVAA membership is to enable AVS to better service its flow control prWe will visit the site and talk through any technical issues that may exist with regards to flow control. Once we do that we are confident that our technical experts will be able to find the best solution."
Membership of the BVAA and other key trade organisations, coupled with the close relationship AVS maintains with its clients and suppliers, has allowed the company to transition from its position as a relatively young business to industry stalwart and claim a strong market position. "At the very least, through membership of the BVAA AVS will be further recognised as a competent supplier and will have a platform with a highly credible organisation," says managing director Karel van Wijk. "Along with the support of the Energy Industries Council, which is also supporting the company's activities, AVS is now seen as an established company rather than a newcomer as it was in 2010."
AVS has supplied both smaller and major operators with innovative solutions across a range of applications and its clients include well-known companies including Saipen, Shell, Technip, BP, Visser & Smit Hanab GmbH and New Energy Services LLC. Working with suppliers including Hora, Persta, Zwick, Perrin, Macoga, Nil-Cor and Severn Glocon among others, the company is able to offer valves, associated equipment and complete valve packages. Furthermore, it has been involved in the development of important innovations with applications
within the oil and gas and energy sectors. Working alongside Hora, AVS has recently developed an application for steam-cooled desuperheaters operating in highly complex situations. The cooled desuperheater is the solution to thermal stress in power turbines, which is caused during stop-start operation. "Due to the change in operation of gas turbine power stations, which are increasingly used to balance the electric power grid by compensating wind and solar power, it is necessary for the turbines to start and stop fairly quickly," Karel explains. "This can cause enormous thermal stresses because if a cooler is red hot when it is required to go back into operation there is a vast thermal differential, it is comparable to throwing cold water onto a boiling pan."
The thermal shock caused by this extreme change in temperature can be potentially devastating to coolers and boilers, severely hampering effective plant operation. The steam-cooled desuperheater avoids thermal stress by reducing the temperature differential between the cooling water and superheated steam, which in turn allows for safe start-stop operation. "The cooled desuperheater provides a lifetime of around 25 years at over 100,000 cycles, whereas the standard unit commonly used today will sometimes fail after three months," Karel observes. "It is a cost-effective solution that is regarded as a revolution in steam cooling."
Within the oil and gas sector AVS has also collaborated with DeepStar to produce a hydraulic step connector for use in extremely deep waters of 2000 metres and over. "These connectors have an enormous advantage in that the ROV now only has to dock a small connector. A larger one follows using hydraulic power, rather than having to use the power of the ROV," Karel says. In addition to this the company has recently completed two large contracts where it supplied valves and hot stabs for temporary pig launchers and receiver stations for pipe laying operations. In total AVS supplied about 80 temporary four inch 2500 Trunnion Mounted subsea ball valves, 120 two-inch floating ball valves and several one-inch ball valves and check valves in various sizes. The choice of Trunnion mounted subsea valves was in response to difficulties experienced by ROV operators when using the floating valve design, where a chance of an uncontrolled increase in torque makes valve manipulation difficult for the ROV.
Looking to the future, AVS is looking forward to an increase in growth and is keen to expand further into the global market. During 2010 the global economic downturn caused a reduction in the number of subsea projects going ahead. However, as of 2013 the company is experiencing a resurgence in pipe laying operations, which in turn has meant an increased requirement for valves and associated equipment. Likewise, the company's energy market is looking promising with its steam cooled desuperheater technology attracting a lot of interest at the VGB Congress Power Plants exhibition and other events during 2013. With the benefit of its strong support base and revolutionary technology, AVS will be looking to share its expertise with Middle Eastern, African and South American markets during the coming years.
ojects and encourage co-operation with clients rather than to generate further sales, as Rik elaborates: "We like to build a relationship with our customers.
Advanced Valve Solutions
Services: Specialist valve and equipment supply