Go with the flow
Advanced Valve Solutions (AVS), established in 1999, is an independent company providing advanced engineering and valve solutions to the oil and gas industry.
Based in the Netherlands and the UK, the company designs and supports new developments and innovations within the area of shut-off valves, instrumentation valves, control valves and safety valves, which it supplies to the power industry, the offshore market and the petrochemical industry. The products comply with all the highest industry requirements in terms of safety and environmental constraints. As the majority of AVS' offshore valve systems are used in subsea applications, the safety and quality of its products are of paramount importance, and the company aims to deliver quality solutions on time every time.
Herman Ytsma, marketing and sales manager at AVS, elaborates on the company's primary product ranges: "Our main business is in specialist valves and related services. We predominantly supply special subsea ball valves for the pre-commissioning and commissioning of pipelines. Working with our suppliers, we support the infrastructure of the seabed in terms of flow lines, jumper lines and manifolds (SURF), as well as chemical injection packages. It is our specialism in the subsea and topside areas of the offshore industry that sets us apart from other valve suppliers. We are able to provide a complete valve solution to our customers, with individual components that are tailored to the specific purpose of each application, produced with AVS' extensive knowledge of the subsea and topside areas of the offshore industry."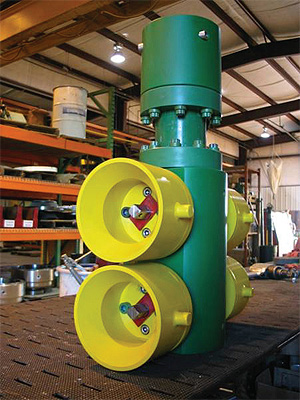 Although AVS does not fabricate the valves itself, it is supported by four independent manufacturers: Piper Valve Systems, Weir Valves and Controls, Sami and Alfa Valvole. Karel van Wijk, managing director of AVS, explains the company's position in the industry: "Within the valve sector of the oil and gas industry, AVS is somewhere between the general stockholders and the manufacturers. Our primary goal is to advise our clients and sell our stock of valves for specific applications. We are not simply a transfer point for quotations; we really add knowledge to the process, sometimes we develop an entire solution and simply ask our manufacturer to create it for us. When an oil company asks what it needs, specifically, for an application, we can provide them with the knowledge and a complete package of valves based on our own stock, the stock belonging to other suppliers and what our manufacturers can produce to the client's specification. In this way, we can provide the absolute optimum package for each application."
Herman outlines the company's range of valves: "We have a reserve of around half a million hyperbaric tested subsea valves. These valves are especially created for the pre-commissioning and commissioning market. We also provide a hot stabs package; which is a type of piper valve system. We have developed the package in collaboration with our manufacturer. It is a fully modular concept, which is completely flexible and adaptable to the needs of the customer.
"We are also currently working on valves that can operate at water depths of three kilometres. It is very important right now to have valves that can function at these depths, so we're moving with the market at present. One of our key strengths is that we can react very quickly and that we have very short delivery times, even on our custom-built items. We can supply our valves within a timeframe of around five weeks and this includes special configurations, such as double stem valves, double block and bleed valves and combi valves."
AVS' extensive range of products and services are also available for use on applications in the fields of petroleum and natural gas exploration, as well as the production industries. These types of applications often function in hazardous environments and so the valve designs must be able to tolerate harsh conditions. Additionally, they are designed so that maintenance can be carried out quickly and easily.
Herman outlines some recent projects and AVS' operations in the near future: "We have just completed the Reliance project, which was a large contract on subsea valves. We are also ukcurrently working on the Pluto project, which is another large job. There are still more contracts in the future and we see plenty of opportunities, despite the economic downturn. We don't expect there to be any problems for projects in 2009, as the planning for these is already in place, but 2010 could be a slower year, as the initial planning phases are currently underway.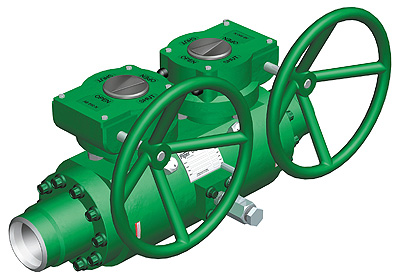 "At the moment we are able to supply our customers with all types of custom-built valve configurations and we are going to expand our business in this area, which in turn will increase our market share. Another new development is our new metal-seated ball design for permanent surfaces that we expect to bring in new business as well. It is a compact design, especially intended for offshore applications, which has been formulated over a period of three years. The market for this product is very big and it also solves weight and space issues that are critical in the high-pressure classes. We have just begun to work with some of the major oil companies, such as Shell, Total and BP here in Europe and this shows our continuing expansion within the industry."
Karl concludes: "The volume of work with the pipe laying contractors and engineering companies is increasing. As the pressure on the development of new oil projects will increase too, it is generally acknowledged that the number of engineers involved in these projects is not as great as the companies, which commission them, would like. This means that as soon as we can prove that we are capable of doing part of the engineering package and bring together the assembly of the complicated valve systems, then we will see serious development within AVS. We also see growth on the back of our new compact, permanent valves for subsea and topside applications, allowing us to be involved in projects from the early stages. AVS has been around for ten years, so to some extent we are still gaining recognition across the oil and gas industry, however our consultation services and our solutions are broadly respected in the areas we operate in, and we plan to build on this reputation in the future."
Advanced Valve Solutions
Services Engineering and valve solutions