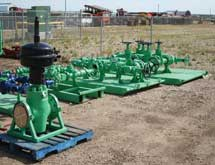 Advantage Valve Maintenance Ltd.
Even with the economic downturn taking its toll on Alberta's oil and gas industry, Brooks McDermott knew there was still a demand for valve maintenance equipment. The problem was that nobody wanted to buy this equipment during a period of uncertainty. Instead of downsizing the company to maintain the bottom line, Advantage Valve Maintenance purchased the equipment this industry needed and expanded its rental division. Brooks McDermott, owner of Advantage Valve Maintenance and a 25-year veteran of the oilfield industry, managed to keep his staff intact with the new revenue stream.
"That got us through the slow time, and I didn't have to lay off anyone," McDermott says. "Nobody wanted to buy, so we started investing more in rental equipment instead."
Today, the rental side of the business accounts for about 45 percent of Advantage Valve Maintenance's revenues, according to McDermott. Based in Grande Prairie, Alberta, the company was founded in 1999 to maintain and service manifolds, emergency shutdown equipment and actuation valves for customers throughout the oil and gas industry.
Advantage Valve Maintenance primarily serves northern Alberta and British Columbia out of a 19,000-square-foot shop with adjacent yard space for rental equipment and inventory. The company has plans to expand into the Red Deer and Sylvan Lake region of Alberta with a 4,000-square-foot shop and three employees to cater to the southern Alberta market.
Surviving and Thriving McDermott has had to get creative to make the bottom line during the recession. In addition to expanding Advantage Valve Maintenance's rental capabilities, the company has a moved into the import side of the business.
Along with providing customers with this additional service, this allows Advantage Valve Maintenance the opportunity to cut down on its own material costs significantly. By purchasing products such as sealing rings, valves and pipes in bulk quantities, McDermott says he is saving between 45 to 65 percent on supply costs since he started this venture three years ago.
"It was more to do with the pricing to start with, and as I slowly got into it and meeting a few customers willing to buy it, the pricing looked even better," McDermott says.
"It just goes hand-in-hand since it saves Advantage Valve money on my end of things. Instead of buying three of one thing, I'm buying 100."
Along with materials, Advantage Valve Maintenance also added a field service truck that can perform onsite greasing of wellheads. The company has one field truck that it purchased at the end of October 2010, and McDermott intends to add a second truck by spring 2011.
Customers Come First
No matter what the capability, Advantage Valve Maintenance always is focused on delivering the best customer service in the industry. McDermott says his company's ability to react to problems on a 24-hour basis is the key to success.
"Customer service is first and foremost, especially in this industry," he says. "We get called out at 3 or 4 in the morning all the time because we're the first ones to move. That's always been our motto. We've always taken care of our customers."
This mindset extends to employee preparedness, as well. McDermott says Advantage Valve Maintenance offers in-house training for the valve industry and sends employees to school to learn the latest on welding and machining practices. "Every course I can find, I'll send them to it," he adds.
Ideally, the company would expand into Fort Nelson, British Columbia, by the end of 2011. However, McDermott will not rush into the area. He says although there is plenty of work to be had in this region – which sits on the border of the Arctic – the supply chain is too disorganized to make a profit at the time.
"Already, about three or four valve shops went up there and they had a really hard time up there," he says. "We have to wait it out until we get suppliers in line so we can get parts and pieces up there.
"I just want to make sure I have the inventory to back up my support and not have that two-to-three-week wait time to fix something for them, McDermott adds. EMI