In control
Advantec is a privately owned technology and service company, located on the island of Stord on the west coast of Norway, between Bergen and Stavanger.
The company was established in 2005 as a buy out from Aker Kværner, and as a part of this development, 20 experienced engineers and technicians, along with designs, instrumentation and equipment, were moved over to the new company.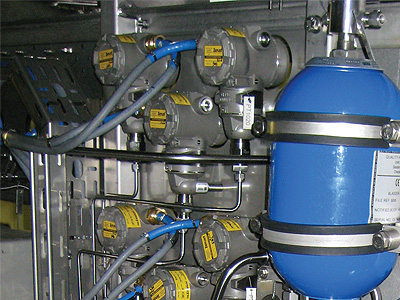 Advantec has since grown and now employs nearly 100 engineers and technicians who are working to provide electro-hydraulic control systems for various applications, along with the relevant service and engineering support. These systems are supplied to the company's main customers, including subsea contractors, and other contractors within the oil and gas industry.
Managing director of Advantec, Magnar Aaland outlines the areas the company operates in: "We are very much involved in the subsea market, particularly in the area of workover control systems (WOCS), as well as blowout preventer (BOP) and chemical injection systems. These are the main areas that we work in, and in addition to this we offer hydraulic power units (HPU) for other applications and we also provide rental services. Our business is focused around these three main segments; products, services and equipment rental. The rental side of our business also includes 'Advantec Rental System', which provides the full rental of IWOCS systems, with reels and umbilicals, to the market."
The company has broad experience in the design and manufacture of robust and reliable electro hydraulic power and control systems for many applications. Advantec's workforce consists of highly trained professionals who have extensive practical experience in the industry. With regards to its services, the business provides skilled WOCS operators, completion engineers and technicians for integration into subsea and completion teams. The products and services provided by the company include reel systems, engineering and design, WOCS operation support, subsea projects, inspection and testing, and calibration services. The rental division has a large pool of instruments and equipment available for long or short-term hire. The equipment falls within the categories of electrical, pressure, temperature instruments, hydraulics, containers, video inspection, thermography inspection and tele-and fibre optics, temporary systems and torque tension.
A recent development for Advantec came with the design and implementation of a new winch system. Magnar describes the new system and current projects in which it is being used: "We are supplying seven winches to a big project with a major client in Norway for a large subsea field. They are workover winches, which are patented through our sister company, Advantec Winch Systems. We are also working on some other new projects, including the development of a new combination of control systems. So there is a lot of activity at Advantec at the moment."
Magnar outlines the main strengths of the business: "We cover everything from development and detail engineering to producing, servicing and providing operating support for the systems. This includes life cycle support, in terms of the flexibility and the availability of the product.
Finally we are able to provide very fast turnaround times; we try our hardest to provide our equipment, meeting the delivery time that the client has specified. We place a great emphasis on a fast service and providing good products to our clients."
In April 2008, Advantec opened a subsidiary office in Houston, Texas, tasked with the job of servicing oil and gas contractors in the Gulf of Mexico and destinations abroad. Despite the office being hit by Hurricane Ike in September, business has more recently begun to pick up in the area, as Magnar explains: "Like everyone in and around Houston, the storm has been a big setback. The
office was flooded and it is on temporary power, so it was a particularly hard start for us as a new player in the market. However, business is progressing now and we are actively seeking opportunities in the area, seeing new possible clients and we have entered a tendering phase for new projects. We have brought our technology to these new market areas and adjusted to suit the requirements there because we need to be flexible and ensure that our solutions are amended to meet the regulations and specifications of the area. We have been recognised, and so has our technology, so it's been a very promising start and we're optimistic about the future in this market."
A further challenge to the business is the current state of the financial markets. As the world experiences significant changes and drawbacks in this area, Magnar explains how Advantec will prepare itself to deal with the consequences: "The current market conditions are difficult and everyone is feeling the effects of the financial situation. It's not easy to predict what will happen, but we expect that the oil and gas business will continue to develop and more projects will be ordered. We realise that a business needs to improve all the time to be chosen for new projects. Although we are not yet sure how this crisis will affect us in the Norwegian market – as we're yet to see the effects – we are preparing ourselves by being the best we can be so that we can remain competitive in a tougher market. Importantly, Advantec's capabilities in providing advanced products and systems to the market are well supported by good and strong sub-suppliers for various system parts."
In terms of the future of the company, Magnar describes the long-term objective of Advantec to develop and progress its business: "In a very short space of time, we have created a good standing in the market with our products and services. We have built a strong relationship with our clients and we expect to expand that by attracting new customers and increasing our efficiency in the international market. We also want to develop our ability to bring larger projects to the market, by consolidating our position as a total WOCS system integrator. It will be hard work and it's a matter of proving that we are a good provider, but everyday this strategy will bring us closer to where we want to be. We have a high competency level in the company with good engineers and technicians and we intend to grow over the next five or six years to become a strong player in the global market."
Advantec AS
Services Technology products and services