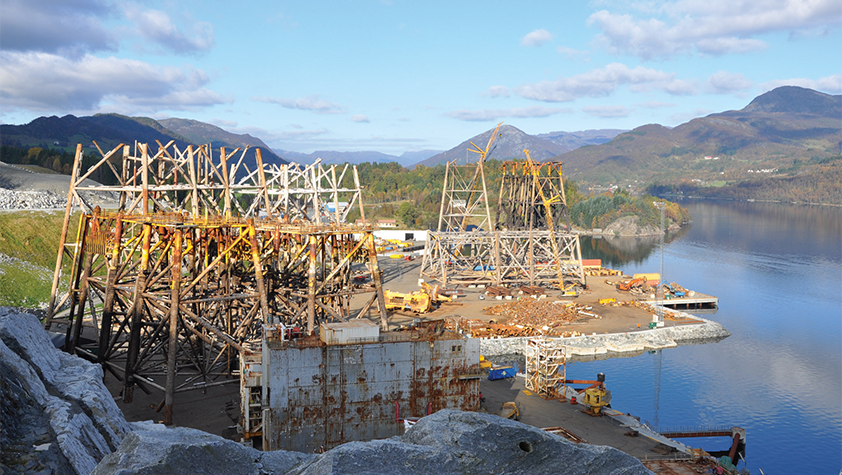 Addressing the future
AF Gruppen ASA (AF) is a listed contracting and industrial group. An independent company, its core business areas comprise Property, Building, Civil Engineering, Environment and Energy.
AF's activities in the Environment area include demolition and environmental clean-ups bothonshore and offshore, and three divisions – AF Decom, AF Decom Offshore and AF Decom AB – perform these functions.
Of these three subsidiaries, AF Decom Offshore undertakes the removal, demolition and recycling of offshore installations, and it is the market leader in Europe in these areas. It also provides a number of consulting services, such as technical studies and mapping of hazardous waste.
Furthermore, AF Decom Offshore operates AF Environmental Base Vats, Europe's most modernreception facility for offshore installations, andas a consequence, the company is fully equippedto take on the North Sea's most challengingdecommissioning projects.
One such major contract awarded to thecompany in July 2011 was the 'H7 Platform Removal Project'. The contract, worth approximately NOK 420 million, ex option works, was signed with Statoil on behalf of Gassco as operator for Gassled, and covered planning, engineering, removal and demolitionof the installation. The agreement also included an option to decommission a similar platform,B11, and this option has now been exercised.
The B11 platform is located on the German continental shelf of the North Sea, and was partof the pipeline that exports gas to Europe. The contract covers planning, engineering, removaland demolition of the installation, and it is worth approximately NOK 500 million excl. VAT, with work having commenced in 2012 and being planned to conclude by the end of 2016.
"The AF Group has built up the expertise and capacity to handle removal and recycling of obsolete petroleum installations. It is therefore recognition that Statoil, on behalf of Gassco, again has chosen the AF Group. This work lays the foundation for further growth within our environmental business in the North Sea," commented Pål Egil Rønn, CEO of the AF Group.
As part of both the H7 and B11 contracts, AF Environmental Base Vats on the westcoast of Norway, will be used as the decommissioning site. Dales Voe
Another exciting new development for AF Decom is also currently ongoing, as it continues to work on the development of a new environmental base for the decommissioning of offshore installations, this time in Shetland, at Dales Voe. It signed a letter of intent with Lerwick Port Authority (LPA) for decommissioning activities at Dales Voe in 2010, and in May 2012 Alex Salmond, First Minister for Scotland, announced a £10 million funding package to support the plans.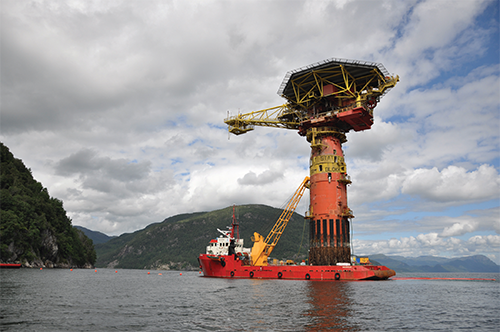 The project, which is currently under development, aims to establish a centre of excellence at Dales Voe, incorporating a 24-metre deep quay and oil rig decommissioning yard, to provide a scale of capacity and environmental standard currently unmatched in the UK.
The new site will feature a number of beneficial characteristics. Its deep waters and protected harbour permit unloading from any type of lift vessel, and the location offers exceptionally short sailing distance from the majority of the North Sea offshore installations. The new base will be built in accordance with AF Decom Offshore's proven and recognised environmental standards, and as it is being purpose built, it will be created at a size that ensures it can receive large North Sea platforms.
AF Environmental Base Vats in Norway and the planned AF Environmental Base in Dales Voe will provide AF Decom Offshore with unique capacities to plan 'cradle to grave' demolition projects and help customers better detect and avoid unforeseen challenges and costs.
In fact, AF Decom Offshore's greatest strength is its ability to manage and implement large projects, while achieving good results in the areas of health, environment and safety. Its expertise is also supported by a strong entrepreneurial spirit and innovation culture, and the latter has already been the source of new ways of working. An example of this is the development of the 'small piece' method. Simplicity is the key to this approach. During the first phase, or 'front-running', the platform is stripped of non-metallic materials, hazardous waste, cables and electrical components. The remaining structures are cut into pieces small enough to fit into regular waste containers, and are shipped to shore by standard supply vessels. This method replicates proven methods used onshore for more than a century, and does not require crane barges or heavy lift vessels.
In addition to the 'small piece' approach, AF Decom Offshore is able to undertake reversed installation and single lift projects, and combinations of the above-mentioned techniques.
By drawing on its expertise in demolitions, AF Decom Offshore can also take on modification projects, especially as, in most cases, the modification and re-building of offshore installations involves the demolition or removal of older modules and structures.
As a specialist in demolition and certified in accordance with both ISO 9001 and ISO 14001, AF Decom Offshore is able to ensure that the demolition part of the modification project is conducted safely, cost-efficiently and in an environmentally friendly manner. Its highly skilled engineers and offshore operators allow the organisation to carry out even the most demanding project at the price and time agreed.
Finally, AF Decom Offshore is able to harness all of its expertise and offer it to clients through its feasibility studies service. These studies can be undertaken for all types of offshore decommissioning projects, utilising solid experience to help customers in Europe and elsewhere. AF Decom Offshore has already conducted a number of studies on behalf of various customers, which have all been very successful. The scope of these projects has varied from loading buoys to platforms with topsides of up to 60,000 tons, and water depths from 20 metres to well over 100 metres. The variety of projects continually challenges AF's creativity and ability to adapt to various conditions, while its broad expertise and long experience helps guide it to success.
AF Decom Offshore
Services: Removal, demolition and recycling of offshore installations