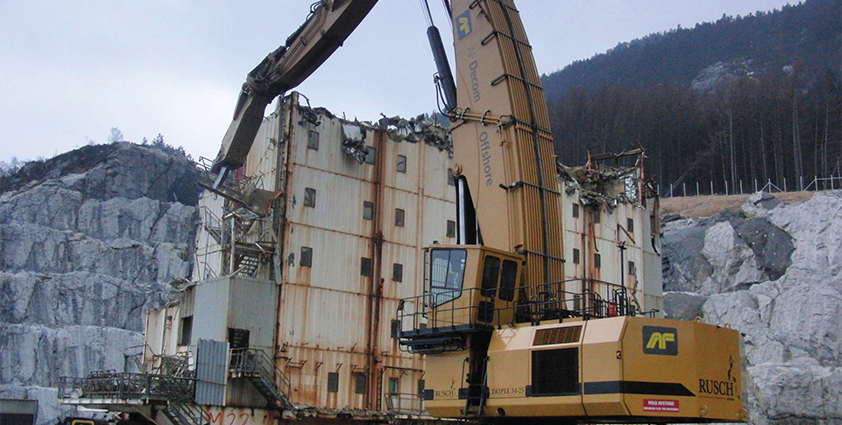 The recycle path
Since 2002, AF Decom Offshore has been involved with large demolition and recycling projects for offshore oil and gas structures, and quickly become a leading name in this sector.
It is part of the international engineering and construction firm AF Gruppen and was established with the experience of demolition projects by land-based sister division AF Decom. Such is the expertise of the company that both onshore and offshore branches have managed a 98 per cent recycling rate throughout their lifetimes.
Achieving this high rate of success is no easy feat, but one that AF Decom Offshore has gained through a process of research into best technique and development of advanced facilities. From its beginning, the company worked with oil company partners including ConocoPhillips and Marathon to form the 'small piece' methodology for deconstructing platforms. This uses excavation machines and robots equipped with dismantling tools to reduce the buildings into parts manageable by a 2000 tonne derrick barge or crane vessel. They are then transported back to land to be disposed at the company's own facility, AF Environmental Base Vats. This purpose-built decommissioning yard is the most advanced of its kind in Europe, featuring high-tech equipment to deliver complete dismantling and recycling services.
The site's former life as a construction yard involved with installations in the Statfjord, Gullfaks and Troll fields during the 1970s and 1980s has also been of benefit to its current role; machinery was already in place for the removal of hazardous materials, electrical products and non-metals, all of which are crucial in the first stage of dismantling. However, following its acquisition by AF Decom Offshore in 2005, a programme of heavy investment to bring the site technologically up to date was executed. First loose gravel was replaced with a fixed asphalt cover, noise-isolating equipment was implemented, and spill water collection points for hazardous liquids were installed. Following those, in 2006, a new low-emission water treatment plant incorporating chemical precipitation and filtration was launched, enabling the site to meet stringent Norwegian Pollution Control Authority (PTIL) regulations. Furthermore, to enable a fully comprehensive service for all types of vessel, the yard's quays were extended to account for the largest ships currently working in the North Sea.
The far-reaching capabilities and established success of AF Decom Offshore has seen it work on some of the largest decommissioning projects in the North Sea; it's first contract, for example, was the demolition of Ekofisk 2/4 Tank Topsides in 2004. The company's role involved using the small piece method in tearing down, cutting up, sorting and loading of the platform onto custom containers using shears and sorting equipment mounted on excavation machines. After a 15 month engineering phase, the project saw a 98 per cent rate of recycling by weight with no serious accidents or time loss incidents.
An excellent first project, Ekofisk 2/4 Tank Topsides established a benchmark that AF Decom Offshore has maintained to this day. More recently, for example, the company gained similar results during the decommissioning of the Kittiwake platform. Starting January 2008, it was released from its anchor fixings and towed back to the Vats facility using a number of subcontractors to complement AF Decom Offshore's own capability. Then, using the small crane vessel Uglen, the Kittiwake was lifted ashore in three small pieces totalling approximately 800 tonnes as well as one larger final piece of just less than 2500 tonnes that was handled by the Rambiz crane ship. The entire project took over a year and was completed in April 2009.
AF Decom Offshore has recently finished a major, multiple-structure project for Shell. Six platforms from the Inde field of the North Sea will progress through stages of decommissioning, with preparatory work for the lifting of topsides and jackets having already commenced in September 2008. This work consists of welding on the lifting arrangement, performance of non-destructive testing (NDT) and small piece removal of modules atop the main support frames of Inde Juliet and Kilo. The steel scrap and waste from this work and future activity was taken to Great Yarmouth, on England's east coast, for processing, sorting and final disposal.
AF Decom Offshore is currently working on the largest decommissioning project in the North Sea. As a subcontractor for Hereema Marine Contractors, it is doing the hookdown and the disposal work, including engineering for both hookdown and disposal of nine Ekofisk platforms, with an option for another four. The work started in 2008 and will be finished by 2014. All the stuctures, including the two boosters from UK side will be disposed at the environmental site in Vats.
With many platforms and rigs beginning to reach the end of their lifecycle, opportunities for the company look plenty; it is predicted the North Sea alone will require more than 400 offshore structures removed. AF Decom Offshore, having established itself as a pre-eminent figure in this region, is looking forward not only to seizing these chances but also to bring its services to clients even further afield. With potential for the Vats facility to expand, a wide range of capabilities and the support of AF Gruppen, AF Decom Offshore are ideally placed to take advantage of these future demands. AF Decom offshore is currently making the plans to develop a similar site at Dales Voe at Shetlands to cover more of the market ahead in UK.
AF Decom Offshore
Services Offshore structure dismantling and recycling