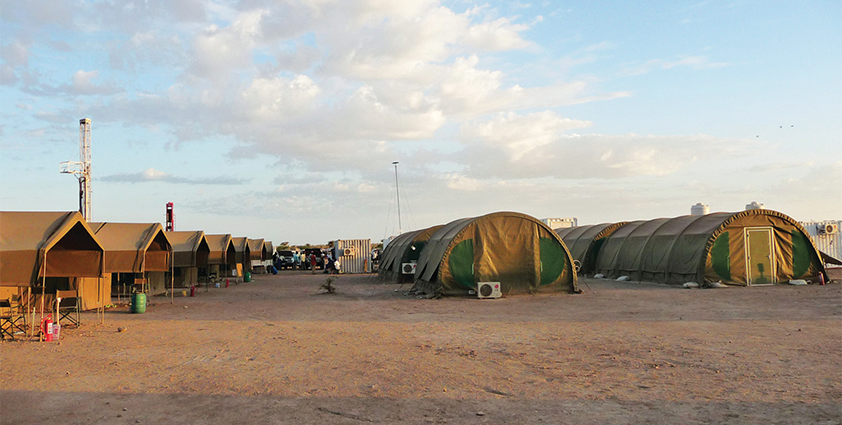 Land of new opportunity
Although a Canadian company by rights, as its name suggests Africa Oil Corporation's activities are focused elsewhere on the globe, specifically East Africa.
Within this region the company holds a number of interests in exploration licenses in Kenya, Ethiopia, Republic of Mali, and Puntland (Somalia). Africa Oil Corporation is one of a number of companies operating within the Lundin Group – an internationally recognised group with Swedish roots focused on identifying global investment opportunities within the natural resource sector.
Having entered the market in 2007 with the acquisition of interests in two oil and gas concessions in Puntland, today Africa Oil Corporation controls over 300,000 square kilometres of exploration property throughout several East African rift basins. These are held under various production sharing contracts. President and CEO, Keith C. Hill elaborates upon the reasons behind this regional focus: "Africa Oil Corporation was specifically designed to be an exploration vehicle in an area that hadn't really been explored in 20 years but was surrounded on all sides by billion barrel oil accumulations. As such we see the region as being a high risk but high reward opportunity."
"When we began the company, interest in East Africa was quite low so we were able to amass a very large land position with relative ease. Following the Tullow Oil discoveries in Uganda, which showed the potential of this region for major resources, I believe the industry is now really waking up to the commercial capabilities of East Africa."
This in turn has enabled Africa Oil Corporation to attract various partners to its assets, including Tullow Oil, for exploration works. At present the company has acquired seismic data across most of its blocks, barring a few small programmes, and is concentrating on moving into the drilling phase. In this respect, Africa Oil Corporation has ambitions to drill between seven and ten wells the next 18 months.
"We have already completed one well last year in partnership with a Chinese operator, where we made what seems to be a fairly substantial gas discovery in Kenya, which is currently still being appraised," begins Keith. "The first well in this next programme will be operated by Tullow Oil and they intend to drill between three and five wells back to back in rift basins commencing with the Ngamia prospect in Kenya. This well will test the Tertiary rift basin analogous to Tullow's recent discoveries in Uganda. The rig will then move over to Block 10A and beginning drilling on the Paipai prospect, which we think has the potential for a very large discovery similar to the Cretaceous reserves in Sudan."
Africa Oil Corporation is also making use of the innovative new technology Full Tensor Gravity (FTG), which was used very successfully by Tullow Oil in Uganda. "This is a new way of measuring gravity in three dimensions, which results in a map that looks similar to 3D seismic. This technology enables us to look at very large areas inexpensively – we have a land package that is bigger than the North Sea so it would be uneconomical to shoot seismic across the whole area. With FTG we are able to look at the results and then focus our seismic efforts on where the prospective trends are. To date the technology hasn't been proven in Kenya and Ethiopia but we are currently in the process of acquiring $22 million worth and so far the results look very encouraging," adds Keith.
Crucially, Africa Oil Corporation's portfolio is spread across under-explored plays in basins with proven and productive resources, or where existing well and seismic data provides sufficient information to identify a number of prospects. Based on the results of a third-party seismic report, Africa Oil Corporation is faced with over five billion barrels of net prospective resources to the company alone, with an estimated 20 to 25 per cent chance of success.
Keith highlights some of the more attractive aspects of this set-up: "One of the most favourable conditions is that there are four distinct petroleum systems within the area, and with our upcoming drilling programme we will have a number of opportunities to test these. Coupled within this is the fact that we only need to prove one of the four systems to begin to see a real return from the portfolio. In terms of the development of East Africa, one of the key elements is infrastructure and there are currently a number of discussions taking place regarding the construction of pipelines in southern Sudan and Uganda.
"If these programmes go ahead, many of those pipelines could potentially come right through or near our blocks and this will make developing our oil fields much easier. The threshold volumes that we would need to carry out a stand alone project would be in the region of 200 million or 250 million barrels but if there is this infrastructure nearby then suddenly 25 million to 50 million barrel fields become attractive."
Certainly in Keith's eyes the next 18 months are pivotal for Africa Oil Corporation as it looks to begin drilling its biggest prospects ever. As has been the case traditionally within the Lundin Group, the ultimate aim is to build up the business for future sale. With this in mind, Keith concludes: "Our primary job is to de-risk the portfolio by drilling the exploration wells, and if we're fortunate enough to find hydrocarbons, appraising these and getting a development plan in place. We don't really see our niche as developers – if we do our job right then the business becomes attractive enough for multinational or even national oil companies to purchase and take forward into development."
Africa Oil Corporation
Services: Exploration