Cool runnings
Formed in December 2008 between Carrier Corporation, a United Technologies company, and Air conditioning & Heating International (AHI), a Carrier distributor in Russia, CIS and East Africa since 1997, the joint venture has established itself as a developer and provider of comprehensive and efficient building systems.
AHI Carrier is a provider of full project management, design, supply and distribution of heating, ventilating and air conditioning products as well as associated electrical power supply, control and instrumentation systems for residential, commercial and industrial applications. AHI Carrier has become one of the largest Carrier joint venture HVAC distribution companies outside the US.
Since it was formed, the joint venture has expanded its areas of responsibility and now distributes Carrier products in 71 countries and Toshiba products in 98 countries throughout the Middle East, Europe, Australasia and Africa to a wide variety of segments including shopping malls, office complexes, hotels, airports, hospitals and data centres.
Another key segment is oil and gas. AHI Carrier has established a dedicated oil and gas projects division to meet the needs of customers in sectors such as oil and gas, petrochemical, mining and power. Developed from the recent successes within the energy industry, the Oil and Gas Projects Division provides engineered solutions for HVAC and associated electrical, instrumentation and controls systems that can operate in challenging environments such as extreme temperatures, corrosive conditions and explosion-proof zones.
In total, services within this division include HVAC engineering and design validation, customisation, electrical and instrumentation services and project delivery; commissioning assistance, completion and after-sales support are also offered to customers and have included major blue chip Tier 1 oil & gas companies.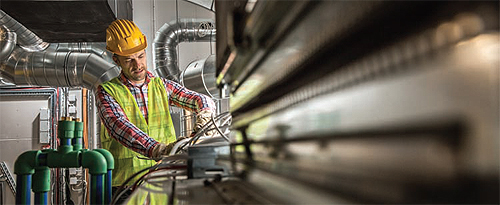 In 2015, the Yamgaz consortium of Technip, JGC, and Chioyda awarded AHI Carrier for the Yamal LNG (liquid natural gas) project. The Yamal is located deep in the Russian Arctic, a location that is ice-bound for seven to nine months of the year, and is one of the most complex LNG projects ever to be undertaken. The site is isolated from major cities and any infrastructure, and is in a region that has temperatures as low as -57 degrees Celsius.
"The Yamal LNG is a massive project with many technical and logistical challenges," says Iain Hill, Head of Operations, Oil & Gas Projects Division at AHI Carrier. "The site can be ice bound for nine months in a year, and due to unfavorable working conditions at site, the majority of the buildings have a modular construction design with modules pre-installed and commissioned at the construction yards in the Far East and then transported to the Yamal site using, when needed, specialised ice-breaker class vessels and ice class or non-ice class transportation vessels."
AHI Carrier's scope of work includes the HVAC design, supply, installation and commissioning support of equipment for 55 process and utility modules with full detailed design and engineering, including 3-D modeling in PDMS, and Russian CU-TR certification compliance.
"At AHI Carrier, the customer relationship is core to our business and the company is built on a strong foundation of listening to clients and providing the products they require. We build a relationship with the customer to ensure that the delivery of the project is a pleasant experience while also achieving a successful outcome. In this way, repeat business is achieved," said Hill. "We are passionate and proud of our expertise and we are capable of more than just selecting and supplying HVAC component parts. We will project manage and deliver the full HVAC scope, from process design to installation and commissioning support."
The major HVAC equipment comprises of air handling units with a total air volume in excess of ten million cubic meters per hour – Zone 1 certified, ventilation fans – Zone 2 certified explosion proof with full stainless steel construction, condensing Units – Zone 2 certified, pneumatic dampers – fire and gas, shut off and balancing type, of stainless steel construction, moisture eliminators of stainless steel construction, motor control centers – Eex de certified, and HVAC Control Panels – PLC based.
AHI Carrier are supporting Yamgaz to mobilise a specialist team to assist with the site installation and commissioning, once the modules are transported to the Yamal LNG site location in Russia.
"Over the longer term, we wish to be the partner of choice for HVAC solutions within the oil and gas industry and the wider energy markets, where customers are sensitive to the reliability and efficiency of their HVAC systems within their overall project asset," Hill concluded.
AHI Carrier
Services One of the largest Carrier joint venture HVAC distributors outside the US