More than able
Aibel AS is one of the largest Norwegian oil service companies that engineers, builds, maintains and modifies oil and gas production facilities.
It has a great deal of proven credentials, boasting the skills and expertise to assist customers in achieving increased oil and gas production. The company has decades of experience in providing production facilities solutions to both the offshore and onshore oil and gas industry.
Committed to creating value for its clients, its two world-class assembly yards are helping the business to achieve its vision of enabling its customers to achieve greater production by becoming the preferred Norwegian services company to the upstream oil and gas market. It benefits from being located close to clients and operates from the most important oil and gas centres in Norway.
Aibel has enjoyed a long history of specialising in production facilities solutions, expanding from its foundations in the Norwegian oil and gas industry into the world's major producing regions, meaning that the organisation understands the demands and conflicts that the industry faces today. At the core of Aibel's business is the specialised skills it has accrued in associated with engineering, building, maintaining and modifying oil and gas facilities, which are all underpinned by outstanding technology.
Offering high quality solutions and versatile, reliable resources to help clients achieve production goals, Aibel is dynamic, flexible and ethical in its approach to addressing the needs of a rapidly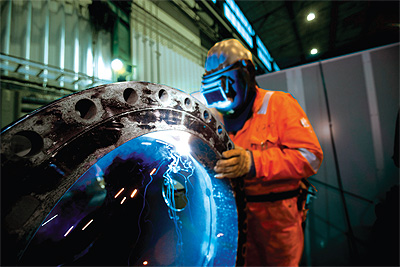 changing sector. Although the Aibel brand and company name are relatively young, the business can actually trace its heritage back over 100 years, having been a significant player in the development of the offshore industry since oil was first exported from the North Sea.
The name emerged in 2004 when the original company's identity was changed from ABB Offshore Systems to Vetco Aibel AS. It employed 7000 people at the time, in 17 countries, when it became the Aibel Group Limited in August 2007 as a result of the sale of Aibel to an investor group led by Ferd Capital and Herkules Private Equity Fund II (formerly Ferd Private Equity II). Aibel Group Limited had three principal subsidiaries – Aibel Holding Ltd, Aibel AS and Drilling Controls – but when it received a capital injection of NOK 600 million from its owners in November 2008, it was restructured into two separate entities. These are Aibel AS and Aibel Group Limited, the latter of which represents various international business interests. Aibel AS, which includes engineering operations in Singapore, continues to focus on the Norwegian market.
The organisation's vision is to enable its customers to achieve greater oil and gas production by becoming the preferred Norwegian services company to the upstream oil and gas market. To this end, the company was pleased to celebrate securing a new contract in January 2009. StatoilHydro awarded an EPCI agreement to upgrade the mud system on the Oseberg C platform to Aibel, who will undertake project management, engineering, procurement, fabrication and installation work – both on-and offshore. Work started immediately, managed from Aibel's facilities in Haugesund.
The company's president and CEO, Jan Skogseth comments on the development were reported in a press release at the time: "We are proud to win such an interesting project where the overall goal is to improve the working environment during operation and maintenance while making necessary upgrades to the system. New equipment will significantly improve functionality and control whilst, at the same time, we will maintain and ensure a maximum focus on health and safety."
A few months previous to this success, Aibel signed a strategic co-operation agreement with Odfjell Drilling Technology AS (ODT) that enabled the two companies to submit joint tenders for large scale EPCI (engineering, procurement, construction and installation) drilling upgrade projects in Norway. The move, announced in October 2008, provides the Norwegian market with a substantial player that has the expertise, ability and credentials required to execute major projects of this kind. Combining the two organisations' respective proficiency within drilling and EPCI created a strong EPCI contractor for the Norwegian market.
The main aim of the collaboration is to be able to participate in the major EPCI projects of the future that StatoilHydro, Conoco Phillips and other operators are planning. The partnership will be able to offer what the operators demand – the delivery of a complete drilling EPCI solution where Aibel contributes its EPCI and project implementation expertise and Odfjell Drilling Technology AS, with its drilling-related operational understanding, offers engineering knowledge as well as expertise in the choice of equipment and configuration of drilling systems.
In every aspect of Aibel's operations it prioritises quality, health, safety and environment (QHSE) in order to keep people safe, minimise impact on surrounding ecologies and deliver the right product the first time, every time. The company strongly promotes a culture in which QHSE is of absolute importance; QHSE programmes, procedures and behaviours reduce risks and costs, as well as create value for Aibel, its clients and business partners. Owing to this, the company's QHSE programmes are fully integrated into Aibel's management system, which has received ISO 9001, 18001 and 14001 certifications.
Whilst continuously working on improving this important area of focus, Aibel strives to transfer its knowledge and deliver the right skills to boost clients' productivity and maximise production from their facilities. Its recent commercial success is a further sign that Aibel is on course to enjoy a prosperous future.
Aibel AS
Services Engineering, constructing, maintaining and modifying oil and gas production facilities