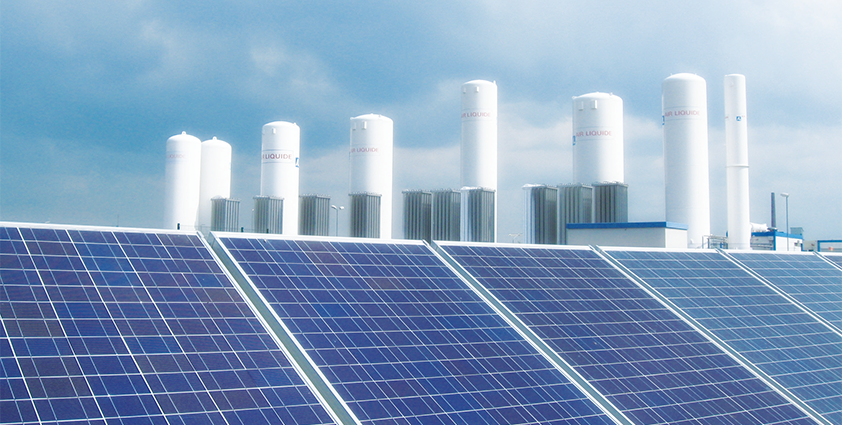 Gas and air
The Air Liquide Group is the world leader in gases for industry, health and the environment, and is present in 80 countries with 43,600 employees.
Oxygen, nitrogen, hydrogen and rare gases have been at the core of Air Liquide's activities since its creation in 1902. Using these molecules, Air Liquide continuousl reinvents its business, anticipating the needs of current and future markets and customer needs.
In Germany, Air Liquide has around 4000 employees and serves about 300,000 customers. Its products and services are subdivided into four business lines – Large Industries, Industrial Merchant, Electronics and Healthcare.
The Large Industries business line of Air Liquide offers gas and energy solutions that improve process efficiency and help achieve greater respect for the environment, mainly to the refining, chemicals, metals and energy markets. Transport is generally achieved via pipelines or individual solutions/plants, and over the past couple of years this division has seen investments in both new facilities and acquisitions. In fact, Air Liquide in Germany is investing around 90 million euros in 2011 in its Large Industries business.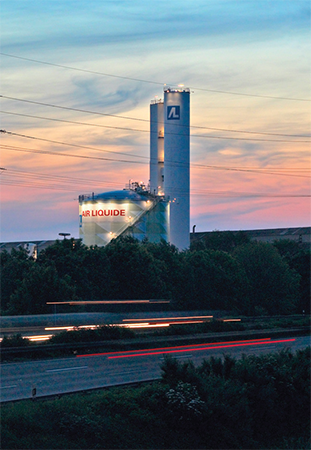 At Oberhausen (North Rhine-Westphalia), the largest Air Separation Unit (ASU) in Germany is currently being built for Air Liquide. With a production capacity of 2400 tonnes per day of oxygen, this plant is due to begin work in 2011. The oxygen will be directly fed into the 500- kilometre pipeline network supplying the large customers in the iron and steel, chemical and petrochemical industries in the Rhine-Ruhr area, 24 hours a day, year-round.
Furthermore, Air Liquide Deutschland GmbH is proud to announce that it has been selected by Aurubis AG, the largest copper manufacturer in Europe, for its new long-term needs for oxygen in Hamburg and Lünen (near Dortmund, North Rhine-Westphalia). In order to meet these demands, Air Liquide will construct an additional Air Separation Unit in Hamburg with a capacity of more than 500 tonnes per day of gaseous oxygen and liquid products; this plant will be commissioned in 2011.
Guy Salzgeber, a member of Air Liquide's Executive Committee, vice-president for North and Central Europe, said: "With these investments, we are very happy to see the materialisation of our development efforts in Germany. The new contract with Aurubis marks a further step in the development of the Group's activities in Northern Germany. Those are positive signs of the recovery of the investment cycle in Western Europe which is very good news for our activities in these countries."
In addition, in 2010, Air Liquide signed an agreement with OXEA GmbH for the acquisition of its syngas plant based in Oberhausen (Rhine- Ruhr area). This large plant has a production capacity of more than 80,000 Nm3 per hour of syngas – a mixture of hydrogen and carbon monoxide – used in the production of oxointermediates and oxo-derivatives, which are used in high-quality coatings, lubricants and cosmetic and pharmaceutical products.
In close proximity to this syngas facility, Air Liquide is already operating three air separation units that have also delivered oxygen to OXEA for several years now. Guy noted: "This takeover offers a good illustration of our growth strategy in existing large marketplaces and meets the increasing customer demand for the outsourcing of industrial gases activities. It will generate immediate revenue and intensify our longstanding relationship of co-operation with OXEA."
Alongside the Large Industries division, Air Liquide's Industrial Merchant subsidiary handles a diversified customer segment ranging from craftsmen to large high tech companies. It supplies small and medium volumes of gas in cylinders, storage tanks or on site units, and has an extensive offering of technologies, gases and innovative service solutions.
In addition, the company's Electronics subsidiary offers carrier gases, special gases, liquid chemicals, and the construction and installation of equipment and related services for the semiconductor industry. Indeed, Air Liquide Electronics GmbH is the market leader for the supply of bulk and specialty gases to the semiconductor industry and photovoltaic markets.
The fourth division, Air Liquide Medical GmbH, offers medical and life support gases. It too is a growing division with an acquisition occurring as recently as September 2011, when Air Liquide announced the purchase of Licher Medical Therapy (LMT), the German leader in medico-technical management of Parkinson's disease and immunodeficient patients treated with infusion therapy at home.
With this acquisition, the Group strengthens its position as the leader in homecare in Germany beyond the respiratory line. Home infusion therapy in Germany, which includes Parkinson's disease and immunodeficiency management, is on the rise, as is the case in the US and France, which are reference markets in this field. This acquisition demonstrates Air Liquide's development strategy in home healthcare and its commitment in the field of infusion therapy.
The diversity of Air Liquide's teams, businesses, markets and geographic presence provides a solid and sustainable base for its development and strengthens its ability to break boundaries, expand into new territories and build its future.
The Group innovates to enable progress, to achieve dynamic growth and a consistent performance, and its technologies are used to curb polluting emissions, lower industry's energy use, recover and reuse natural resources or develop the energies of tomorrow. Air Liquide combines many products and technologies to develop valuable applications and services – not only for its customers but also for society as a whole.
Air Liquide
Products: Industrial and medical gases