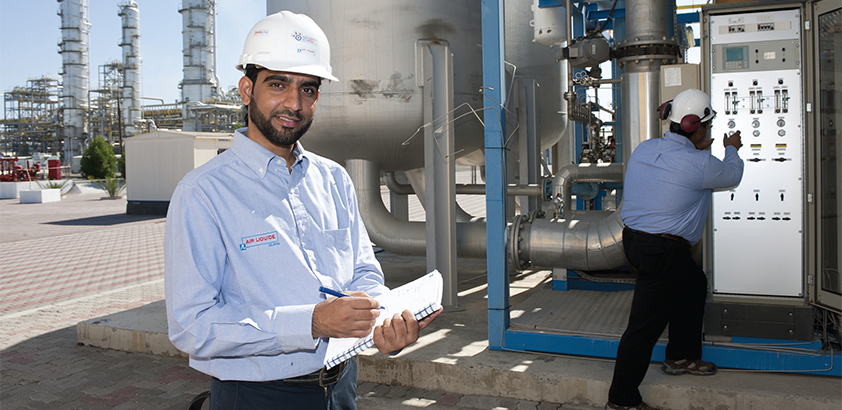 Pure class
Air Liquide works with gas and related technologies on an international scale. It was established in 1902 to provide services centring on oxygen, nitrogen, hydrogen, and rare gases.
Huge growth has happened in 110 years, with the company now employing nearly 46,200 people across the organisation. It also has subsidiaries and branches in 80 countries around the world with a presence in numerous sectors including the oil and gas industry, healthcare, food and beverage, pharmaceuticals, environment, and fabrication. These are grouped into different business lines, listed from largest to smallest: industrial merchant, large industries, healthcare, electronics, others activities such as welding and diving, and engineering and construction.
The oil and gas industry is an important area of activity for Air Liquide. It is a major user of the company's industrial gases and equipment, drawing products and services heavily from the large industries and industrial merchant business lines. "To the downstream oil and gas and energy industries we supply mainly nitrogen, Oxygen, or Hydrogen by pipelines," says managing director Jean-Luc Labat, who leads the company's operations in the Middle East and North Africa (MENA) region. "We also supply liquid and packaged gases for the downstream refining, and chemical industries. Our hydrogen contributes in particular to the production of clean fuels"
As Jean-Luc illustrates, Air Liquide is present in three major areas of the oil and gas industry: upstream, downstream, and drydocks/offshore. By far the largest of these is downstream, where the company is working with clients such as refineries and petrochemical plants supplying oxygen, nitrogen, and hydrogen. To upstream operations it delivers mainly liquid nitrogen for the purposes of oil recovery, whilst drydock/ offshore clients approach Air Liquide for supplies such as diving, welding and cutting gases. These latter two form a comparatively small part of the company's business, however.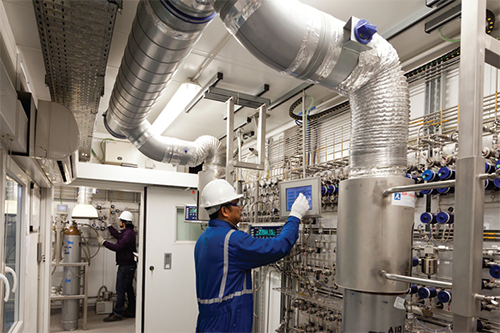 The managing director discusses Air Liquide's client base: "We work with many major oil companies such as Saudi Aramco. For example, the large H2 plant we are building in Yanbu for Saudi Aramco is the largest investment ever made by Air Liquide. Besides them, we also supply to the companies that provide oil majors with services. The industry is very dynamic, changing a lot in the MENA region in particular, and we are there to accompany our customers throughout their development. What they like is that we can provide wide geographic coverage throughout MENA, providing them with the same service and products wherever they are located. The reliability and quality of our solutions presents no surprises. Furthermore, once we are in a place we are there for the long-term, to stand by our customers even in such difficult times as the Arab Spring."
The supply of large volumes and packaged gases is at the heart of Air Liquide's business, but it's engineering and construction division also offers a range of technologies that have become popular in the downstream sector: cryogenic equipment and membranes for the separation of air gases and petrochemicals, hydrogen plants, as well as various chemical and refining processes produced by Air Liquide's subsidiary Lurgi GmbH.
Air Liquide is an active member of the Middle East Gas Association (MEGA), an organisation that regroups companies in the region active in the field of industrial gases. As one of the largest, Air Liquide plays an important role in promoting best quality standards for the profession in the region. "Within MEGA, our work is to raise the safety and quality standards," Jean-Luc says. "We have managed to ensure continuity of service to hospitals and key customers even during the Arab Spring in Tunisia, Egypt, and Syria for example."
In 2011, Air Liquide turned over a total revenue of 14.5 billion euros, making it the world-leader in gases for industry, health and the environment. "Despite a difficult economic environment," Jean-Luc expands, "Air Liquide has been able to maintain its positive growth trend throughout the first half of 2012. The MENA zone has been a good contributor to the growth. The company has excellent geographic coverage of the entire MENA area, with production facilities in 11 countries. The region's growth came in part from a recovery of the countries affected by last year's Arab Spring."
This significant result was a crucial addition to a total global presence that includes 400 air separation units, 100 hydrogen production plants, and 18 cogeneration units located across the globe. Furthermore, the company has its own pipeline network that lets Air Liquide pump gas quickly to customers in some of the largest industrial regions such as the US and Europe. The figures for 2012 so far support the ongoing success of large industries and Air Liquide as a whole. Total group revenue is up 5.9 per cent compared to the first half of 2011 with the major driver behind this being developing rather than advanced economies.
Looking forward, Jean-Luc reaffirms Air Liquide's commitment to its customers: "We will follow the development of the industry, so as the upstream sector begins exploring new regions for oil and as downstream learns how to best make use of this oil, we will be there. We are continuously investing to meet their requirements, and follow their development."
Air Liquide
Products: Refining and welding services