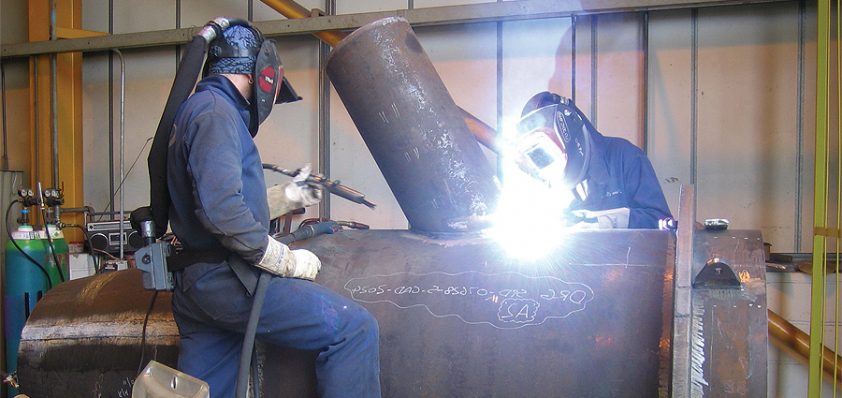 Leading fabrication specialists
AKD Engineering has been providing manufacturing services to industry since 1955.
Part of Camellia Plc, whose portfolio of companies spans the world, AKD's resources allow it to offer a wide-ranging and unrivalled engineering manufacturing capability to a large number of industry clients within the offshore, and subsea engineering sectors.
"AKD has been going for well over five decades," says Ray Ward, sales manager at the business. "Operating predominantly in the offshore oil and gas sector, we have amassed a vast amount of k
nowledge in the field. We specialise in high integrity fabrication to ASME, AWS, BSI codes, and together with our in-house machining capability, enjoy success in many other market sectors."
Based in Lowestoft close to extensive dockside facilities, the AKD site spans some 7.5 acres and has benefited from continual investment over recent years. The extent of the site and the facilities contained within it allow AKD to tender competitively for jobs ranging from routine fabrication through to the manufacture, assembly and testing of sophisticated large-scale projects.
Facilities include an 1800 square metre fabrication shop with overhead cranage, and comprehensive welding equipment, separate workshops for handling high nickel alloy fabrications, and its in-house machine shop is capable of handling single items up to ten tonnes. Furthermore, the introduction of the latest manufacturing facilities, such as CNC machine tools and other specialist equipment, means that AKD now leads the field in providing high quality, competitive engineering solutions. Investment in equipment and facilities is matched by investment into AKD's dedicated workforce whose reputation for thoroughness, professionalism and commitment has become a key issue for many customers.
With a highly skilled, permanently employed workforce, backed by a comprehensive apprentice-training programme, AKD is able to promote efficiency, reliability and quality: "We are one of the few companies that actually takes on apprentices in the traditional way," explains Ray. "This strategy has proved to be a successful tool for us over the years and our investment in training to attract young workers has helped us to address some major issues, such as labour and skills shortages."
AKD specialises in large-scale project engineering through which the management of projects are handled by customer-dedicated project engineering teams. Ray adds: "All of our ventures are handled on a project-to-project basis and a customer facing project engineer will be appointed to the job. We encourage our customers to work with us – dedicated assembly workshops, testing facilities and skilled technicians work with clients' teams to plan and implement projects from start to completion with all work pre-estimated to aid client cost management."
Continuing, Ray comments: "AKD Engineering has been in business since 1955 and we now have a core of people, from tradesmen on the shop floor right through to management positions that have been with us for some time. This longevity means we have got a real depth of experience and knowledge within the company and that definitely sets us apart from the competition in this sector. We are very proud of the fact we do not do that."
Quality is extremely important to AKD, a company whose reputation and history is based around delivering a quality end product. AKD's quality assurance procedures are approved to ISO 9001:2000 standard and this ensures a culture of 'right first time, and on time' for every project commissioned. However, the company's focus on excellence doesn't end there and it has a number of internal quality control procedures throughout design, procurement, manufacture, inspection and testing, which include a non-destructive examination capability with ultrasonic test equipment, dye penetration and MPI and full dimensional reporting facilities, with all AKD technicians qualified to PCN level 2.
"Naturally we work to the highest quality standards, which are essential for the type of fabrication work we do," says Ray. "We are renowned for quality on-time delivery, which is a must in the offshore sector. If we weren't able to offer a quality service then I doubt the company would have been around as long as it has. We are always looking to improve and encourage customer quality audits to further enhance the quality assurance ethic we have."
Looking to the future, Ray outlines the company's prospects: "The offshore oil and gas industry is extremely buoyant and the pundits suggest it is going to remain so for the foreseeable future. Despite this we are also trying to protect the company's outlook by diversifying into new market sectors. The offshore industry is very cyclical and the more we do to protect ourselves during lulls the better for ourselves and our customers. We have been around for more than 55 years, which is unique these days, and if we don't diversify then we shouldn't expect to be around another 55 years. That is our forward strategy," he concludes.
AKD Engineering
Industry: Offshore fabrication