Aker Floating Production ASA
Staying afloat
Established in 2006 as part of the Aker group, Aker Floating Production is a leader in converting existing tankers into floating production, storage and offloading vessels (FPSOs) for the oil and gas industry.
As part of Aker ASA, which was established in 1841 and has various subsidiaries with roots dating back as early as the 1700s, Aker Floating Production can call upon a vast resource of experience and support at any time from its parent company. Aker has a heritage that stems from workshops and craftsmen who designed and fabricated various components for machinery and equipment. Today, the company is a leading provider of products and solutions for various maritime industries, ranging from the energy sector to oil services, seafood, maritime businesses and marine biotechnology.
President and CEO of Aker Floating Production, Arne Hygen Tørnkvist, explains how the formation of the company came about: "We entered the own and operate FPSO market in 2006 based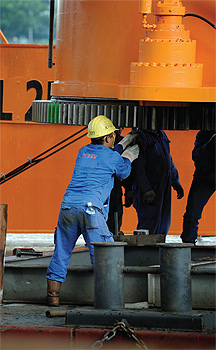 upon a modularised and standardised approach taken further than anyone before us. We named it 'SMART FPSOs'. It was a very promising market, and like many others in our industry, we saw a great deal of potential in the coming years around the world. New discoveries of oil and gas are found in smaller pockets off the coast of places like West Africa, South America and South East Asia, and each discovery or group of neighbouring discoveries in deeper water, needs a floating production facility. The FPSO concept is the favourable solution for all of these areas.
The company achieved its first major contract with Reliance, in India, in May 2007. This project involved the conversion of a tanker to an FPSO that would operate on the MA field off the East coast of India. This is a ten-year bare boat contract with Aker Floating Production's subsidiary, Aker Contracting FP, worth up to $1.1 billion. The ship used in the project was the Aker SMART 1, renamed to the Dhirubai- 1. Operating in the Krishna Godavari basin in the Indian Ocean, it will contribute to developing the large oil and gas reservoirs available there.
Arne discusses the project and its merits: "The Dhirubai 1 is moored at a location that is 1200 metres in water depth, and has completed the first phase of production, which is purely oil production and gas injection. We managed to achieve oil production in a very short time, having left the shipyard in Singapore at the beginning of August 2008, and were already producing oil by September the same year. In the last couple of weeks we have moved on to stage two, which includes adding more production risers and gas export risers, making the FPSO now able to produce more, and also export gas to shore in the near future."
Aker Floating Production plans to build up a fleet of Aker SMART FPSOs eventually, having already purchased two other suezmax tankers. The first conversion was carried out at the Jurong shipyard in Singapore and Arne states: "Jurong did a very good job in the development of this vessel."
The first of these two next hulls, the Aker SMART 2, was originally built in 1980 as an oil tanker trading between Alaska and California, and is a single skin, double bottom vessel with 15 cargo tanks. The unit houses an engine room, accommodation and aft-located pump room. The SMART 2's main propulsion system consists of a single screw plant with a GE HP steam turbine and two combustion engineer boilers, and the maximum capacity is 28.000 SHP.
The Aker SMART 3 is the second ship, built in 1981 in Hitachi Zosen, Japan. This vessel is also a single skin oil tanker with 15 cargo tanks, accommodation and aft-located pump room. Its main propulsion system consists of a two-stroke Hitachi and B&W diesel engine.
In the current state of financial turmoil, Aker Floating Production has experienced some impact as various companies in the oil industry are beginning to postpone several projects and reducing major drilling activities. But Arne believes this is temporary, and he explains: "Of course, smaller oil companies with fewer assets in particular will find it difficult in this financial situation to place a guarantee towards FPSO conversion projects. Many of the medium size and larger oil companies, however, have already announced that they are looking long term, and these are who we deal with – well-established companies that have been in the market for many years, asking for more complex FPSOs. In fact, we have even seen some of these oil companies announcing lately their willingness to invest in development projects in the current market, taking also advantage of the affects of expected reduced prices in the supplier industry."
Elaborating on what the future holds for Aker Floating Production, he concludes: "We are focused and selective on what we are bidding on. The whole business has suffered from cost overruns and delays during the last two years and we have to push now to get the margins up to a level that compensates for the project risk. However, I am convinced that the FPSO business will harvest significantly higher margins in the years to come".
Aker Floating Production ASA
Products and Services: Floating production, storage and offloading vessels