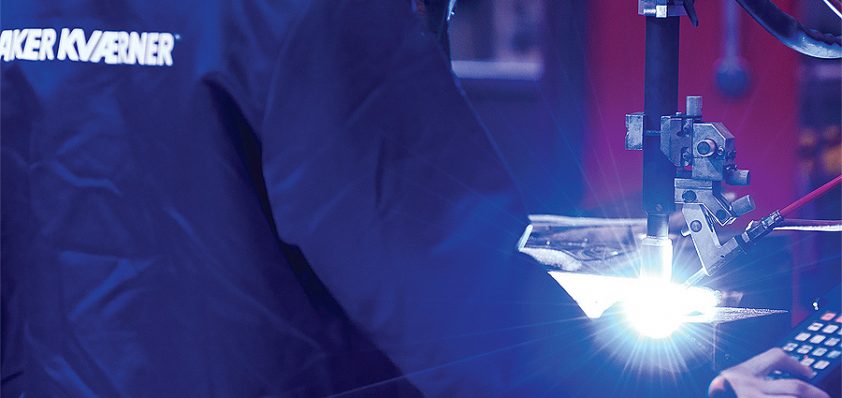 Boosting the industry
Aker Kvaerner Subsea is a world leading provider of a total range of innovative subsea solutions, ranging from concept screening and design through to manufacturing, fabrication and commissioning, to the global oil and gas industry.
The company is also a worldleader in the design and development of processing and boosting technology and subsea trees, and provides its products to both new and existing fields as individual activities or complete packages.
Speaking to European Oil and Gas Magazine Terje Braathen, vice president of Manufacturing at the business, elaborates on the company's strengths: "Looking at the industry in general, Aker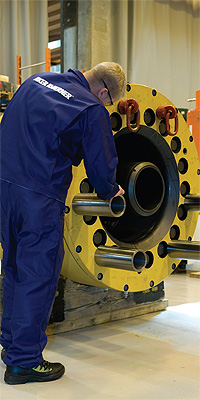 Kvaerner Subsea is the only company in the world that manufactures and delivers a complete range of subsea solutions to the leading players in the sector. We have the ability to provide a full catalogue of both products and services, ranging from subsea trees, processing and boosting technology, installations and installation tools, power systems, umbilicals, and many more associated services."
Agreeing, John Macleod, vice president of Trees at Aker Kvaerner Subsea, explains that this 'total' capability comes largely from the company's ability to draw from the vast resources and experience of the broader Aker family: "Much of what we offer comes from internal sources, and if you look into the wider Aker company then you can truly see the benefits this brings. For example, we have businesses that both builds and operates drilling rigs, and we are in the process of building well-installation vessels and construction boats, so there really is a great deal of synergy there. As a result, we are able to offer a complete, turnkey delivery in a very short amount of time, and I believe that there is no-one else in the world that can do this as successfully."
Aker Kvaerner Subsea has facilities around the globe, close to all of the major oil and gas exploration areas. The company's world-class integrated subsea engineering and manufacturing facility at Tranby, outside Oslo, is a leading supplier of subsea trees and boosting products. In keeping with the company's commitment to continued growth and expansion, the site has recently celebrated a significant expansion and state-of-the-art upgrade, making it the world's most efficient subsea tree and pump manufacturing plant.
Terje, elaborates: "With a total investment of 65 million NOK, the upgrade at Tranby is part of our overall business strategy moving forwards. Together with making the site a leading centre of excellence for subsea development, testing and production, we have focused a great deal on improving the manufacturing capabilities at the site. For example, we have focused a lot on adopting lean techniques and have invested in high-end machining equipment to reduce costs, whilst significantly improving our quality."
This focus on cost-effective, efficient processes has been reflected in the company's recent product development programmes, in particular, the development of its RapidSolution. Designed to deliver cost-effective solutions to meet fast track challenges, RapidSolution represents a streamlined approach that ensures customers' needs are met quickly and efficiently by providing turnkey solutions. John explains: "We have a large range of products that we have tried to consolidate down to a more predictable, efficient product line based around our Standard Configurable Tree.
"One of the key issues is to secure the supply chain, and with RapidSolution we have standardised our horizontal subsea trees into one product," John continues. "Currently we have long lead materials for approximately 80 trees un-allocated at various stages in our supply chain. This allows us to allocate some of the materials, resources and manufacturing capacity that this flexibility gives us, to target customers that are looking for fast deliveries and small volumes. In particular, RapidSolution is aimed at the North Sea and Gulf of Mexico market. Our first delivery of a Rapid tree is now taking place in the latter market, and it is the first of four being manufactured at present."
Together with subsea trees, Aker Kvaerner Subsea is a recognised market-leader in the development and manufacture of subsea processing and boosting technology: "We are well-known throughout the industry for being able to provide our clients with complete processing solutions," says Tom-Erik Dahl, business development manager of Processing and Boosting at the
organisation. "When developing systems we work very closely with our clients undertaking various FEED studies and engineering evaluations to develop the best, tailored options for obtaining oil from any well."
Tom-Erik elaborates on one of the company's most recent boosting developments – the SeaBooster, which won this year's Offshore Technology Conference (OTC) Spotlight on New Technology award: "The SeaBooster is a massive development for us in two major ways – firstly it will take the largest, highest power requirement of any subsea pump in the world, and secondly it will have the world's longest step-out from the power source."
The SeaBooster system, which has the capability to handle high flow rates, up to approximately 151,000 bbl per day, and to generate high differential pressures, increases the production rate of oil wells that require local pressure support by injecting sea water. The system eliminates the need for installing expensive flow lines by having the water injection system located close to the actual wells. Driven by a proven fresh water/glycol filled electric motor, SeaBooster is an extremely robust and reliable system that greatly improves a client's operations.
The benefits of SeaBooster have already been recognised by Statoil, which has chosen the system for its Tyrihans project in the North Sea: "The pumps will be installed and operational by the first quarter of 2010, and the project demonstrates the capabilities of SeaBooster very well," says Tom-Erik. "We will have three pumps sitting 31 kilometres away from the platform, which means that we will have to overcome the challenges of distance through using subsea transformers. This project really requires a great deal of development and testing as the nature of the Tyrihans development means that reliability is the key. However, we are confident in the pumps, and intend them to run unattended for the first five years of operations."
These recent developments, combined with the effective backing that Aker Kaverner Subsea has, means that the company is looking forward to an exciting future. John agrees: "I think that the industry looks good and that there will be further opportunities moving forwards. Our financial results for the last quarter were excellent, and we certainly aim for this growth to continue," he concludes.
Aker Kvaerner Subsea
Service: Advanced subsea solutions