License to drill
Aker MH AS, part of the globally operative Aker Solutions Group, is a leading contractor of world class drilling equipment packages to companies in the oil and gas industry.
Operating out of its headquarters located in Kristiansand, Norway, the drilling division was founded in 1971, and currently employs around 1300 people. Indeed, such is the scope of the modern offshore sector, that the company is active on a truly worldwide basis, with regional offices and subsidiaries located in Norway, the US, the UK, Singapore, Azerbaijan, Brazil, India, China, Poland and Iran. Aker MH AS has installed its drilling equipment on over 275 rigs, valued at an estimated $3.5 billion.
With over 30 years of experience in providing quality drilling equipment, all of Aker Solutions' state-of-the-art products are certified in accordance with API, NPD and DnV classifications. The division's drilling equipment and facilities have been recognised throughout the industry for having broken technological barriers, particularly in deepwater environments. Equally, the solutions developed by the business have been commended for meeting the sector's primary objectives of efficiency, safety, and operability in the field. Aker MH AS can provide oil and gas operators with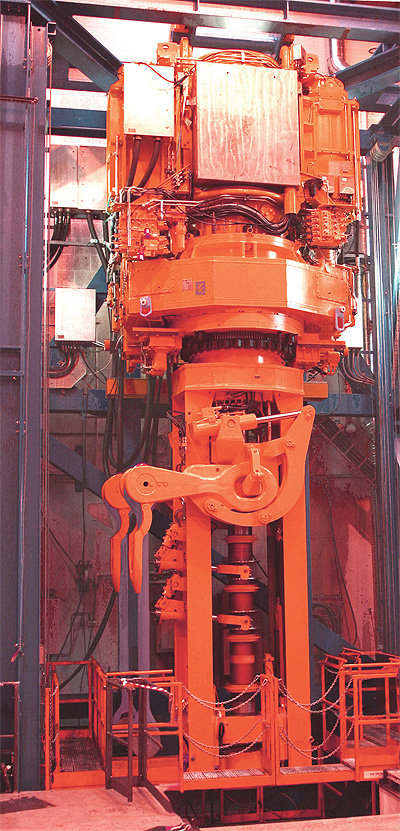 complete drilling equipment packages and modules, a full range of drilling equipment, well intervention packages, drilling support modules and control systems, and land rigs.
Aker Solutions competitiveness within the oil and gas industry is based on a unique combination of equipment delivery, project execution capabilities, and excellent after-sales services. Vice president of business development, Trond Robstad is keen to emphasise the company's competencies within the offshore sector: "Aker Solutions is involved in drilling equipment sales for new build deepwater rigs, and we think we are one of the major complete package providers. The business can provide full engineering services, competing alongside National Oilwell Varco on a global scale. We specialise in working on deepwater rigs, and providing a quality range of drilling equipment.
"We concentrate on providing a full supply of engineering services, and we are able to develop every solution internally – we don't outsource any work that we complete on projects," Trond states. "The fact that we can offer everything in house gives us a significant advantage over our competitors. We work extensively with the subsea division in Aker Solutions, and we have total access to its portfolio of products. The company also works with Aker Pusnes AS, which concentrates on mooring and anchoring products and services. However, we are always in contact with other Aker companies and sectors, so we are able to offer competencies in other areas. Working within the whole Aker Group means we are both reliable and flexible."
Encouraged by the experience the organisation has within the oil and gas sector, Aker MH AS has recently begun projects with some of the major operators in the offshore industry. Trond comments on the developments: "We try to offer our customers a combination of working techniques – in regards to engineering, Aker Solutions provides tailor-made services. However, within the components side of the market, we attempt to offer a standardised range of products and services. We are building up a portfolio of standard components through our extensive work with clients in the industry. The division has been working very closely with Transocean, one of the world's largest offshore drilling companies, and has recently helped develop the MDBM 1250. In the modern drilling sector, the amount of work completed onboard the rigs mean that downtime cannot be accepted. One of the primary causes of downtime on rigs is topdrive failure, so Transocean has focused specifically on removing this factor within the drilling equipmen . Together with Transocean, Aker Solutions has developed a new, modulised topdrive system that purposely avoids downtime issues."
Within drilling, topdrive technology is used to turn the drillstring, and consists of one or more motors connected to a section of a pipe called a quill. Trond continues by examining the factors that make the company's topdrive solutions an important market innovation: "The new topdrive system is very robust, and can offer redundancy on all practical operations. In addition, the fact that the topdrives are modular components means that they can be changed quickly and simply onsite, with a minimum of fuss for operators.
"We offer everything oil and gas operators require on successful drilling projects," Trond comments. "Aker MH AS offers these services directly to companies, as well as through strategic partners for some items used within the industry. If our company cannot provide a product, then we will look outside to find the appropriate equipment. For example, we are working on a very exciting system for Bluestar MPF, which is a multi-purpose floater project. The specialty of this vessel is that it can store oil, while at the same time completing drilling and production. We also have a large amount of long-term drilling experience working alongside Seadrill, and they are one of our major customers."
As the oil and gas industry matures, the attention of offshore operators has spread to locations that are more geographically remote than previous instances. Operating in harsher climates means that there is an increased demand for technology that is guaranteed to work in these conditions. As Trond acknowledges: "The deeper and harsher environments that drilling companies are operating within require better solutions from Aker Solutions, particularly in regards to how they are designed. We must deal with greater currents, as well as rigs located in colder climates such as the Arctic Region. The industry is expanding into deeper locations, and hence operators require longer well technological solutions, so there are plenty of challenges and opportunities for the company to face in the future."
Despite these challenges, Trond remains optimistic for Aker MH AS prospects: "The market looks very promising for the Aker Solutions, as the demand for oil is very high at this time. Despite temporary setbacks on the financial market, we are optimistic that the industry will remain positive in the future. Also, we are already operating within deepwater locations, and I think this will be the main focus of future developments within the oil and gas sector. Most of the onshore and shallow water locations have been heavily developed, or are in the process of being developed, so Aker MH AS will continue to concentrate on projects in deeper sea market areas.
"Both China and India have emerging offshore market opportunities that are interesting, and the first deepwater project that took place in China used equipment supplied by Aker Solutions," Trond continues. "We will continue to concentrate on these geographic areas, as well as others. It is also necessary for the company to strengthen its position in the service and after-sales market, and it is very important for us to take a higher share of the installed base," he concludes.
Aker MH A/S
Products Drilling equipment packages and modules