Fields of potential
Aker Offshore Oy is a Finland-based branch of the global Aker Solutions group, and it provides energy and development services (ED&S) to both its mother company and other external clients in the oil and gas industry.
With a portfolio of services that is comprised of marine technology, engineering, project management and consulting it specialises mainly in offshore construction projects. The company was previously known as RR Offshore Oy, before Aker Solutions acquired it in 2005, and later bought the whole share capital.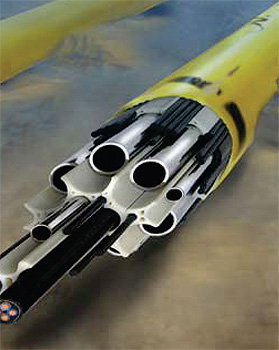 Aker Offshore Oy's main market is Russia, and most of its operations are centred on the Caspian Sea, with views to expanding into the Bering Sea as well. Ilkka Saarni, the company's president, highlights some of his company's major current projects: "At the moment we are working on a major contract for the Sakhalin Island to be executed on the east coast of Russia. We are also working on the development of the Kashagan field executed in the Caspian Sea, in Kazakhstan. Both of these projects are being carried out in conjunction with Aker Solutions."
The Sakhalin II project that Aker was working on is also one of the largest oil and gas developments in the world, and it is of major significance to Russia's future energy policy.
At ten billion US dollars, it used to be the largest single foreign investment project in the country, and it is also Russia's first ever oil and gas project to be developed under a production sharing agreement (PSA). Within this project, Aker Offshore Oy was responsible for providing engineering and construction services for the construction of two concrete gravity-base structures (CGBSs). These are two offshore platforms with concrete substructures that sit on the seabed, and they are designed to withstand the challenges of the surrounding region, such as seismic activity, pack ice and severe weather conditions.
These platforms are called the Piltun Ashtokhskoye (PA-B) and the Lunksoye (LUN-A), situated on oil fields of the same name. Together, these fields contain reserves of approximately 140 million tonnes of oil and 550 billion cubic metres of natural gas. The PA-B platform is a four legged concrete gravity substructure and at 28,000 tonnes, is one of the largest offshore installations ever built. Its construction began in 2003 and it started producing oil in 2007, and its living quarters can accommodate up to 100 permanent and 40 temporary personnel. The LUN-A platform is slightly smaller, with capabilities to house up  to 90 permanent and 30 temporary personnel. Situated 15 kilometers offshore, this platform is at a water depth of 48 metres compared to the PA-B's 32 metres.
More recently, Aker Offshore Oy has been involved with activities on the Sakhalin II's sister project, the Sakhalin I. This comes after Aker Solutions was awarded contracts from Exxon Neftefas to work as operator on behalf of the Sakhalin I consortium for the design, construction and delivery of the project's major GBS on the Arkhutun Dagi field, earlier this year. Speaking at a press conference soon after the contract was secured, president and CEO of Aker Solutions, Simen Lieungh announced its importance: "This is a confirmation of our strategy and ambitions to grow our activities in arctic regions, and our competencies, technologies and products related to maintaining our leading edge in concrete technology and to further grow our activities in the Russian
federation."
This will further benefit Aker Offshore Oy as well, as it too looks to expand its operations further into Russia. Ilkka explains: "I believe that together with Aker Solutions we will be able to meet our ambitions, building further upon Aker's growing success in the region. We can add to this because we have been working in the field, especially in Russia, for 30 years. Along with our experience, the fact that we are situated in Finland means we are between the East and the Western markets, and we therefore have a certain kind of leverage."
Aker Offshore Oy's operations on the Kashagan oil field in Kazakhstan are also being carried out in close conjunction with its mother company. The Kashagan field is located 80 kilometers south east of the city of Atyrau, and it is the first large-scale petroleum project in the country. The field covers an area of approximately 5600 square kilometers, and it is widely considered to be one of the most important oil field discoveries of the past 40 years. Aker Solutions is involved with phase one of the project, which includes the offshore hook-up, commissioning assistance, onshore-prefabrication, logistic support and inshore hook-up work as well. It also includes engineering and job carding for prefabrication, as well as the installation and final vessels preparation. The company has played a significant role in developing the field from 2004, and the work is expected to continue through to 2012.
Illka discusses Aker Offshore's involvement in the project: "We will be providing management services as well as various engineering, planning and control consultation for the project." This is aided by the fact that the company also recently started up its own engineering department, which will benefit the its future expansion too. He continues: "This means that we are now fully integrated with all our corporate systems and engineering tool facilities as well. Through developing our current capabilities and by achieving success in our work with Aker Solutions on both the Kashagan and Sakhalin fields, I firmly believe that Aker Offshore is in an excellent position for the future."
Aker Offshore Oy
Services: Engineering, project management and consulting