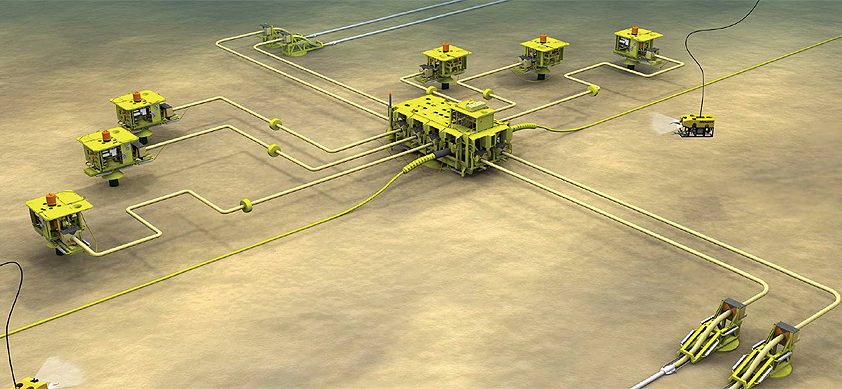 An IT revolution
In recent years there has been a revolution in subsea data systems as technology develops and industry demands change, opening up vast opportunities for the use of common IT systems architectures.
Aker Solutions' subsea business has been one of the leading participants in the development and deployment of this new open system architecture designed for subsea production and process control, and is keen to demonstrate the immense power and flexibility of the new system to the industry.
The demand for a significant leap forward in technology has been present for some time, with early subsea production control and monitoring systems previously using closed, proprietary software and communications protocols that are developed for specific tasks. In such systems the communications links were very limited in the amount of information that they could pass to the control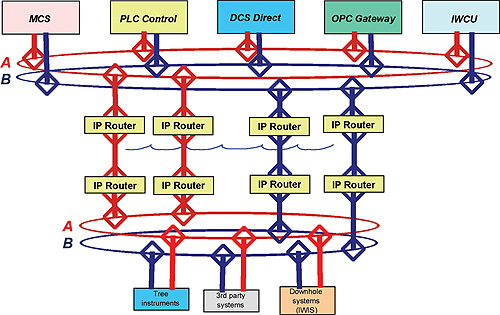 umbilical, which in turn had a detrimental effect on the pace of subsea control systems.
However, more recent developments in subsea process systems and more sophisticated instruments for production control products demand a higher bandwidth than previously needed, and more open data systems. This technological development has been coupled with a surge in the drive to integrate subsea systems within DCS/SAS systems in order to significantly reduce maintenance and support costs. Such changes in infrastructure and integration, and the ever-increasing sophistication of the data programmes used, meant that the amount of software needed to successfully support subsea operations has grown responsibility.
In response to these changes, Aker Solutions – previously known as Aker Kvaerner – recognised the need for a development in the architecture of the overall system, with a simplification of data solutions and open interconnectivity and interoperability being the key requirements. Importantly, the company recognised that whilst these changes were unavoidable, they had to be implemented without the risks of large amounts of complex software and integration being needed.
Although there are various implementations of 'open' system offered, including transparent communications systems and open data models, Aker Solutions bases much of its technology on the open connectivity model, which allows the development of common building blocks and direct access of the subsea network to third parties. Open connectivity models rely heavily on open access to networks and end-point devices to allow full interoperability.
This interoperability is ideally achieved by industrial Ethernet networks, which are highly reliable and well-defined open standards that make such operations very simple. Industrial Ethernet networks offer considerable advantages over other systems – they provide the potential for a seamless flow of data from field devices to the highest level business systems, and back again, and they have potential for further evolution in the future.
When developing the new open connectivity architecture, Aker Solutions had a number of important objectives it had to achieve – that the implementation should be based on 802.3 Ethernet TCP/IP and UDP standards, that data packets should be routed with automatic rerouting on fault and across variable communications channel speeds, that the project would support optical and electrical Ethernet communications, that the system architecture should be independent of the physical constraints imposed by the umbilical system, and that subsea inter-manifold and inter-device communications would be feasible.
The result of this development was a highly successful implementation that used only three circuit cards – optical router modem, electrical modem and routing switch, but which allowed any network topology to be configured by simple configuration of routing tables. Important, in terms of the overall design, is that the ready-made large-scale components needed are easily available, which in turn achieves a common re-useable design with a rapid qualification and market acceptance of the technology.
The technology that has been developed by Aker Solutions has demonstrated its advantages in a number of projects, ranging from simple single subsea node architectures through to large integrated systems, each building on the success of the previous operation. The very first OPC connected system, which used early generation FSK communications on a proprietary network to a topside iConSCU OPC gateway, was delivered to Total's Dalia project in Angola. The iConSCU gateway easily enabled connection of the DNS system over TCP/IP using an OPC server, and controlled the field and alarm functions, and provided data acquisition.
Subsequently, the business delivered its first open network architecture system for the company's MultiBooster pumps utilised at BP's King field in the Gulf of Mexico. Using a dual optical umbilical connection between the topside and the subsea pump control module with rerouting at router level, the system paved the way for the later electrical router system. This was developed for the Reliance KG-D6 subsea production system contract awarded to Aker Solutions in 2006, and represented the company's most advanced open architecture system to date.
This involved an optical main umbilical with CPS backup attached to a subsea router module that was designed to disperse communications equally to the tree, manifold and PLEM modules. Representing additional challenges in the development of the technology, the project required the prioritisation of various data packets to maintain the data flow when the Ethernet link was slowed down.
The aim of introducing such Ethernet subsea systems is to provide the oil and gas client with a flexible, scalable open architecture solution that can cover the large proportion of conceivable tasks. In 2006 Aker Solutions was awarded a contract that would ideally demonstrate these attributes. Following a two-year pre-engineering period the company commenced the manufacture of a pilot subsea gas compression system, including the control and monitoring systems, for StatoilHydro.
A major step forward in design, the project integrates five major subsea subsystems to topside control systems using Ethernet technology, and provides for subsea local area networks, router modems, long-haul umbilical communications, real-time condition monitoring, process control systems, and SIL-2 rated compressor control process shutdown systems. Upon completion in early 2009, the project will be fully integrated with the ABB DCS system with direct connection to the subsea network, and will be run from the Nyhamna gas receiving terminal.
Through an innovative approach to open system architectures, and a willingness to push the boundaries of the accepted technology, Aker Solutions has designed a truly scaleable and flexible Ethernet based subsea control system architecture. The system provides considerable benefits to customers in the industry, allowing field management techniques to be adapted through the life of an asset. With further commitment to this development planned, Aker Solutions is yet again leading the way in technological development in the oil and gas sector.
Aker Solutions
Services: Subsea data systems