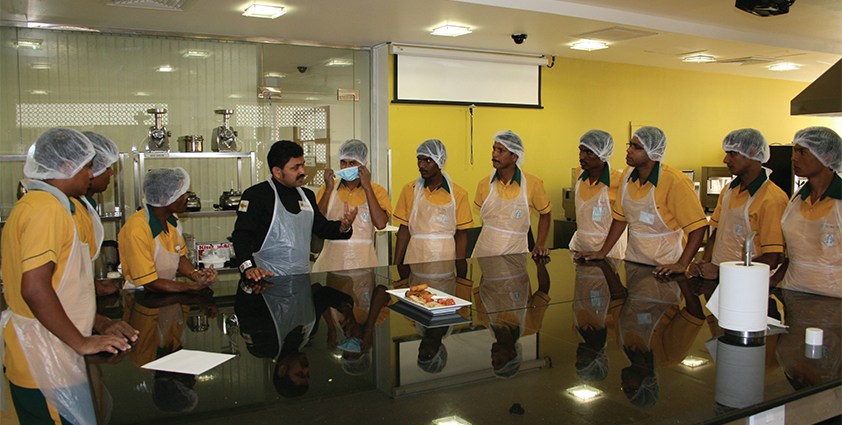 Serving up satisfaction
"In English, the Arabic phrase Al Fajer translates into sunrise or daybreak, a name that is entirely appropriate for the way the company is on hand to provide service operations 24-hours a day, seven days a week, 365 days a year," explains John Harley, general manager of Al Fajer SM Services (AFSMS).
"A member of the Al Fajer Group of Companies, it has been operating as part of various partnerships since 1994 and as an individual entity since 2006. With a management team that possesses over 100 of combined experience in the services industry, AFSMS employs a multi-cultural workforce of over 2300 personnel."
Established by H. H. Sheikh Hasher Al Maktoum, AFSMS is a significant operation providing world class management and services for all types of building environments in the UAE: "In regards to the oil and gas industry, the company provides core multi-discipline onshore support services," John continues. "These include providing office, warehouse and workshop cleaning services, security operations for various facilities, contract maintenance services, environmental solutions and personnel provision and recruitment support. What links all of these together however is the company's commitment to providing an environmentally safe and healthy work place for all of its own, and client's employees."
As John goes on to highlight, it is in part the rapid growth of several Gulf countries, particularly the UAE, that has coincided with AFSMS' own increased success rate: "The region has spent the last decade going through a major construction phase, meaning today there is a multitude of entities and projects that need to be maintained at a high level to ensure their environment, maintenance and health is kept at the highest of standards for optimum lifespan. The provision of these services has been taking even greater precedence in recent times, meaning the service industry has experienced its own ascendency as more projects become active and operational.
"The many clients AFSMS is proud to be of service to include several Dubai Government agencies, Dubai Airport, the United Nations, a number of companies operating within the Jebel Ali Port free zone and many more in general business areas such as shopping malls, accommodation complexes and office towers." Being a multi-service organisation the company has had the privilege of being involved with many major oil and gas projects, from oil rig conversions to providing support services for pipeline and equipment yards: "What AFSMS is seeing in the current market is that the emphasis has changed and that the company is now being called upon to provide multiple services to individual clients. This means taking on many of the services required by the client to maintain their onshore premises, which themselves can be outsourced, allowing the client to concentrate on, and focus all of their attention towards, their own core business."
The key strength of AFSMS that keeps it at the top of its game on a constant basis is without question its workforce: "The company is already qualified to ISO 9001:2007 standards and is well on its way to gaining OHSAS 18001:2007 certification. Together with its in-house training programmes, AFSMS works to ensure that its workforce's professionalism and commitment to environmental care is carried throughout all of the company's range of services," John enthuses.
The multi-disciplined nature of the company allows its clients to outsource a complete range of support service requirements to one entity, something that brings with it significant cost savings and increased rates of efficiency. The result of this approach to business is that AFSMS achieves what it considers crucially important to the success of the company, and that is complete customer satisfaction. Believing that each client and its own personnel, visitors and customers should receive the highest levels of attention, courtesy, communication, good manners and personal presentation, the company's staff are on hand to act as ambassadors for not only AFSMS, but for the client also.
The management of the company regards the measurement of customer satisfaction as a vital tool that ultimately improves the various different aspects of its business activities. Measuring and monitoring customer feedback not only provides vital information on a continual basis, it also allows the company to anticipate its customers' future needs. Aiming to continually improve its performance through the use of quality policies and objectives, audit results, data analysis, corrective and preventive actions and management reviews, AFSMS also ensures that all process changes are prioritised, planned and controlled so as to fully satisfy its customer requirements.
"In the time since the economic crisis of 2009 the direction of the service industry has most definitely changed," John states. "The key factors today centre around costs, efficiency levels, technical provisions and the amount of knowledge and experience possessed by a company. Naturally AFSMS has endeavoured to adapt to this change by introducing additional services to broaden its market base and by making all of its working practices more efficient and cost effective.
"In light of this, the company is very optimistic for not just its own future, but that of the services industry as a whole. As recognised safe and secure environments, Dubai and the UAE continue to solidify and develop their positions as major operational hubs for a wide range of industries, particularly oil and gas, for all Middle Eastern countries and the surrounding Asian regions. The need for these companies to outsource work to service suppliers will continue to be a prominent market trend, therefore providing AFSMS with more and more opportunities to expand its range of services and solidify its position as a leader within its field."
Al Fajer SM Services
Services: Onshore support services