A new chapter begins
Incorporated in 2003, initially as a provider of spare parts for Rolls Royce Avon and Olympus gas turbines, Aberdeenshire-based aero-derivative gas turbine service provider Alba Power has undergone substantial change in its 16-year lifespan. The most recent chapter in its story commenced in early July 2019, when the company proudly announced that it had successfully been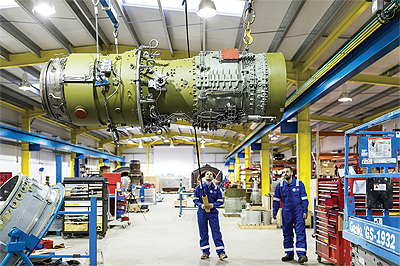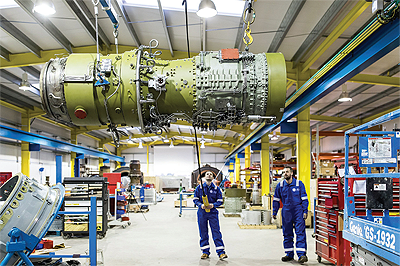 acquired by Swiss engineering giant Sulzer, which specialises in pumping solutions and services for rotating equipment, as well as separation, mixing and application technology. The purchase allows Alba Power to remain an independent service provider while at the same time giving it access to significant financial backing – a situation that benefits both businesses.
With facilities located in Aberdeen, Houston and Ontario, Alba Power offers a wide range of services to its clients including field service, inspection, repair and overhaul for Rolls Royce (Avon, Olympus and RB211), Pratt & Whitney and other aero-derivative gas turbines, as well as power turbines and controls. As such, the company strongly complements Sulzer's existing service offering in gas turbines globally, with the acquisition allowing Sulzer to diversify its service portfolio, both into smaller gas turbines and distributed power. At the same time, Alba Power will benefit from its parent company's global network of more than 180 production and service centres, and gain access to the technical expertise required for servicing heavy industrial gas turbines.
"The company's acquisition by Sulzer is by far one of the biggest developments to occur in our recent history, and comes off of the back of a very successful 18-month period," explains Alba Power's Managing Director, Neil McKenzie. "Our own relationship with Sulzer pre-dates the acquisition, having utilised their knowledge and skills previously when completing 'whole package' contracts. This meant that we understood that there would be a great many synergies between the two parties, that there would be extensive opportunities for cross over work, and that the coming together of Sulzer and Alba Power would make for a great engineering fit."
The successful period that Neil speaks of can be evidenced in the fact that in its full year accounts for 2018, the company reported a turnover of £34 million and pre-tax profits of £7.5 million, which represents a profit margin above 20 per cent. Around a quarter of the company's business comes from the oil and gas industry, which Neil describes as "gradually picking up", with the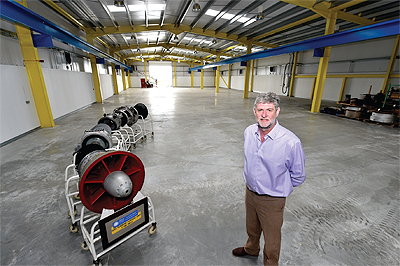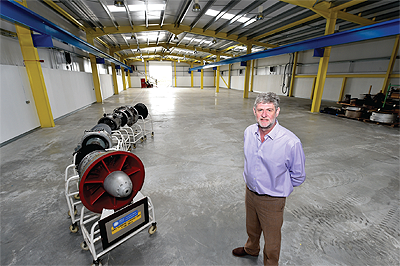 energy sector being a particularly strong source of growth, especially in Europe.
Examples of some of the important contract wins that have helped spearhead a pattern of growth for the company which has encompassed both 2018 and 2019 include its securing of a contract worth more than £2.5 million with Canada-based nuclear energy supplier, Bruce Power, and its announcement in March 2019 that it had signed a new fiveyear agreement with Marathon Oil UK, which has itself since been acquired by RockRose Energy. The former contract involves the overhaul of power turbines for Bruce Power, while the latter covers maintenance, repair and overhaul of Marathon's Olympus SK30 gas turbine packages. In the case of this more recent contract, Alba Power's engineering and services capabilities will also provide modifications and improvements to increase reliability and extend the life of the aforementioned packages.
Alba Power's efforts continue to be recognised not just by its customers, but also its industry peers and external bodies. In the last year alone, it has not only been named the 'Best Gas Turbine Sales & Repair Company 2018' at the Scottish Enterprise Awards, but more recently – in September 2019 to be precise – it was proud to have an article published within the Parliamentary Review journal. "The continued recognition we receive is a wonderful testament to the talent of our people," Neil enthuses. "Meanwhile, the exposure we have received since the release of our article, which has shone a spotlight upon the numerous tasks that we excel at, has been of great benefit to the business."
As Neil goes on to detail, the nature of the gas turbine world tends to lead to the end of the year being back end loaded, and as such the final two months of 2019 – and into early 2020 – will be an extremely busy time for Alba Power, with a full order book in front of it. Looking ahead into 2020, optimism and expectations are high within the company. "The next year is looking very strong for Alba Power," he declares. "We are very much looking forward to working closely with our colleagues within Sulzer in order to further develop our respective capabilities and the many synergies that exist between our businesses. At the same time, we will work hard to ensure that we continue to grow, to expand our product range, and capitalise on the many new and exciting opportunities that we expect to come our way."
Alba Power
Services: Repairing and overhauling gas turbines, marine turbines, and power turbines