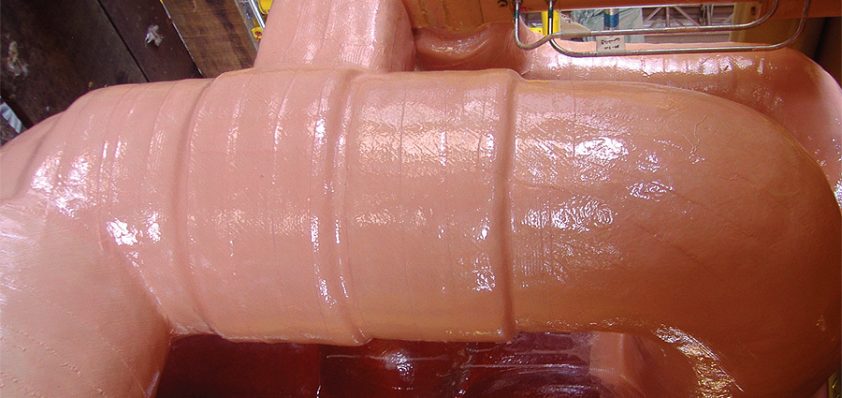 Insulation innovation
Alderley Materials Ltd specialises in the development and manufacture of advanced materials for fire protection, insulation and anti-corrosion for offshore applications.
The company's unique patented technology – a modified phenolic material – is sold under the brand name ContraTherm.
The increasingly extreme operating environments of recent oil and gas discoveries means that phenolic resin materials have come into their own over the last years. Phenolic resins were first used
commercially in 1907 (2007 saw the centenary of Leo H. Baekeland's invention being celebrated). It is fascinating to see a chemistry that for years has been unfashionable, coming into its own and the properties that were recognised over a century ago, be put to use again. It is Alderley's primary objective to develop the organisation's already impressive capabilities and diversify its product range further.
Andrew Bennion, managing director at the company, elaborates: "Alderley Materials has been in operation since 1993, having originally been a part of Alderley Group Plc until an MBO this year, which was led by the current owner Simon Shepherd. One of the chief reasons behind this MBO was to further develop the technologies that we possess and commercialise our ideas, thus enhancing our product offering, and improving the service we provide to the oil and gas industry. The company will continue to operate as Alderley Materials at present, although it will eventually be known as Advanced Insulation Systems Plc."
Andrew explains that this will serve as a catalyst to further expand the company: "Interms of taking the business forwards from here we are really looking at further development of our subsea products. At present we have advanced materials that are qualified up to 2500 metres but we are looking to push them to depths of 3000 metres and beyond. We believe that this, and other products in our portfolio, will enable us to go hotter and deeper than anything previously. In addition we are looking to expand our geographic coverage in conjunction with the product developments. For example, we are establishing an office in Kazakhstan for our fire-protection products, and we are setting up a business in Dubai to service the Middle Eastern market, which will become operational in the next two to three months."
Key to the success of Alderley is the company's innovative range of insulation and fireproofing solutions, manufactured from advanced phenolic-based materials. Andrew explains: "We have unrivalled expertise in cold curing phenolic chemistry, and I think that this certainly places us ahead of many of our competitors in terms of R&D. We are the only company to produce phenolic based materials for subsea applications, which are more suitable for higher pressures and temperatures than other products on the market."
The company's ContraTherm C55 Subsea System has been developed to meet the need for a resilient insulation material that is capable of withstanding temperature and pressure extremes in offshore environments. The need for such a material is steadily increasing, as oil and gas production involves extracting fluids with much higher temperatures from deeper waters, and at longer distances from the main structure. Also, cool down of the fluids during maintenance or unplanned shut downs, causes a range of operational problems, such as waxing and hydrate formation, which can be extremely expensive to remediate.
It is in these environments that the ContraTherm system excels, offering customers considerable benefits including excellent thermal insulation properties, resistance to water ingress, and resistance to compression. Additionally, the system has long-term high temperature stability, whilst its ease of application and maintenance, and 20-year theoretical design life make it an effective and efficient solution. The system can be directly applied to the primed structure as a wet coating in the field, or Alderley can produce pre-moulded engineered components to the client's requirements.
In addition to subsea solutions, Andrew is keen to highlight the company's advanced passive fireproof materials: "Our combined insulation/fire protection products are unique in the market with a jet fire resistance of up to two hours and capability of operating in temperatures that range from -196 degrees Celsius to 200 degrees Celsius, making it the better choice for fire protection for offshore use."
ContraTherm is a multi-functional material system used for insulation, blast and passive fire protection of vessels, risers, ESDVs and other equipment that operates at elevated or cryogenic temperatures. With a thermal conductivity equal to or better than conventional systems such as foamed glass and mineral wool, but with a dramatically increased robustness and single visit installation process, the new jet fire resistant/insulation half-shell system is an extremely cost effective alternative to other products currently on the market.
Featuring a significantly wider tolerance to service temperatures than conventional PFP materials, the unique solution provides passive fire protection for up to 120 minutes, thermal insulation, and high integrity corrosion protection. Well received by industry leaders, the material has already been used in a number of successful applications on hot slug catchers, flare stacks, knock-out drums, under-decks, and steel structures that are subject to thermal shock.
The company also offers the ContraTherm MS400, which is a lower density syntactic phenolic foam that is ideally used as a costeffective material in composite sandwich structures. Available in thicknesses up to 150mm, the product is fire-resistant, is ideal as a low-density core and has superior acoustic and thermal capabilities.
Alderley's high levels of service and unique products have already established a reputation with many of the industry's leading players: "A great deal of work has been achieved with subsea equipment vendors on numerous major projects," Andrew explains. "In addition, we collaborate with several other main contractors in the sector. We work closely with our clients in the development of specific solutions.
"For example, we have produced a number of moulded components in collaboration with major customers to meet their exact specifications," he continues. "This type of tailored work is easy for us as our materials can be moulded to extremely high tolerances and do not shrink or distort once released from the moulds. The controlled cure with minimal exotherm means that little or no internal stresses build up and the likelihood of cracking, which is seen in epoxy and polyurethane moulded components, is reduced."
Discussing the future, Andrew believes that the manner in which the offshore market is developing presents excellent opportunities for Alderley Materials: "The market is set up perfectly for us at the moment. There are increasing numbers of offshore deepwater developments that involve significantly higher oil temperatures, and our phenolic-based materials are uniquely suited to these environments.
"We feel that with continuous development and diversification of our product portfolio we will be able to move into a much wider range of applications and markets. Ultimately, we aim to ensure that Alderley Materials becomes the preferred supplier of subsea insulation materials for many of the major equipment suppliers, and is recognised as a true one-stop-shop for fire and insulation solutions for the offshore industry."
Alderley Materials Ltd
Services Fire protection, insulation and anti-corrosion composite materials