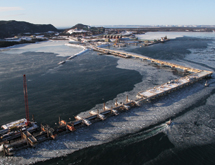 As a single-asset, single-project company, Alderon Iron Ore Corp. has the focus to achieve its objective: successfully mining 8 million tons of iron ore per year in western Labrador.
"Our focus is entirely on the Kami project," President and CEO Tayfun Eldem says. "We have a very experienced management team with years and years of experience building and operating iron ore mines in Labrador."
The Kami project is 75 percent owned by Alderon, with offices in Montreal, Vancouver, St. John's and Labrador City. The other 25 percent is held by Hebei Iron & Steel Group, the largest steel operation in China.
The project is located close to a railroad line with ample spare capacity and 15 kilometers away from high-voltage power, according to the company.
"The mining industry has been fortunate to have widespread support on this issue from municipal, provincial and federal political leadership as well as key business and trade associations," Eldem says. "All stakeholders agree that construction of a new transmission line must start immediately, to ensure economic opportunities are not lost in the region."
Meanwhile, a shipping port deal has been struck and rail discussions are underway, Eldem explains. Its port handling facilities are located in Sept-Iles, the leading iron ore port in North America.
The Labrador region is rich in iron ore deposits and produces 100 percent of the Canadian supply. There are currently four large iron ore producing mines in the vicinity.
Off The Starting Blocks
The Kami project began in 2009 with exploration, engineering studies, strategic partnerships, environmental assessments and the creation of a benefits package for aboriginal peoples. Obtaining provincial and federal approvals are key to subsequent progress for the mining project.
In January, the Provincial Newfoundland and Labrador Government ok'd the environmental assessment for the Kami project. Then, on February 19, Alderon Iron Ore announced that the Federal Government of Canada issued its Notice of the Minister of Environment's Environmental Assessment Decision Statement for the Kami Iron Ore Project.
The Federal Minister of Environment decision statement sets out the minister's conclusion that the Kami Project is "not likely to cause significant adverse environmental effects." As a result of this determination, the Kami Project may now proceed subject to the terms and conditions included in any federal permits or authorizations.
With these approvals obtained, mining permits and mining licenses can be sought. The planning and permitting process began in November 2011. The provincial and federal approvals are important "starting blocks" for construction and things continue to move forward nicely according to plans, the President & CEO says.
The company planned for 25 months to obtain environmental approvals. It expects construction to take 25 months with production then kicking off in early 2016.
Kami entered into a power purchase agreement and security agreement with Newfoundland and Labrador Hydro, a subsidiary company of Nalcor Energy in February. Additionally, in order to fund the first security deposit required under the agreement, Kami has received a $22 million loan from Liberty Metals & Mining Holdings, LLC.
"The power purchase agreement was a key infrastructure requirement and is critical in securing the previously announced debt financing and we are very pleased to have finalized it," says Eldem.
The company has entered into the power purchase agreement pursuant to which Newfoundland and Labrador Hydro agrees to sell electrical power and energy to the mine and it agrees to purchase the same in accordance with the terms of the agreement.
The signing of the power purchase agreement concludes a process that has been ongoing since September 2011 where Alderon and Kami have collaborated with the Province of Newfoundland and Labrador and Nalcor to secure access to power, including paying upfront engineering costs of $4.4 million.
Power will be provided based on a rate schedule in line with the Labrador Industrial Rates Policy published in December 2012.
Alderon announced on February 13 that the Government of Newfoundland and Labrador had confirmed that it will proceed with the construction of a third transmission line from Churchill Falls to Labrador West.
As an end-user of the new transmission line, the mine will provide security for its commitment to begin purchasing electrical power. Kami has agreed to provide a total of $65 million in security deposits that will each take the form of a letter of credit that will be released to Kami once the Kami Project is interconnected to the electrical system as contemplated under the power purchase agreement, and has been commissioned and the Kami loading saleable product produced from the Kami Project in two consecutive months.
Alderon placed orders in December for two of the most critical pieces of its material handling system for the Pointe-Noire ore shipping terminal. An order has been placed with Metso Minerals Canada for the supply of the Rotary Car Dumper which is due for delivery in early 2015. The Stacker- Reclaimer will be acquired from Sandvik AB. Additionally the Autogenous mill and ball mill drive systems were awarded to General Electric. The procurement process is being managed by the firm WorleyParsons.
Labor Markets
During construction of the Kami mine, Alderon expects to employ 800 workers. Once production is underway, it expects a staff of 400 to operate the mine.
Although the mine is located in a remote region, Eldem anticipates the region's strong mining focus will help it recruit workers. Some might be obtained from other mining companies and some workers may be early retirees convinced to reenter the workforce.
"Although this is a sparsely populated area, there is a very high concentration of mining and iron ore professionals there so we expect to find support from contractors and talent for us as we will be competitive with other mines in the region," Eldem explains.
The mine has secured a customer for 60 percent of its product and Alderon seeks further partnerships at this time, Eldem says. Iron ore is the key ingredient for making steel and there has been a huge demand for steel in the current global marketplace, he notes.
Although commodity prices have taken something of a beating in the past 12 months, Alderon believes prices will rebound. Canada is rich in natural resources with a strong mining sector, which it expects to continue well into the future.