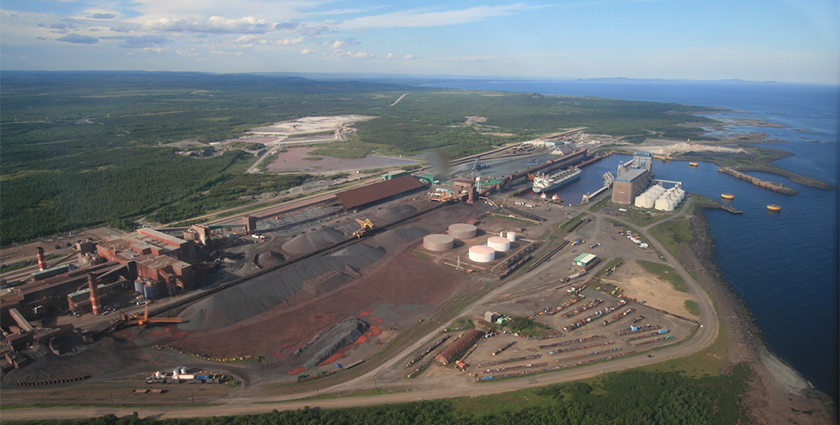 Alderon Iron Ore takes advantage of rising iron ore prices and available infrastructure in rebooting its Kami project in Canada.
Along the border of Quebec and Labrador there exists a region almost 1,000 miles long and nearly 100 miles wide known as the Labrador Trough. It is a linear belt of volcanic and sedimentary rocks and it houses numerous iron ore deposits that are rife with potential.
Because of this potential, many mining companies have extensive operations there, including Alderon Iron Ore. Alderon finds itself in a unique position to capitalize on the region, though this wasn't always the case.
Iron Ore prices collapsed in 2014, sending shockwaves throughout the industry and reducing the project to nothing more than care and maintenance.
Mark Morabito, chairman and CEO of Alderon, recalls that time very well. "We had to step back in 2014 when the iron ore market collapsed," Morabito recalls. "That period is over now, and we are in a position now to reboot the project with favorable economics and a positive outlook."
The project Morabito is referring to is the Kamistiatusset ("Kami") property in the Labrador Trough. In 2010, Alderon Iron Ore acquired the rights to the property. While economic conditions deteriorated in 2014 and halted the start of mine construction, several conditions have improved recently.
In March 2017, Alderon Iron Ore published an updated preliminary economic assessment (PEA) for the project, replacing a Feasibility Study done in 2012. The new report sets the stage for the revival of the project and takes advantage of a number of favorable developments of late.
Strong Customer Base
Of all the factors that have come together over the past several years, probably the most important was the development of a strong customer base to ensure consistent demand. That was done in 2013 when Alderon announced an agreement with China's leading steel manufacturer, Hebei Iron & Steel, now called Hesteel Group. According to the agreement, Hebei invested $182.2 million and agreed to purchase 60 percent of the mine's annual production in exchange for a 20 percent stake in Alderon and a 25 percent stake in the Kami project itself.
The deal allowed Hebei to acquire a valuable commodity used in making steel: high-quality premium iron ore, which is much cleaner than ore found in older, deeper pits. "The Chinese are starting to enforce their environmental regulations seriously," Morabito notes. "They are moving quickly and want to make their industrial operations as clean as they can, which augers well for us."
Infrastructure Improvements
For the project to move forward, several improvements had to be made to the surrounding infrastructure. Fortunately, in 2014, the Quebec government committed roughly $19 million to a railway line connecting several other lines in the region.
Those rail lines ultimately led to port-handling and terminal facilities in the Pointe-Noire area of Sept-Iles, which the Quebec government purchased and modernized. This port provides year-round access to global markets, and the modernization effort means that Alderon will not have to spend capital to make improvements.
There is also proposed access to a new multi-user facility to be open to all market participants. "When we first published our feasibility study in 2012, we would have had to have spend $220 million on upgrading the port-handling facility," Morabito notes. "Now, that's $220 million we don't have to spend."
The final factor working in Alderon's favor is economics. The price of iron ore has rebounded significantly in 2017, surpassing $87 dollars per ton in March, making it even more economically feasible to produce. Further, the market for the premium ore expected to be extracted at the Kami site is expected to grow in the coming years owing to increased demand in China for minerals that burn cleaner.
And finally, because energy prices have come down drastically in recent years, the cost of shipping the ore has also fallen dramatically to nearly half of what it was in 2012 when the original study was published. Morabito estimates that this is another $200 million in handling costs the company won't have to spend.
Ramping Up
Now that all of the conditions are right for bringing the mine online, the next challenge for Morabito is to prepare to transition the site from just maintenance and care to a productive facility. "We were in survival mode around for the past couple of years, but the worst is behind us," Morabito says. "My goal is to bring back as many people as possible, some will be old employees and some will be new hands."
Morabito says he is looking forward to that challenge because the company estimates the mine will be active for 24 years once a 29-month construction period is completed. "The outlook is good," Morabito notes. "We have a much more secure project going forward."
As the company prepares, it will rely on a stable group of vendors and suppliers that stuck with it during the down market. One of those companies is ARES PRISM, which has helped Alderon with its project management software.
"They are a first-rate project management group," Morabito says about ARES PRISM. "From engineering to procurement to budgeting, they have really helped us manage costs and keep everything on schedule."
Though it is still early in the process, the potential economic impact of the project cannot be overstated. The 2017 Economic Impact Assessment estimates that more than 100,000 jobs will be created across the country, generating $7.6 billion in income to workers and businesses, along with $4.4 billion in federal and provincial government revenues. "The Kami will be a huge benefit especially to the province of Newfoundland and Labrador in terms of jobs and government revenue coming in," Morabito says. "We remain fully committed."