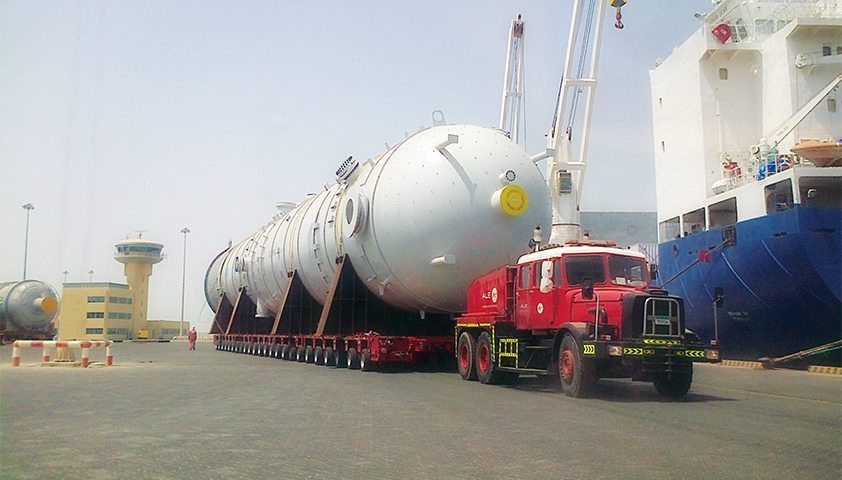 Equipped to succeed
ALE is today one of the largest specialist transport and lifting companies in the world.
It has grown considerably in scale and in the expertise it offers, but remains a business inspired by the same passion for engineering solutions that prompted its formation nearly 30 years ago.
The organisation's Middle East office is located in Abu Dhabi, and has been in existence for two decades. Cameron Waugh, general manager, explains more: "We set up as a full-scale operation in Abu Dhabi in 1992, servicing the oil, gas and power industries in the UAE. Since the initial opening of the Abu Dhabi office, we have also opened branch offices in Qatar, Saudi Arabia and Iraq.
"On a global scale the opening of this office was followed by the opening of facilities and new acquisitions across the world. These helped boost our resources of transport and installation equipment, and added to our ranks of highly skilled and experienced personnel."
ALE's Middle East branches now specialise in the provision of heavy transportation, ocean-going barge transportation via its own fleet of barges, and the supply of heavy lift cranes from 250te to 5000te capacity. This includes the largest land-based crane worldwide – the AL.SK350, ALE also installs power generation equipment utilising its fleet of specialist jacking, skidding, and lifting equipment. Aside from this it offers turnkey marine solutions for the load out and installation of offshore modules.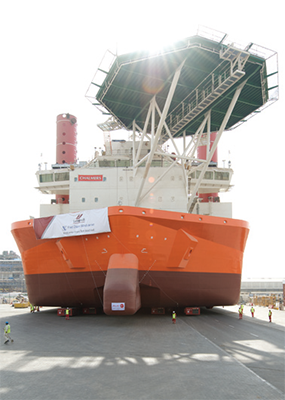 "Predominantly we work for freight forwarders, who are charged with the task of moving cargoes from origin to destination," adds Cameron. "Our part in this logistics chain generally involves receiving from vessels in Abu Dhabi, barge transport to local port facility, and onward heavy transportation by road, and on site. In this field we have worked for all major freight forwarders, engineering procurement contractors (EPC), and end-users alike."
This comprehensive service offering has resulted in contracts with major blue-chip clients. One such agreement has recently been gained with SHAHGAS, as Cameron explains: "From ALE's perspective the project involved the receiving of heavy and super heavy components in Musaffah Port Abu Dhabi, and onward transport of 260 km to the Shah gas field close to the UAE/KSA border. The packages involve some 41 pieces in excess of 500te, with the heaviest items being four No. HP Absorbers at some 1300te each. All these pieces are transported on our extensive fleet of modular hydraulic trailers. With such weights, there have been some challenges to meet the strict DOT criteria. This has involved the use of high capacity equipment, along with novel solutions to enable such transport to be undertaken."
Cameron highlights why ALE was selected for this project: "We have the largest fleet of both self propelled modular transporters (SPMT), and modular hydraulic trailers in the Middle East, along with a wealth of engineering experience in this field, and within Abu Dhabi oil fields. These combinations have provided our client with the assurance that such a difficult task could be completed in the safest and most expeditious manner possible."
Cameron continues with some details on another new addition to the project portfolio: "ALE has recently been awarded a new project by Dry Docks World – Dubai for the integration of a 10,500te topside to the 11,000te hull of a semi-submersible destined to operate in the German wind energy market. This project involves the supply of strand jack towers and associated equipment and expertise to mate these two huge components within the Dry Dock facility in Dubai, in mid 2013."
One of the major benefits that Dry Docks World, and indeed all of ALE's clients, gain from choosing it as a supplier is the fact that the solutions it provides are bespoke, and innovative equipment is designed, engineered, and manufactured in-house. "This means we are able to tailor the equipment to specifically meet the demands of our market as we see it, without constraints imposed by generic manufacturers," says Cameron. "This has proven successful for example with our AL.SK cranes, mega jack system, jacking tower systems, bolsters and other specific engineered products created by our in-house R&D facility."
It is the ability to win major contracts such as these that has helped ALE maintain a healthy order book. "ALE's Middle East branches have been very busy over the past two years, and have reacted to the demands of several very large scale petro-chemical projects occurring simultaneously both within Abu Dhabi Emirate, and neighbouring regions," confirms Cameron. "These opportunities, and their diversity, are what ALE thrives on and they have assisted our desire to grow our business in this very important region."
He adds: "With over 20 year's experience in the UAE, ALE is not here for the short-term. We have continually grown the business, expanded our service provision, and retained the standards of quality that are demanded by our businesses globally. We feel the level of service attained here in the Middle East matches that of any other ALE region. In our view this factor reassures our customers that they are in safe hands when working with ALE in the Middle East."
It is clear that this division of ALE is leading the way in the region as an example of forward thinking management and high quality service. Cameron is confident these levels of excellence will continue, and concludes with some thoughts on what the future might hold: "We will still be very much present in UAE, as we see the value of retaining our regional base here for the foreseeable future. Aside from that, our business shall be broader in terms of service provision, with an even higher level of capital equipment located in this region."
ALE in the Middle East
Services: Heavy lifting solutions