A higher level
Founded in 1983 by Roger Harries, ALE has risen to hold a commanding reputation in the field of heavy lifting, transport and engineering.
The company was last featured in European Oil and Gas Magazine (EOG) during July 2013 when it was reported that ALE achieved several impressive feats including what was the world's heaviest jack-up of a topside module at Daewoo Shipbuilding and Marine Engineering Co. Ltd, Korea.
Following the success of the lift that eventually led to deployment of the Arkutun Dagi Topside for Exxon Neftegaz Limited, ALE was credited with the 'Contractor of the Year' award for excellence in safety performance. Exxon Neftegaz awarded the prize to ALE after observing its execution of the projects with three criteria defined as safety embedded in system design, management commitment and leadership and worker involvement and ownership throughout the project.
The award was presented at the annual Sakhalin 1 Contractor SSHE Forum in Yuzhno-Sakhalinsk, Russia and was a significant moment in the history of the company, as executive director of ALE Kees Kompier elaborates: "For us at ALE safety is very important, as it is throughout the industry. This is something that we are always pushing forward not only through the training of our own people, our control and safety systems and auxiliary tools, but also though the training of all on-site personnel and site management. In short, the whole project chain. From our perspective the company's work has been seen by one of the world's major oil companies, which places safety as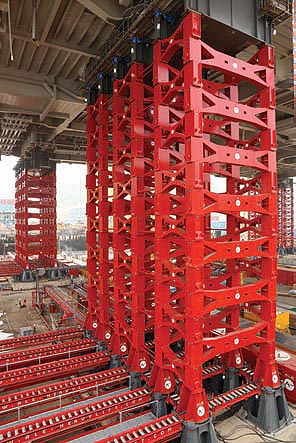 number one and has recognised our commitment in getting this right. Obviously a lot of time and effort goes into this and it is a great feeling to know that we are on the right track."
With several successful projects and accolades behind it ALE is showing no signs of pressure at handling some of the world's most challenging heavy lift and transport projects. Indeed rather than resting on its laurels the stellar reputation that precedes ALE has allowed it to continue to engage some of the energy industry's most highly publicised heavy lift operations. During January 2014 ALE completed the lift and install of a topside module weighing 10,000 tonnes at DryDocks world in Dubai, named the DolWin. Continuing in its traditional of unique operations, the DolWin is the world's largest HVDC (high voltage direct current) platform and the first to be mounted to a semi-submersible hull.
The lift called for the use of a specially developed gantry that was manoeuvred into position to lift the topside platform at total of 52 metres to allow for the insertion of the semi submersible hull for welding. A special gantry was designed by the ALE research and development team based in Breda, Netherlands and a further four laced tower systems and two A-frame structures were also used to enable the lift. Finally, side braces were positioned via pre-cast concrete foundations within the dock pier walls to stabilise the operation and provide a ballast securing solution to account for bad weather. Commenting on the operation, Edward Talbot project manager at ALE said: "For our client this was a first and as such, a lot of design work, verification and detailed checks were completed to ensure full integrity of the entire system during the operation. Our aim was to execute the lift efficiently with minimal risk to the topside and surrounding yard activities. Usually a lift such as this would rely upon a very restrictive weather window requiring extended periods of relatively low wind speeds to affect the lift and integration safely. The design of the gantry and surrounding system meant that our client could not only perform the mating operation inside the dock, but also maintain adjacent docking operations with minimal impact to the yard facility during and after lifting and mating completion."
The strength of ALE to meet the unique challenges of its clients is rooted in its ability to deliver innovative new solutions and equipment to match the growing requirements of the oil and gas, renewable, yachting, nuclear and petrochemical industries that it serves. One such development since the company's last appearance in EOG has been the development of the Hydro Deck by the Australian consortium AG&P ALE Ventures Pty Ltd. Developed through the combined expertise of ALE and AG&P, the Hydro Deck is a mobile pontoon that works in conjunction with a modular offloading facility to allow load-in operations for combined loads reaching 17,000 tonnes regardless of tidal conditions. The first Hydro Deck will be deployed in Darwin, Australia and features a catamaran design and an innovative redundant water ballast and air tank system to provide buoyancy and account for rapid tidal variations.
As ALE continues is journey into 2014 and beyond it will continue to rely on and expand its impressive portfolio of equipment and services to maintain its position as the industry leader in heavy lifting. With over thousands of large structures delivered and installed since the 1980s and impressive hardware including the world's largest land-based cranes, Mega Jack and Hydro Deck, ALE is set to reach even higher levels well into the future.
ALE
Services: Heavy lift transport and engineering