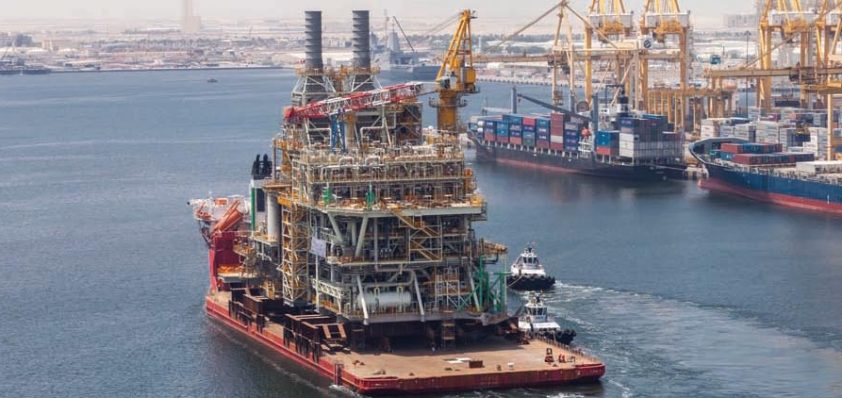 Mammoth solutions
ALE's Middle East branch operates as part of the wider ALE Group and has maintained an established presence within the Middle East for over two decades.
The company was established as a full-scale operation in 1993 within the United Arab Emirates (UAE) and has since expanded to include permanent bases in Qatar, Kingdom of Saudi Arabia (KSA) and Iraq.
Through many years of experience and several record-breaking heavy-lift projects, ALE has grown into the region's leading full solution provider for heavy lift operations, including transportation, barge operation, crane supply, project management and bespoke heavy-lift gantry and jacking systems. The company maintains an impressive fleet of barges, heavy-lifting cranes and road transport vehicles that allow it to provide clients with turnkey transport solutions for cargos from origin to destination. These include heavy-lifting cranes with capacities ranging from 250 tonnes to 5000 tonnes, including the world's largest capacity land-based crane – the AL.SK350.
Its portfolio of heavy-lift equipment and transport vehicles allows ALE to service a host of blue-chip companies operating within the oil and gas, petrochemical and construction markets. However, its main business comes from freight forwarders who are charged with moving clients' cargos from origin to the desired location. Typically this involves receiving from vessels, transport by barge and finally heavy road transport to site. ALE manages solutions for all of these cargo options and as such can rightfully be considered an invaluable partner in the transport of sizable components.
Although the company is well established today, some of its key markets have proven to be challenging proving grounds where ALE has invested significant time, resources and expertise to demonstrate its position as a reliable partner and market leader, as Richard Peckover, ALE regional director – Middle East and Africa, elaborates: "Iraq is an extremely difficult area of operation. ALE spent over two years working out the most appropriate establishments to serve the markets, and today it is active in total project solutions, including crane hire, transportation, and barging operations. The growth in the Iraq oil and gas industry seems set to continue for a number of years and ALE is well positioned to support this growth with our continued development and investment locally in Iraq."
During January 2014 ALE completed the lift and installation of a topside module weighing 10,000 tonnes at DryDocks World in Dubai, named the DolWin. Commenting on the project, Richard says: "Teams from multiple ALE branches collaborated to design a unique gantry system for the lifting and mating of the topside structure at Drydocks World, which was the first semi-submersible platform constructed at the shipyard. The topside was lifted to a final height of 52.8m. Once at full height, the semi-submersible hull structure was maneuvered between the gantry system underneath the suspended topside. The topside was then lowered by ALE to the precisely positioned substructure, releasing weight in a controlled fashion. Welding and lowering operations of the two structures were carried out simultaneously."
As part of the ALE group of companies, ALE's Middle East branch is able to draw on the resources of the group as a whole, which gives every entity within the organisation an impressive reach and an extensive base of knowledge and equipment. "ALE's Middle East branch and the wider ALE Group collaborate on many major projects," Richard explains. "This includes the Dubai DryDocks lift where collaboration between ALE's branches in the Middle East and the Netherlands, as well as our research and development division, was key to the successful operations carried out. The core HSQE and safe systems of work and training schemes are common across ALE and therefore this collaboration is seamless and effective. This means that ALE's clients receive the same quality of service whether in the Middle East, Europe or elsewhere."
Further to its work with Dubai DryDocks, ALE has further solidified its reputation for record-breaking solutions by achieving the Guinness World Record for 'The Heaviest Load Moved by SPMTs', which was awarded for the holding, transporting and delivery of a production, utilities and quarters (PUQ) deck during April 2014. The PUQ deck weighed in at a massive 13,191.98 tonnes and is the largest of its kind ever constructed by Lamprell. ALE utilised 512 axles of self-propelled modular transport (SPMT) to complete the transportation and load-out of the PUQ deck, which measured 98.5m long, 46m wide and 58.8m high. The deck was transported 883 miles, and took four hours to transport and ten hours for load-out to completion.
Commenting on the project Richard stated: "We are proud to have worked with Lamprell on this landmark project. The industry is continuing to see an increase in the size and weight of offshore structures and it is great that ALE's capabilities have enabled yet another record to be broken. Everyone involved worked tirelessly to ensure the success of the project and the teamwork between ourselves and Lamprell has culminated in the achievement of this award."
As the company transits through the remainder of 2014 and beyond it will continue to draw on the quality of its equipment and personnel to drive the business forward. ALE's active recruitment and training policy enables personnel from more than 25 nations to work within ALE's Middle East branch, developing their skills and progressing as the business advances. As ALE continues to distinguish itself through numerous high-profile lift operations the company will look to develop its business in Iraq while continuing to expand into the Caspian region, ensuring that ALE has a globally recognisable footprint for many years to come.
ALE's Middle East Branch
Services: Heavy lift and transport solutions