Supplying demand
For nearly 60 years the Alf I Larsen name has been synonymous with the supply and distribution of market-leading equipment for a number of applications.
Initially founded to provide services to the burgeoning market in Stavanger in the late 1940s, the business is today one of the largest suppliers of products such as transmission, couplings and laser alignment equipment for oil and gas applications.
As European Oil and Gas recently found out from Tore Netland, who is managing director at the business, Alf I Larsen has become one of the foremost names in its field: "The company was founded in 1947, and was initially based around the industry in the Stavanger region, which was growing at a rapid pace. From this time the company gradually developed together with the oil and gas industry, and today is one of the leading names in the supply of a wide range of equipment. This includes measuring tools, gears and transmission, metal processing equipment and laser alignment solutions."
As Tore explains, the fact that Alf I Larsen has been based in the Stavanger region and subsequently grown alongside the oil and gas industry elevates it above many of its competitors. "We really do have an excellent reputation in Stavanger, and have built up a great knowledge not only of the products we supply, but of their applications and use in the industry. If you couple this with the fact that we are always very focused on developing the internal knowledge and experience that we have within the business, then I think that it really sets us apart from many of our competitors."
As is obvious for any company with such a reputation, Alf I larsen supplies products to the vast majority of the major oil and gas companies working in the Norway/North Sea region. "We are in contact with all of the majors," says Tore, "as well as supplying other customers, such as service companies and maintenance businesses.
"We work very hard to offer the optimum service to each and every one of our customers as we see maintaining quality as being a key factor in our success. For example, when a customer approaches us it is because they need a certain piece of equipment as soon as possible. As such we always ensure that we are very fast in our response, and even if we don't have the product they want in stock we will find it as quickly as we can, and then push hard to ensure we get it into the market for future use."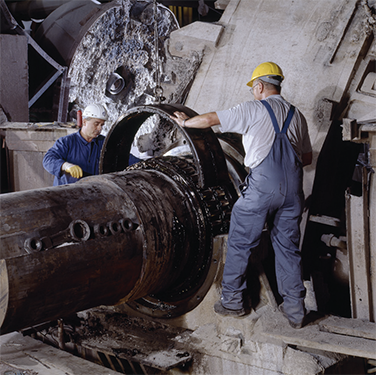 As mentioned, the range of products in stock at Alf I Larsen is truly vast. For example, in the field of rotating bearings the business was the first FAG/INA dealer in Norway, and today remains the largest. Not only does the company have an extensive range in stock but it has built up a worldwide network that allows it to acquire large sized bearings quickly and efficiently. Throughout the industry Alf I Larsen is also well known for its expertise in the field of transmission and gears. The company has a vast range at its facilities, and its years of experience in the area make it a competent partner capable of dealing with all transmission requirements.
One of the more recent areas that the company has moved into is the supply of laser alignment and condition monitoring equipment. Here Alf I Larsen represents Pruftechnik, which is one of the world's leading producers of instruments and software for alignment. Through this collaboration the company acts as a partner and advisor to clients in the field of alignment and also provides training courses for customers' personnel.
"Laser alignment equipment is an important field for us, and one that we are very well known for," says Tore. " In any offshore installation there is some vibration and small movement and to ensure that this is minimised as effectively as possible laser alignment equipment is essential. Therefore, a customer knows that by sharing our expertise in the area they will achieve the best possible results to ensure effective and efficient operations."
Looking at the reputation Alf I Larsen has built up over the years it is easy to share Tore's confidence for the future of the company: "The market remains tough, but there are some very positive indications that business will continue to improve," he says. "The last couple of months have been very good for us and so we are looking forward to see how the rest of the year develops.
"In terms of growth our plan really is to consolidate the business. We have a very strong product range that contains some very unique pieces of equipment so we do not really intend to expand that. Rather, we are focused on growing the business and continuing to increase the reputation that Alf I Larsen has in the industry," he concludes.
Alf I Larsen
Services: Sales and distribution of offshore equipment