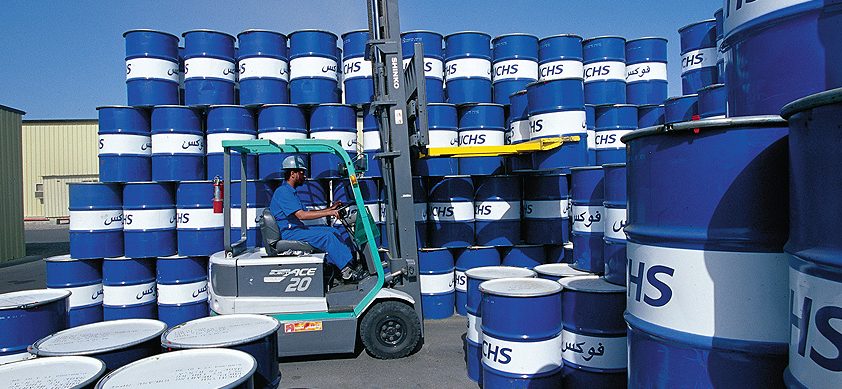 Alhamrani-Fuchs Petroleum Saudi Arabia Ltd
Moving your world
As the largest independent producer in Saudi Arabia's private sector, Alhamrani-Fuchs Petroleum Saudi Arabia (AFPSAL) is highly respected for its innovative and technically superior lubricants, and related specialty products.
Now in its 15th year, the company has consistently proved itself as a pioneer in thelubricants markets; it was the first to launch a biodegradable range, the first Saudi lubricants company to offer e-business, and the first to produce high performance engine oils for the Saudi markets, followed by a more developed formulation. Accordingly, AFPSAL continues to set the bar high for its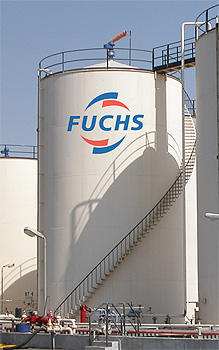 competitors.
As an ISO 9001:2000 certified company, AFPSAL was founded upon a system of best practice, offering consistently high quality products and a highly motivated service. The business was formed after a joint venture in 1995 between the Alhamrani Group, which has been in the lubricants business since 1979, and Fuchs Petrolub AS Germany, the largest independent producer and marketer of lubricants in the world. The construction of its lube oil and grease blending plant in Yanbu in 1988 – the biggest of its kind in the Middle East and Africa – further added to the production capabilities of AFPSAL. This state-of-the-art manufacturing complex produces a wide range of premium quality lubricants, greases and speciality products.
The company's capacity exceeds 170,000 tonnes per annum, covering 37 per cent of the overall local market, and more than 70,000 tonnes are exported to the Middle East, Asia and North Africa. AFPSAL is the largest lubricant exporter, amongst the top 100 exporters, and one of the top 100 Saudi rated companies. Owing to its effective distribution network, Alhamrani-Fuchs is ideally placed to take customer orders, manufacture products to specifications and deliver them to the cleint'sdoorstep. It commands a 29 per cent market share in the Kingdom and has a long list of satisfied customers in its various markets.
With highly experienced and motivated personnel at the heart of AFPSAL's success, the firm invests in upgrading training facilities, providing student training programmes and sending employees abroad to acquire advance training. However AFPSAL also prides itself on improving the lives of those who don't work within the organisation, by making noteworthy contributions to the development of society, exhibiting a determined effort in environmental awareness, road safety campaigns, major sporting events sponsorship and other social welfare programmes, such as tree plantation and beach cleaning. Indeed, the company's road safety adverts were awarded the prestigious Silver Sword Award in 2000 and AFPSAL was the first Saudi company in the Middle East and North Africa to obtain an ISO 14001 environment friendly blending plant. It was also the first to obtain ISO 9002 in the field, which has recently had been upgraded to ISO 9001 2000. These accreditations are an endorsement of AFPSAL's commitment to excellence in every action and are the result of concerted staff efforts.
As part of its responsibility towards the community, AFPSAL plans to run environmental awareness campaigns in schools this year and 1000 pupils in various local city schools will be provided with specially printed environmental booklets containing environmental information covering a variety of topics.
AFPSAL also operates under a philosophy of leadership through innovation, which has led to the launch of its One Stop car care centres to provide a new standard of professional car care and a personalised service, within courteous, pleasant surroundings. The centres long list of services include oil change using Fuchs Super GT, which is the company's flagship product, tyre change, wheel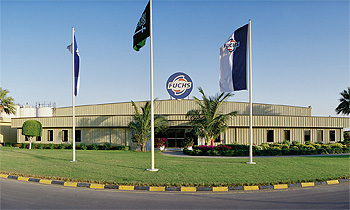 balancing, alignment and other minor work, such as under chassis mechanical work. AFPSAL opened the first care centre in 1998 and, such was its success, the company currently has 25 branches Kingdom-wide, supported by more than 150 employees, including qualified technicians, mechanics and electricians. The One Stop network in Saudi Arabia covers Jeddah, Riyadh, Dammam, Jubail, Hofuf, Tabuk, Makkah, Abaha, Yanbu and Taif, and is expected to grow significantly within the next few years.
High standards are of paramount importance to AFPSAL and the organisation subscribes to local product quality standards developed by Saudi Arabian Standards Organisation (SASO). Naturally, the company's prestigious brands Super GT 20W50 and Super GT 10W30 are licensed to display SASO marks, and these products meet the performance requirements, test methods and limits set out by SASO.
In terms of improvements over the last few years, a state-of-the-art, fully automatic, one litre plastic bottle filling line was inducted to cater to the growing demand of AFPSAL's Super GT brand. BaaN (ERP solution) was also implemented to improve corporate governance and increase accounting transparency, which delivers faster, more accurate and comprehensive financial information for both internal and external needs. It operates in a business-to-business environment to provide access to its customers and suppliers in viewing their status on the internet.
A warehouse expansion and base oil storage capacity enhancement project is currently underway to ease up ever growing pressure on operational activities at the plant, and adding a grease mixer to the production facility has already helped the company to meet higher production targets. In fact, grease production has also peaked this year. In addition, the newly arrived ICP and FTIR testing equipment in the Quality Assurance and Research Laboratory has bolstered the flourishing CENT engine condition monitoring programme to ensure a better and quicker support service to the customers.
The Yanbu plant has enjoyed considerable success, having set a new production record in 2007 by crossing 150,000 metric tonnes, and productivity is constantly increasing. In order to cope with being the fastest growing entity in its line of trade in the Saudi and MENA region, AFPSAL has completed the first phase of its three-year plant expansion programme. This means an additional 1500 MT Base oil tank and two 110 MT Bulk additive tanks were installed and a 3400 square metre warehousing facility extension was completed.
The conclusion of the project was felicitated with the visit of Stefan Fuchs and Alf Untersteller to AFPSAL Blending and Grease Plant in Yanbu, Saudi Arabia in November 2009. During his visit, Stefan Fuchs lauded the achievement of AFPSAL and remarked that it is one of the most progressive plants in the Fuchs system, while Zafar A. Talpur added that the Yanbu plant's management and staff were highly appreciated for their efforts, efficiency and quality output.
Alhamrani-Fuchs Petroleum Saudi Arabia Ltd
Products: Lubricants