Age is but a number
Despite its youth, Alkion Terminals has made impressive expansions by strongly committing to its core values to create a working environment that is safe and fulfilling for its team and the environment.
It is quite a remarkable feat when within the space of five years, a business is able to reach the shores of five countries. Although Alkion Terminals was only established in 2016, the company has created a European network of tailor-made bulk liquid storage with strateg positioned terminals in France, Portugal, Spain, Italy and the Netherlands, as well as headquarters in the Netherlands in Amsterdam. Rutger Thiel, the company's CEO, speaks to us about the outstanding developments Alkion has undertaken since its inception and how it is determined to contribute to the sustainability evolution permeating through the oil industry. "Over the years, we have upgraded, renovated and built ourselves into one terminal group. Alkion Terminals consists of infrastructure investor InfraVia Capital Partners and energy expert Coloured Finches to guarantee our optimal performance. Our terminals are accessed through the main international shipping lanes; in this case the Mediterranean and Atlantic. Although storage of liquid chemicals and fuels is our primary service, we are also increasingly storing biofuels and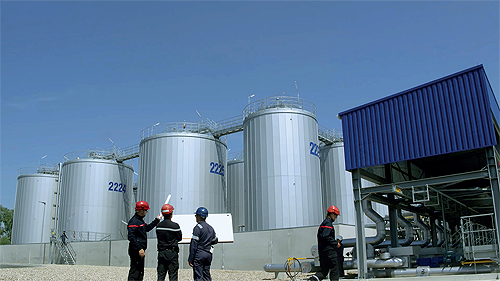 renewable fuels, but also a range of products like base oils and lubricants," he says.
Although Alkion specializes in supplying chemical manufacturers, refiners and distributors, it also keeps its business within niche markets. It avoids larger trading terminals found in the surrounding areas of its operations. According to Rutger, the success of the company is threefold and its careful selection of business is only one part. "The oil trading terminals will be increasingly exposed to the energy transition towards the end of the decade. In our view, that will result in a decrease in demand for those types of terminals," he elaborates.
The other side to the company's success is owed to the highly skilled employees who work to keep the business flowing and make the daily difference to Alkion's operations. "The people are the core of this company. They take responsibility for their work regardless of the job because we operate in an industry where negligence can have consequences for customers and the environment. This means that it is incumbent on us to keep things under control at all times. Of course, it's also the company's responsibility to ensure that our employees have the skills and the experience, but equally as important is the authority to take the responsibility to make the right decisions. So, we engage with our employees, and then encourage them to work closely together," Rutger says. A unique quality embedded within Alkion is the diversity of its workforce. Having terminals spread across Europe has created a melting pot of cultures and languages, which is why the company places an enormous emphasis on staying in tune with the needs of both employees and customers. "It's crucial to respond to them because it makes people more aware of the role they play when they're being heard and appreciated, which comes back to listening. Although our terminals are spread across Europe, everybody still listens to one another and as a group we learn, and act upon the thoughts and changes to make the culture of our company one that everyone feels welcomed in," he notes.
Two angles
In line with Alkion's people-centric ethos, the business is passionate about empowering its people to develop new skills and ensure that the ambition to grow the Alkion brand is rooted deeply within its network. Buttressed with these two pillars, the final part to the company's success lies in its ability to serve the energy transition and play its role in helping reduce the adverse effects of climate change. "We basically approach this challenge from two angles. Firstly, it's about improving our own operations. Because of the sunny locations of our terminals in southern Europe, we have installed solar panels to help reduce our carbon footprint. The other angle is more commercially concerned. In this area, it's about facilitating our customers who are becoming increasingly active in the energy transition. Clients with renewable fuels are looking for storage solutions, which means smaller tanks that can be heated, and tanks that make it possible to blend liquids into renewable fuels. When it comes to biofuels and renewable chemicals, we believe in investing in this segment because we will see these liquids become a greater commodity within the economy," Rutger explains.
Ambitious approach
These unique qualities were able to play to the strengths of the group during the instability of Covid-19. Although classified as an essential business to the supply chain, Alkion demonstrated its resilience to turbulent market climates by ensuring that operations remained uninterrupted. "2020 was a very successful year for us, especially when it came to improving overall safety. We operated under strict restrictions to safeguard health and safety on all our terminals. As I've said, I put a lot of value on the people who work with us, particularly on the front line, because they make the supply chain run smoothly, so we had to do everything we could to ensure they remained as safe as possible," adds Rutger.
Having escaped the devastation of the pandemic and with a favourable market upturn on the horizon, Rutger's observation is that business looks strong to return to 2019 levels as the demand for storage starts to increase. "We also handle substances in the value chain for sectors like healthcare, pharmaceuticals and road transportation, which began to bounce back earlier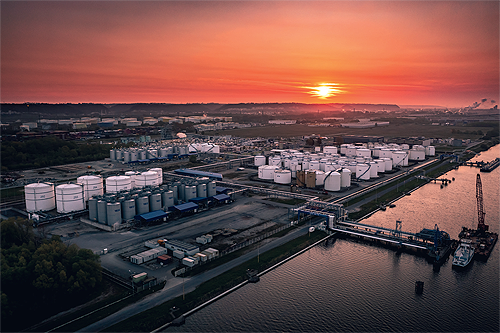 this year and should normalize by the end of the summer," shares Rutger.
Now, as Rutger scopes the longevity of the business, he is optimistic that Alkion will continue to serve its customers to the best of its ability. He also believes that in Europe, the industries are looking to strengthen their business and supply chains as restrictions ease, and Alkion is eager to benefit from that. "We are comalso actively looking to expand our network in Europe. Although it is a fairly mature market, there is room to consolidate, which is what we are involved in. We are also expanding our facilities in Italy and the Netherlands, and putting in additional tanks in Lisbon and Marseille. Our biggest expansion so far has been a brand-new tank farm of 33,000 cubic metres in Le Havre, and the volume for that new business is partly coming from another older terminal we own. So, we are in the process of demolishing and redeveloping the land there so that it can be repurposed, which is exciting," he says.
Coupled with these expansions, Alkion is equally as ambitious to stay leading in the energy transition. "We are currently undergoing both small and large expansion projects to cater for biofuels and eventually chemicals, which relates to building our new tank facilities. We foresee that we will keep growing existing terminals and of course continue to look for possible acquisitions, but they need to be fit for our portfolio, which means that they need to be fully integrated into the supply chain for the users of our terminals," Rutger highlights.
Alkion is clearly in this business for the long run and it is not using its age as an excuse to prevent it from grabbing every opportunity available to it. Its admirable pride in taking responsibility for the impact it has in the oil industry will likely be the reason that Alkion continues on its path to maintain its exponential growth and contribute innovatively to the energy transition.
Alkion Terminals
https://www.alkion.com/
Services: Bulk oil and chemical storage providers