Under one roof
ALMACO specialises in the construction and upgrade of complete accommodation solutions for the global maritime industry.
This includes turnkey solutions for living quarters, galleys, provision stores, refrigeration units aboard passenger vessels, and most recently offshore ships and platforms. Additionally, ALMACO provides modular bathrooms for the construction industry. The company was founded in Finland in 1998 and over the last 14 years has expanded its business worldwide and established branch offices in China, Germany, Finland, France, Italy, Singapore, the US, and most recently Brazil.
Though ALMACO began its business in the passenger vessel sector, the move into the offshore sector has proved incredibly successful for the company. President and CEO Vilhelm Roberts discusses the company's excellent offshore sector performance since the company was last featured in European Oil and Gas (issue 6 2011): "Over the past year or so, ALMACO has seen a significant increase in the inquiries coming from the offshore market, from both new customers and new regions. As a result, offshore has become an increasingly larger part of our business. Additionally, this increase in demand for our services in new regions is what has prompted us to open an office in Brazil, so that we are able to serve our customers regardless of the location of their projects. We are a global business by nature but pride ourselves in our flexibility to serve at a local level as well."
At the time of the last article's publishing, ALMACO had just secured a multi-million euro order with Prosafe International. Nearly 18 months later, the order has been delivered. The contract specified the construction of four separate accommodation modules containing 211 cabins, office areas, a cafeteria, public toilets, and local equipment rooms. The total weight of the finished modules was 1000 tonnes. The units were designed as replacements for existing living blocks on Prosafe's Safe Caledonia vessel operating on the UK continental shelf. Once constructed, ALMACO also handled the loading out and delivery of the units to Poland in late June 2012, where the owner has received them with satisfaction.
A more recent contract undertaken by ALMACO was with Keppel FELS. The Singapore-based shipbuilder had previously completed one contract with ALMACO for Floatel International, with the company building a 440-bed accommodation unit with 1500 square metres of public space including lounges, offices, and corridors. On the strength of the final product, Keppel FELS awarded the Finnish company with another job for Floatel International on the Floatel B343. Gaining a project for such a major name highlights the quality for which ALMACO has become known.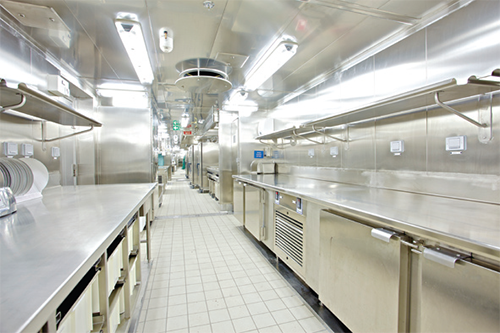 "We have been able to draw from our extensive experience of successfully delivering accommodations to the cruise ship industry, which requires not only demanding delivery times but also high quality standards," Vilhelm states. "Delivering these projects successfully requires efficient logistics management, planning, scheduling, advanced levels of engineering and naval architecture, and skilled project management – all of which are equally essential in the offshore sector. ALMACO has perfected these skills and is able to bring them to each offshore project to meet the client's expectations. One particularly important expectation is of course price and we can fabricate, source, and deliver the most cost efficient solutions from our partners and construction hubs worldwide."
Apart from building brand new accommodation units such as complete living quarters, ALMACO is involved in the upgrade of old accommodations by replacing or adding new modules in older rigs. The last few years have seen a big push across vessels and platforms to improve the living standards in order to improve the experience of onboard crew and attract higher qualified personnel. When a rig is located several hundred miles from shore, the standards of living are crucial to retaining staff. Many old units fall below acceptable standards and ALMACO has undertaken several projects tackling this challenge. In this way, the company helps to improve its clients' long-term sustainability.
Vilhelm discusses where ALMACO is at present: "By opening the office in Brazil we have strengthened our local presence in the South American region and now count it alongside offices across the world. It's never easy to enter a new market but ALMACO has the strengths and locations to be where our customers need us, when they need us. The company has several legs to stand on with the support of three divisions that cover the accommodations, food handling, and service parts of a project, and experience provided by years in both the cruise and offshore sectors."
As the global oil and gas industry continues to surge forward, pushed by emerging markets in South East Asia, South America, and Africa, the opportunities for companies such as ALMACO that are part of its supply chain also increase. "Our presence in Brazil, China, the US, and Singapore represents good potential for our offshore participation as it allows us to be close to our main offshore customers and shipyards in regions of high activity. Looking ahead, ALMACO's vision for the next three to five years is to become the market leader in accommodation solutions for the offshore market."
ALMACO
Products: Accommodation modules