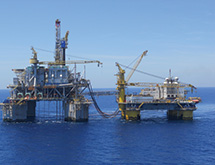 Altantica Tender Drilling Ltd.
There aren't many companies in the world that can do what Atlantica Tender Drilling Ltd. does, and there's a good reason for that. By specializing in tender drilling, Atlantica serves a select segment of the oil industry with drilling services that require a high level of skill and dedication.
Although the competition in this market is extremely limited, President and CEO Kerry Kunz explains that Atlantica nevertheless strives to be the best in the business, and the services it offers its customers make for drilling operations that are much safer and more effective than other types of development drilling.
Founded in 2007, Atlantica is a pure play tender assist contractor that specializes in development drilling from fixed platforms and Tension Leg Platforms (TLPs).
According to Kunz, Atlantica's customer base consists mainly of large multinational oil companies as well as a certain segment of national oil companies. Because of the unique and highly specialized nature of its work, Atlantica has limited competition, with less than a half-dozen competitors in the same sector. "This sector of the market, it's a very tightly held sector," Kunz says. "We're fortunate in that there are less than a handful of competitors out here."
Even within this relatively small niche, however, Atlantica sets itself apart. Not only does the company have the advantage of filling a need in a sparsely populated sector, but it also offers customers a significant advantage when it comes to providing a safe working environment on a drilling rig. In addition, the company says its strong knowledge base and leadership provide it with advantages over its competitors. "Our highly competent and motivated team members have ready access to contemporary management systems," the company says. "They are supported by a management leadership team which has set out core values for all its operations [including] safety, dependability, accountability, honesty, ethics, integrity, dignity, respect and personal development."
Unique Operations
Perhaps the biggest thing that sets Atlantica apart in the drilling sector is its status as a tender assist drilling contractor. This means the company works only on wellhead platform both fixed and floating in shallow or deep-water drilling applications, and only in development drilling situations. Kunz says the nature of the company's drilling rigs don't allow for exploration drilling, but this suits Atlantica because contracts for development drilling typically are longer-term and provide the company with added stability so that it can plan farther into the future while securing attractive financing.
Atlantica's rigs are assembled onto drilling platforms after being unloaded from special vessels that sit alongside the platforms during drilling. Once the drilling work is completed, these rigs are disassembled and put back on the vessel to be taken to another platform elsewhere. Kunz describes the platforms built in shallow waters (up to 500 feet) as being like stools that sit on the ocean floor. In deeper waters, Atlantica installs its drilling rigs on floating platforms know as TLPs which are essentially a floating wellhead platform with surface wellheads.
Better and Safer
Kunz says this type of rig offers oil companies a number of significant advantages over the typical type of platform rig, not the least of which is the significant safety advantage it offers. Because only the essential drilling components are installed on the platform, living quarters for crew members remain on the barge, which keeps workers out of harm's way because they would not be living and sleeping directly over the wellhead as they would when a platform rig or jackup is employed.
Atlantica says its rigs also are safer than other drilling rigs because they keep the wellheads above the ocean surface and not on the ocean floor, which makes it much easier for operators. "These wellheads are above the ocean surface, so these wellheads they can inspect and they can replace," Kunz says, adding that Atlantica's rigs are less prone to environmental issues due to the well head being on surface.
The company's rigs also present operators with a substantial advantage in terms of their size and scale. Because only the essential drilling equipment is installed on the platform, tender assist rigs impose approximately a quarter of the weight of a full platform rig, meaning smaller facilities and overall less cost. "We are allowing the operator to build either a floating platform or standing platform, and we put significantly less gear on top," Kunz says. "Every ton of steel that they can save on the facility saves them substantial upfront costs."
More Opportunity
The biggest challenge for Atlantica today is the same facing the entire oil industry: low oil prices. Many oil companies are cutting back on their exploration budgets and looking for ways to develop known oil and gas fields in a more economical fashion. Although Kunz says Atlantica understands the cyclical nature of oil prices, it believes its tender drilling services could be the answer many operators are looking for to help reduce their development drilling costs. "We believe that even in this low-oil-price environment that this is a viable development alternative in certain situations," Kunz says.
Kunz notes that nearly 40 percent of drilling rigs in operation today are focused purely on exploration, which means there is a lot of opportunity out there for Atlantica as development eventually follows successful exploration. "We believe that most of the rigs out there drilling, some of these will turn into large developments, and that's where we can play a critical role," he says.