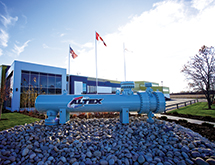 Heat exchangers are pressure vessels filled with a bundle of tubes that can cool or heat materials used in the process and petrochemical industries. Many are so dense with tubing that they can weigh tons. Fabricating heat transfer equipment at a competitive price with fail-safe quality is a complex process that requires highly skilled craftsmen and foolproof procedures and processes.
In order to manufacture its products and compete with offshore companies that have far lower wage rates, Altex Industries Inc. must continuously seek out innovative ideas and incorporate them into its production processes and maintenance techniques. This past October, Altex Industries unveiled a 28,000-square-foot expansion of its fabrication plant in Edmonton, Alberta, bringing it to 44,000 square feet of production floor space.
"We're pushing 80,000 square feet total with our offices and other buildings," President Durwill Dennis calculates. With the expansion, the facility now includes an additional overhead crane rail with four 60-ton cranes on the same rail. "It allows us to do basically anything that comes in the door," Dennis maintains. "What we do is very specific and a very highly engineered product, so consequently, our quality assurance is high.
"Mainly, we are in the steam-assisted gravity program, which means we're heating the oil for the process side," Dennis explains. "That is the largest volume of our work. All we're doing is heating the oil up to be able to put it into a pipeline for transportation."
Besides the oil, natural gas and petrochemical industries, Altex's products are also used in the agricultural industry. "We work for a pretty broad base," Dennis says. "Every plant has heat exchangers in it, so we heat or cool whatever needs to be done. We strictly work from customer specifications. We have our own design group, who work with our clients within what their input feeds are and the desired outputs."
Totally Tubular
The principle of heat exchangers is to circulate a liquid – sometimes a coolant such as glycol, which is similar to the coolant used in automotive radiators – or a heated liquid or gas through a series of tubes that contact the liquid or gas that needs to be cooled or heated. The tube bundle is situated inside the pressure vessel. Some heat exchangers use a single pass and others, depending on their design and requirements, require six to eight passes. Large exchangers may have as many as 1,500 tubes in them.
"Since the vessel is up to 32 feet long, what creates a lot of the weight is all the tubing in them," Dennis explains. In some cases, the tubing is so dense in heat exchangers that it is possible for a 30-foot-long exchanger to weigh up to 80 tons.
Much of the fabrication material for heat exchangers is tubing, which is preordered for each project in the specified lengths and diameters from Europe or China. "Chinese tube is what we're using now because of the pricing," Dennis says. "When it comes in, we'll have 20 or 30 truckloads of tubing at a time."
The tubing used in Altex heat exchangers is produced according to industry standards and tested when the heat exchanger is finished. "When we finish our bundles, we install them into the shell and everything is hydrotested to 1.5 times working pressure," Dennis notes. "That's one step in how we determine the quality."
Manufacturing Processes
Besides bending tubing so it passes back and forth within a heat exchanger and welding it to the tube sheet, Altex Industries also machines a large number of forgings. "A lot of our big, heavy flanges come in as forgings," Dennis explains. "Anything in a tube sheet that is over 4 inches thick comes in as a forging. A good portion of our production time is spent in machining and drilling the component pieces of the exchanger upfront."
Two production lines – one for the tube bundles and the other for the pressure vessels – converge within the Altex facility. "The two of them come together at the end, and we push the bundle into the shell, complete the hydrotest and then we're ready to go for paint," Dennis says. Generally, the heat exchangers are covered with insulation, so painting is important for corrosion-proofing.
Most of the heat exchangers Altex Industries manufactures are custom-designed and manufactured. "It's all fairly labor-intensive what we do," Dennis concedes. "We've got the welding setup, and that's automated as much as we can. The rest is machining, drilling, fitting and welding."
Automation embraced
Where automation can be introduced, it is used extensively. "We actively seek out automation processes and incorporate them where possible," Dennis declares. "There isn't too much out there that we aren't using. We use all the latest and greatest in welding processes and equipment. We're constantly doing R&D. We have purpose-built, specialized equipment that we conceived, designed and manufactured in-house, which is far more productive than anything you can buy because it is custom-built for our process."
That custom-manufactured equipment has made significant improvements in productivity at the production facility, which operates 24/7. "We've done some things on our production line that have tripled and quadrupled our production in some areas, such as tube bending," he continues. "I'm confident there's nobody around that does tube bending with the efficiency we work with – we built the bender. Everybody manually pushes tubes – we mechanically push them. Visitors routinely comment that we are one of the neatest, tidiest and most automated shops they go into. As an organization, we're quite proud of our innovative measures."
The level of automation, welding and manual assembly required at Altex Industries necessitates retaining highly skilled employees. "The product we build is very precise," Dennis says. "Essentially, we are putting a machined cylinder – the tube bundle – inside a newly fabricated pressure vessel, and very tight tolerances are necessary. We have very high standards that our people must meet."
Employees are recruited from the ranks of boilermakers and sometimes brought in from outside of Canada. "We have very low turnover," Dennis asserts. "People come first in our operation, and they are our most critical resource. Anybody can build a building, anybody can buy equipment, but you can't operate without good people."
Gaining momentum
Altex also provides field service. "Not only do we engineer, design and manufacture our product, but we also take it to the field and do installation as well as service," Dennis points out. "As these huge plants get built, installation and service is becoming a bigger part of our business every year. We're gaining momentum in that area and have the opportunity to really grow that side of our business. So we're in a growth pattern on both sides."
Dennis estimates approximately 40 percent of Altex revenue is from field services, but he expects that percentage to increase to 50 percent in the future. Altex Field Services was formerly named Evtex Field Services, but the company decided it wanted to emphasize the Altex brand, because some customers did not realize that Evtex was part of Altex Industries. "The strength is not just in fabrication or the shop side," Dennis stresses. "They get a full meal deal when they come to do business with Altex."
Altex Industries has purchased new mobile equipment that will help the field services division when it performs maintenance on shutdown process plants. "We have truck-mounted bundle pullers, the only two I'm aware of in Canada," Dennis maintains. "They have some in the U.S. We have radio-controlled grapples which are unique to any other design that's around. They're far more compact and have far more capacity. We have also built some tube-bundled transport equipment, which is unique to our company. Nobody else has them."
The privately held company has typically serviced the three western provinces of Canada, but has recently started providing field services in Ontario and aims for 20 percent growth annually.
Altex Industries was bought by Dennis and a group of operating and silent partners in 2001. "I came in here for six months to a year to clean it up, and then I was going to do other things," he explains. "I got working at it and saw the potential that was there, and we've managed to grow it ever since."