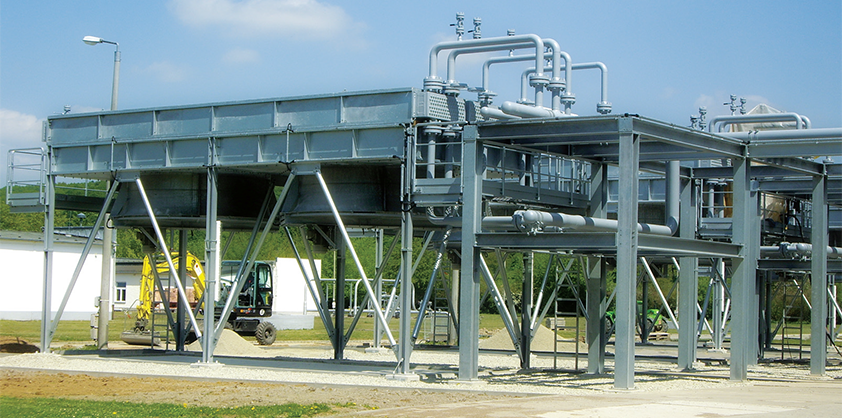 Keeping cool
Designing and manufacturing heat exchangers with bare and finned tubes, as well as whole air cooled heat exchanger units and air-cooled condensers, since 1990, ALZ is recognised today as a modern, medium sized, flexible company when it comes to handling projects.
With its experience and application of state-of-the-art technology, ALZ has become one of Germany's leading suppliers.
From its offices and workshop located in Dorsten, Germany, ALZ concentrates its efforts on all the working steps from engineering to the fabrication of heat exchangers. Through its in-house fabrication facilities the company is able to have a high degree of flexibility and the best possible means to secure delivery dates:
"As the company has developed and expanded, particularly in the last five years or so, so to has the number of customers it now serves," explains Mark Koch, managing director of ALZ. "In this time the company has responded by successfully increasing its production capacity by approximately 60 per cent.
"While it remains an expert in the manufacturing of heat exchangers and various
items of auxiliary equipment, the largest part of the company's turnover today comes from its aircooled heat exchangers and air-cooled condensers. It is these products that ALZ is supplying now to several sectors within the oil and gas industry. These include chemical companies and refineries that use them for process cooling, and the gas sector, specifically for use in gas storage plants and transport stations."
Still a relatively small company, as Mark readily admits, the focus of ALZ remains to this day very much on Western European countries: "The drive in recent years has been centred around increasing the company's capacities and capabilities, and that has brought it to the point where now it is in a position to take on manufacturing projects of a greater scope and scale throughout Europe. The next step on from here without doubt will be taking the business further afield. However, this is something that will only be considered in the future, once ALZ achieves its primary goal of becoming better known in those areas of Europe where it has not yet established itself."
Customer satisfaction is the primary goal of ALZ and represents the guiding principle behind all of its quality efforts. Established in 1994, the company's quality management system is continuously supervised according to ISO 9001 standards. What this does is provide the company with the measures required to ensure that its quality standards reach the highest levels at all times.
Changing industry trends have definitely helped shape ALZ's business in recent years. Whereas several years ago a larger portion of its work came from the gas sector, what it is starting to see now is a return to prominence for the chemicals market: "Bigger investments are certainly being made at the European sites of the chemical industry after being a little low for a while, and this is particularly the case in Germany." Mark says. "After large investments in Asia, especially China, companies like Bayer and BASF now invest in their European sites to increase their capacity here and replace old plants. It is these sorts of projects that ALZ is supplying air coolers for and expects to continue doing so in great numbers as investments within the chemical sector gather pace."
With levels of activity growing, this in itself also brings with it several challenges, the biggest of which revolves around costs: "While ALZ has managed to build up a strong reputation for having the skills and tools necessary to carry out quality, reliable work, it is impossible to escape the fact that profits throughout the industry are under pressure," Mark states. "What this means is that price is today more than ever one of the biggest factors when a customer awards a contract. In response to this ALZ has spent a great deal of time over the last two years optimising its fabrication and engineering procedures. This was a natural next step following the increase of the company's manufacturing capacities and has allowed ALZ to remain competitive in an rapidly changing climate."
It is the aforementioned reputation that the company has earned over the years for satisfying the needs and requirements of its customers that it is determined to strengthen in the months and years to come: "What ALZ often hears back from its customers is that the company not only provides an unmatched level of quality, but that its in-house capabilities provide these customers with a degree of security and peace-of-mind that is rarely experienced in this industry," Mark enthuses. "Naturally this is something that ALZ wants to retain and build upon going forward as it endeavors to introduce itself to new customers in more markets."
ALZ GmbH
Products: Air coolers, air cooled condensers and air heaters